The organization founded by Anshu Gupta, "Cloth Man of India", Goonj, is currently taking part in a big way in the Joy of Giving Week (now called Daan Utsav, oct 2nd to 8th) which we at KnowYourStar.com are supporting wholeheartedly. As many of you know, Goonj has not just been pioneer in rural development work in India, but also changed the dynamics of giving and receiving with dignity. Presenting to you our interview with Anshu Gupta, Founder Director, Goonj.
He is an Ashoka and Schwab Fellow and a member of The Global Agenda Council on Humanitarian Response of The World Economic Forum, apart from being the recipient of the prestigious Ramon Magsaysay Award (2015) for "his creative vision in transforming the culture of giving in India, his enterprising leadership in treating cloth as a sustainable development resource for the poor and reminding the world that true giving always respects and preserves human dignity."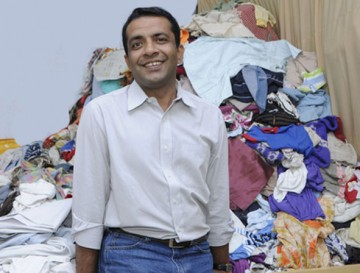 The Evolving Trash-Based Parallel Economy
Today Goonj channelizes over 2000 tons of material annually from its 11 pan India offices. We are a team of more than 600 people with a pan India network of about 250 grassroots organizations spread across parts of 21 states. Over the last 17 years, with a similar wide spread network in cities across India, we have been able to create a channel from the cities to the most far flung villages. Through this, we channelize more than 3000 tons of urban underutilized material, extending its life and using it as a resource for development in rural India.
More than 2000 rural development activities are taken up annually by village communities to solve their own problems, with this urban material as their only motivation. This creates a parallel economy which is running purely on urban discard.
The Inception Of Goonj
Back in 1999, Meenakshi- my wife and I were going through our wardrobe, selecting clothes we hadn't worn for three years and we found 67 items! We wanted to redistribute some of it to where it was most needed. That's how it started. I guess that's how most social entrepreneurship ideas are born; to fulfill a need or to solve a problem. This has been Goonj's philosophy as well.
For me it started with a simple question- What if someone dies on the road and I survive and enjoy my life. Not because of the cold but the lack of clothing. I saw the need to ensure that people have at least the basic right of cloth with dignity.
The Core Values Of Goonj
There are some basic simple principles which the entire team works on and that's why we say that we are not just in the business of collecting and distributing old clothes/material. We use material as a tool to bring ignored issues to light; from talking about basic needs and using material to bring communities together, to making them aware of their own power and to increase people's participation. We use material to change mindsets and change the present rural infrastructure.
We don't fix up targets for our work; wherever we see need and we see potential we try and reach out. One basic non-negotiable is that we don't promote charity as we feel old material can do much more as a development resource. Somewhere I think we are also more focused on the receiver's dignity rather than the donor's pride. When people say we want to donate our used clothes- we strongly feel that it's actually discarding of something that has been used to the maximum. We strongly believe in the wisdom of the rural masses we are working for to find solutions to their own problems.
One early lesson we learned was about frugality and that's why as far as possible we don't spend money on our own infrastructure, furniture etc. We use old material- right from table, chairs and computers to office stationery. Our work has slowly built around these guiding principles and that's how the positive word of mouth has been our biggest strength because we see people as the center point of our work. We don't try to do everything on our own, instead we use the strength of collaboration with stake holders in urban and rural India.
The Awards And Recognition
Goonj's 'Not Just a Piece of Cloth' initiative was recognized by the World Bank's Global Development Market Place Award in 2007. It has also been recognized as the 'Game Changing Innovation' by NASA and the US State Department in 2012 citing "Goonj is a game-changer, teaching urban Indians when, what, and how to give."
Goonj has won 3 Ashoka Changemaker's Innovation Awards for its 'School to School', 'Rahat' and 'Not Just a Piece of Cloth' in the year 2004, 2006 and 2009 respectively. It has also been listed among the World's Top 10 Most Innovative Companies in India by Fast Company '14 for galvanizing a behavior shift in urban India to care for those in need and among 100 leading Global Green Innovations by Think Tank SUSTAINIA later in the same year. Goonj has also won 'India NGO of the year' award by Resource Alliance in '08.
The awards play a twin role; some of them bring in monetary inputs, which are really important to carry on our work but the other bigger work is they help us bring attention to some non-issues at development sector and other forums. We hope that these awards for our work will encourage others also to take up work on these issues.
Cloth For Work (CFW) – The Flagship Initiative
'Cloth for Work' (CFW) has evolved two new currencies of development – material and labor. Under this initiative, Goonj works with partners and communities to identify infrastructural improvements that need to be undertaken in the villages. Villagers then work to dig wells, clean ponds, repair roads, and build schools in the community using local resources and their own wisdom, for which they are compensated with material resources like clothing, utensils, furniture, and food grains.
At present more than 2000 such developmental activities are carried out annually where the material acts as a catalyst for reviving existing community assets and even creating new ones.
Not Just a Piece of Cloth (NJPC) – Addressing The Taboo Topic Of Menstruation
We started 'Not Just a Piece of Cloth' (NJPC) campaign after the 2004 tsunami, when we dealt with more than 100 trucks of post disaster cloth wastage on the roads of Tamil Nadu. The unwearable cloth from this lot was turned into cloth pads which later came to be called MY Pads. The subject of a menstrual cycle is a taboo in most societies of the world, not just in the developing countries. In India, Goonj was one of the earliest to create awareness and get people to talk about it while making cotton-based sanitary pads available from the non-wearable cotton cloth we collected from the urban masses.
The NJPC initiative aims at addressing this ignored basic need and building awareness around the taboo-but-critical menstrual health and hygiene issue across the far flung remote villages and slum areas in India. Over the years we found women using sand, ash, jute gunny bags, dry grass, newspaper, plastic, to the dirtiest cloth available or nothing at all. Our effort was to make a safe alternate available to these women who either do not have access to or can't afford even clean cloth.
MY Pad – Breaking The Shame & Silence Around Menstruation
Goonj uses 'MY Pad' as a tool to break the shame and silence around this most taboo subject. We thus try to address the 3 key aspects or the 3 As- Awareness, Accessibility and Affordability for rural women and girls. Some years ago we started The 'NJPC- A Million Voices' campaign as an extension of the main NJPC campaign. The Million Voices campaign aims at collecting 1 million voices from across the globe to talk on this subject and help shun the worldwide shame and silence on the same.
NJPC won World Bank's Global Development Marketplace Award in 2009 and has been featured in the many prestigious subject specific reports like Dasra. So, far under this initiative Goonj has distributed more than three million 'MY Pads' (sanitary napkins).
MY Pads are made available to women under various models (free, paid and sponsorship) depending on the geography and economic background of the women who cannot afford commercial sanitary pads.
How Goonj Helps Disaster-Hit Communities To Get Back On Their Feet
Due to climate, geography and weak infrastructure, India is hit hard and often by natural disasters. The 'Cloth for Work' initiative also brings in community involvement in post-disaster infrastructure rebuilding. For example every year in the month of July (Monsoon) we know that there are parts of India which are going to be flooded because of the geography or whatever the reasons are. That's where we need to rework every year.
We go there and start building because these people lose a lot of their infrastructure. Goonj channels excess resources from urban households to impoverished, rural, and disaster-struck areas. In exchange for basic necessities of life like clothes and household goods, these communities self-organize and repair and build their schools, roads etc. I feel they are the most courageous that even after losing everything, they still choose to get material with dignity, after working for their community.
The Green By Goonj Label
It is a brand built around reusing and up-cycling even the last shred of material Goonj receives. A range of more than 50 different products are made out of torn jeans, obsolete audio tapes, one side used paper etc. Our endeavor is to make high quality products, which people can buy for their own merit. The most popular Green by Goonj products is its conference range as well as one-of-a-kind bags and purses. You can find more about these products on the Goonj website or you can visit a Goonj office/processing center to have a look.
The Goonj Operational Model
From a business perspective, what we have tried to nurture is a culture of equality. Those who give and those who receive are equal. From the people who give the clothes, to those who sort and pack them, to the people who receive them, the whole chain is full of respectful links. So the operational model is simple and full of humanity.
Collections drives, which go on throughout the year in various Indian cities, are done by volunteers. They accept anything that people give away – clothing, footwear, electronics, food grains, books, old cassettes etc. The collected items are then processed and transformed into usable goods by the Goonj team, so that items are ready to be shipped to regions according to the needs of people there. The need for cloth is most acute in far-flung, rural areas. That is why, at Goonj, there is a strong focus on scale and reaching out where no else is going.
In order to reach the poorest, we adopt a bottom-up approach, partnering with about 250 grassroots NGOs, voluntary organizations, student groups, school teachers etc. The distribution strategy and the infrastructural work to be done are decided in consultation with partners and the community so that it's best suited to their needs. We leverage our partners' expertise to forge a strong supply chain in various areas of operation.
For example, partnering with Border Roads Organizations and GREF – agencies responsible for road-building in remote border areas, allows us to meet the material needs of poor, migrant labor from Bihar and Jharkhand who are ill-prepared for the sub-zero temperatures in these regions and lack any access to warm clothing or adequate footwear.
The idea at Goonj is also to reduce our partners' dependence on funding agencies for money by minimizing the budget dedicated to meeting material cost and utilizing it instead for expanding their reach or deepening the depth of their work. Partnering with Goonj also brings local organizations and the infrastructural improvement they undertake a great deal of visibility. Community projects that get noticed receive more funding, material support and capacity building from the government and other agencies.
In some cases the government has co-opted community projects started under Cloth for Work into MNREGA to further strengthen them for the people.
Material Distribution Process In Far-Flung Areas
The material given by people in the cities comes to the Goonj processing center in that city. Here it is sorted and packed according to various criteria like, age, gender, wearable, unwearable, woolen etc. Then based on the requirement expressed by the rural partner groups the material goes to different parts of the country by transportation trucks. The partner groups receive it and further distribute it among their communities.
How One Can Contribute To Goonj
You can give more or less anything, which is not being used at your home, office or community and could be of use to another. We take clothes, household items, stationary, old newspapers, one-side used paper, furniture, bedding, export surplus, generators, medicines, dry ration, blankets etc. The list is exhaustive, you can refer here for more details. And for specific queries please check with us before sending any material which is not mentioned here.
Anshu's Mantra
Goonj wants to grow as an idea, not just as an organization, since we feel the idea is relevant in many other regions, economies and countries. Everyone in the world has a right to a dignified life, not just a chance to survive. I believe that clothing and dignity are two basics which go hand in hand.
Introduction of Goonj
GOONJ is turning the discarded and under utilised material of cities into a tool to address ignored basic needs and development issues of rural India. Goonj's work is not about collecting and distributing material but about changing the age old tradition of giving old material as charity and repositioning it into regular and dignified giving.
In the race of development we all are too focused on machines i.e. the big, known issues, ignoring the needles- the most important basic needs. At GOONJ the focus is on these needles.- With a large scale civic participation it is not only becoming a big people's movement for development but is also creating a parallel economy where every work doesn't have to wait for money; huge quantities of old re-usable material becomes a valuable resource.
Goonj's work over the last 18 years has evolved a parallel economy which is not cash based but trash based. Urban material is emerging as a parallel currency which is addressing basic needs but also having a macro impact on curbing migration, improving sanitation & health and enhancing economic activities etc. Goonj has over the years turned massive disaster wastage into a resource for development work; right from Gujarat Earthquake to Tsunami, Bihar Floods (2008), Andhra Floods, Uttarakhand Floods, J & K Floods and Chennai floods more recently.
History
GOONJ, formed in 1999 by Anshu Gupta, started with 67 clothes and now deals with over 3000 tonnes of material every year. It is registered under Societies Act and registered for exemption under section 80 G, 12 A and for foreign contributions- under FCRA.
Anshu's own epiphany came in meeting a poorly-clad six-year- old girl who grew up with corpses because her father eked out a living picking up abandoned dead bodies and cremating them for a fee. When he asked the girl what she did to avoid the cold in Delhi's harsh winter, she said: "When I feel cold, I hug a dead body and sleep."
Fact File Of Recognition Goonj Has Received
July'15: Ramon Magsaysay Award 2015 to Mr. Anshu Gupta, Founder, Goonj.
Nov' 14: Goonj won the Deutsche Bank Urban Age Award.
Aug' 14: Asia's leading magazine 'The Top 10 of Asia' featured  Anshu Gupta, Founder Goonj among Asia's top 10 social entrepreneurs.
July' 14: Goonj is in the 'The Purpose Economy 100 Asia'.
July' 14: Goonj chosen among 100 leading Global Green Innovations by the prestigious think tank SUSTAINIA.
Feb'14: Goonj listed among The World's Top 10 Most Innovative Companies in India, by Fast Company.
Nov' 12: Anshu Gupta, Founder Goonj gets 'Social Entrepreneur of the year award' by Schwab Foundation, sister concern of the World Economic Forum.
July' 12: GOONJ recognized as 'Game Changing Innovation' by NASA & US State Dept.
June' 12: GDN-Japanese Award for Most Innovative Development Project
Feb'12: Edelgive Social honor for Goonj's Not Just a Piece of Cloth initiative
Dec'11: SAFRG award for initiatives in raising resources
Nov'10: Anshu Gupta listed in Forbes as one of India's most powerful rural entrepreneurs.
May'10: 'Innovation for India' award by Marico for developing innovative solution by using old cloth and other material.
March'10: Jamnalal Bajaj CFBP Award for 'Fair Practices'
Nov'09: 'Lien i3 Challenge Award' for the initiative Cloth for Work
June'09: Changemaker's Innovation Award for the initiative Not just a piece of cloth(NJPC)
March 2009: CNN IBN's 'Real Heros' award to Anshu Gupta in women welfare segment.
March 2008: India NGO of the year' award by Resource Alliance.
May 2007: Goonj's Not just a piece of cloth initiative won World Bank's Global Development Market Place Award.
2006: Changemaker's Innovation Award, second time, for Goonj's disaster relief initiative RAHAT.
2004: Prestigious Ashoka Fellowship to Anshu Gupta, for his innovative idea & its mass social impact.
2004: Goonj won Changemaker's Innovation Award for its School to School
---
Anshu Gupta will be at the India Inclusion Summit as a speaker, being held in Hotel Park Plaza in Bangalore on November 18th and 19th. Register here to be a part of this.