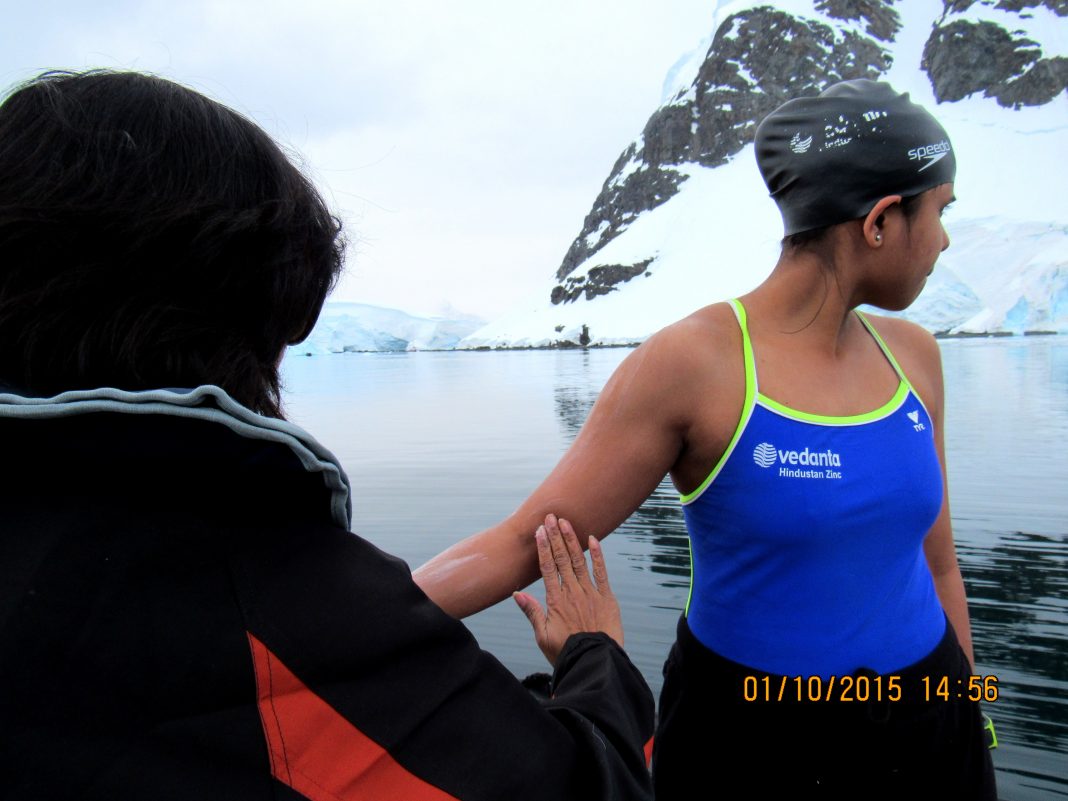 This article was first published in 'White Print' – a braille magazine for the visually impaired, founded and published by Upasana Makati.
A Mother is a child's best friend, guide, companion and moreover someone she can turn to when all seems arduous. For this young swimmer Bhakti Sharma, her mother also dons the hat of being her coach. Her love for the blue waters began at the age of just over two years thanks to her mother Leena Sharma who was a swimmer herself
Born in Mumbai and brought up in the desert land of Rajasthan, Bhakti holds the unbeatable record of being the youngest female swimmer in the world to swim across five oceans and seven seas.
Her journey began from the constraints of a swimming pool and moved on to these overwhelming water bodies. "When I was 14 I was participating in all the long events in competitions like 800 and 1500 meters. However, my mother had a strong feeling about me  excelling in long distance swimming. She introduced me to the possibility of swimming across the English Channel and asked me if wanted to try it. I sprung on the opportunity and never looked back from there".
Leena Sharma – Loving Mom To Strict Coach
For Bhakti, her mom would swiftly transform into a coach when it was time to train. From cooking delicious food to being a strict coach, Mrs. Sharma did it all. "Training with mom wasn't easy. When one of the parents also is your coach, the sport finds a special place in the house. I couldn't just log out of swimming once we left the pool, I was always tuned into it. Dinner conversations often compromised of how to better my timings, or how I was lacking at the practice session." She goes on –
Also, because my mother was my coach, she had to be tough and strong. My swims have been very challenging and difficult. Only a coach can keep the athlete going under grueling circumstances for which he or she needs be headstrong and tough. My mom had to keep her soft side that wanted to protect the daughter aside and let the tough coach take over.

Conquering Some Of The Intimidating Water Bodies
Swimming through large water bodies requires great courage and inspiration from everything around you can be the biggest motivating factor. Bhakti surrenders herself to nature, each time she jumps into the sea.
My life is in God's hands when I am swimming. I try to focus on the beauty of it rather than being intimidated by it. I love how every sea is different and beautiful in its unique way. When I am in the ocean, I am the closest to nature and myself, it's just me and the water for many hours.
Bhakti says her most defining moment till date has been her swim in the Antarctica. When she jumped in for the swim, the salinity of the water hit her and for the first few minutes she was doubtful if she would successfully make it or not. She continues –
However, after a while I saw a penguin swimming right beside me. It would be on my left one minute, and under my stomach the next. It made me smile. In one degree water temperature, where my body is clearly experiencing difficulties and I am performing the most strenuous task of my life, something as cute as a penguin comes by to make me smile. I had to accept it as a sign from God to carry on gracefully without letting the negatives bother me. The penguin was there with me for the better part of the swim and I shall never forget it.
Ask her about more enriching experiences and she continues, "Every swim has been so different and interesting. But while preparing for a swim in the Mediterranean Sea, I was practicing on a beach in Spain and I could see fish of all shapes and colors under me. It was for sure one of the moments that nature's beauty completely took me by surprise. I got so intrigued that I started following the fish and forgot how far I had come from my start point".
The Well-Deserved Accolades
One of the brightest moments of Bhakti's swimming career has been the Asian record she shares along with her mother, Leena and friend Priyanka Gehlot, for the first swim by a 3-member women's relay team across the English Channel. Bhakti Shares a world record with her mother for the first mother-daughter pair to swim across the Channel. "I knew it was difficult for my mom to start swimming again at that age so I tried to give her all the positive assurances that I could. We actually failed in the first attempt of that swim and my mother fought for a second chance and she got us back on the boat after a week for a second attempt. She helped me by showing that it's not over until you decide it is."
Practicing for swims and preparing for extreme conditions in seas and oceans, Bhakti's training sometimes gave her chills, literally and otherwise. "I usually train for about four hours a day but the duration varies if I am nearing a tough swim. Before I was going to jump into the Arctic Ocean, my mom put me in a pool with 12,500 kgs of ice to prepare me for the extreme temperatures. It was quite scary but fun filled at the same time. Every new thing really interests me and this was something so bizarre that I jumped in without a second thought".
The Government of India bestowed her with the prestigious 'Rashtrapati Award' that goes by the name of the Tenzing Norgay National Adventure Award for Water Sport in 2011. Her swimming career indeed deserves the laurels that have been conferred upon her.
Life Lessons From The Conspiring Universe
I learn from each of my swims. We are not mighty and powerful as we think. We are actually minuscule in comparison to nature and the universe. If you are humble and you decide to do something great, the universe does really help you. There is no other way I could have done what I did if it wasn't for God's wish. We need to accept what we are but I also believe that we need to feel the BIG that lies within all of us.
Fearless, positive and a passionate Bhakti dreams to dream big. "It feels amazing to be the youngest female swimmer to swim across five oceans and seven seas. My next big target is participating in the Olympics. I hope more girls get the strength to follow their dreams. After all, that's all I really did- followed my dream".
Team KYS is proud of Bhakti Sharma and her achievements, and sends more power to her through the universe!
---
Liked reading this? Then you might also like to read about Radhika Rathore – Reviving Rajasthani Art And Empowering Women With Sindarfi
---
If there's any story that needs to be told, we will tell it. Write to us at contact@knowyourstar.com with your story lead, or contact us on Facebook or Twitter.