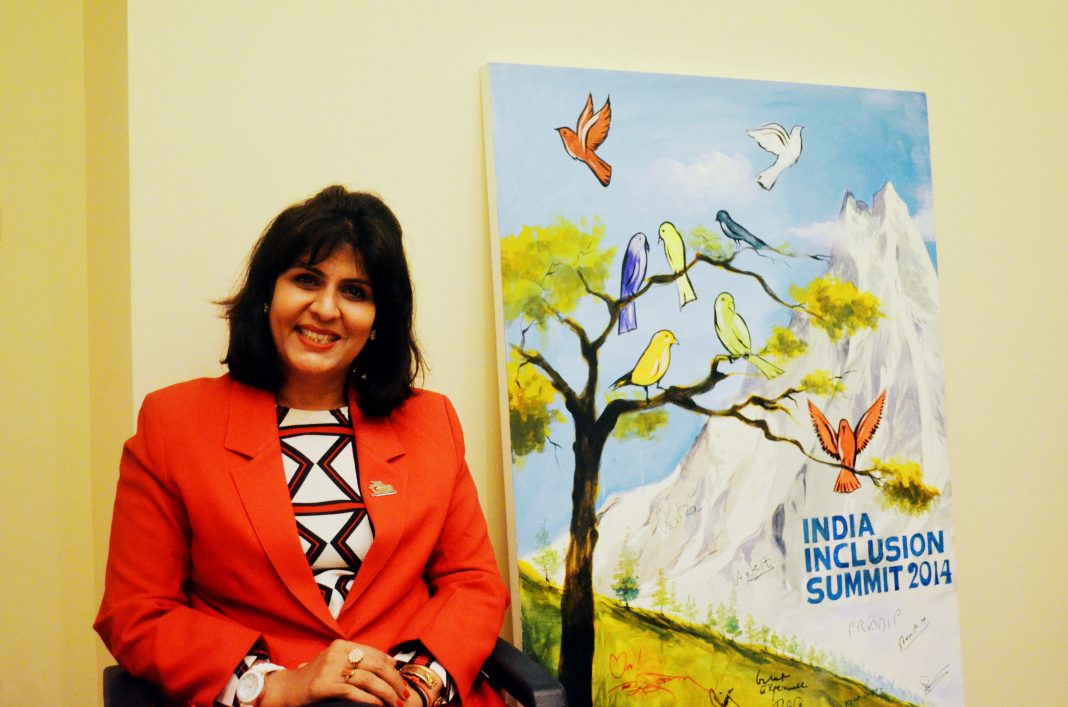 When this Indian paraplegic athlete swam, she made a world record. When she got into biking, she rode along the best bikers like John Abraham, and was featured on MTV Roadies! She was awarded the Biker of India by the IBW – Indian Biker's Week by the Harley Davidson's. When she got into sports, she received the prestigious Arjuna Award. When she set out on a mission called Ability Beyond Disability, she got the Role Model award from the President of India. When she set out on rallies, she went for the Himalayas! There's no medium level for this star, there's either 0 or 100! She's made more than one category of people proud- be it the women, the mothers, the differently-abled people, or the Indians!
On Women's Day this year, we want to celebrate the existence of incredible women like Deepa Malik, who inspire everyone to be better than the best.
Little Sources of Inspiration
I don't need a typical role model to get inspired. I can get inspired by looking at a picture or reading a quotation on Whatsapp. The only trick in my box is that I keep refueling my inspirations. I don't tell myself that I'm a know-it-all. And I don't even say that I'm a superstar, or that I've been there done that!
I've heard people say that they can begin things but can't finish it. I feel inspiration, self motivation and introspection – these 3 things need to be practiced daily like eating food thrice a day. This is something that gets exhausted very fast, and needs to be refilled regularly.
I have spastic paralysis. When I wake up in the morning, my body is as stiff as a rock and it's very difficult to fold. You really have to push this body. I need regular inspiration. I take inspiration from anybody who is doing their work to the best of their capacity with full honesty.
Charity Begins at Home
My family has accepted me the way I am. We have not made disability a taboo in our house. It's there and we have fully accepted it, and we don't talk about it. I wasn't shy to ask for help. That gave me more options to have a larger support system.
I've been very fortunate that biking and rallying are my passions. Because these are a crazy set of people; they're a different blood group altogether! My blood group is B+. So my persona is B+ 'Be Positive' and Bike+ 'Bike Positive'. (laughs)
Thanks to the internet and technology for my development. With the power of the net, I created a support system through my passion. I turned a biker! Anywhere I went for my sports events, my rally and biker buddies became my system. The pressure was released from my family also to quite an extent that way.
Countering Negativity with More Positivity
There was this time when I was sitting in my car, there were some young boys looking at me and nudging each other – "Dekh dekh maal dekh"! I was happy that- "Abhi baat hai! Chal nahi rahi toh kya hua, log phir bhi dekh toh rahe hain!" (chuckles). But the moment they see me on the wheelchair, they said- "Baal ranga rakhe hain, chashme laga rakhe hain, chalti toh hai nahi!" I wheeled myself to them and said – "Baalon ka aur chashmon ka pairon se kya lena dena hai?"
There was a similar incident where some people said- "Haye haye! Bechari arthi pe jee rahi hai." And I replied- "Palkhi bhi toh chaar log uthate hain!"
Bringing Out the Hidden Entrepreneurship
Initially we fell prey to the idea that since my husband had a transferable job, it will not be possible for me to move from place to place. So I was made to stay with my in-laws in a beautiful farmhouse with all the perks and facilities. They created a huge room for me with everything accessible from a wheelchair. I had all the luxuries of being a general's daughter-in-law and a colonial's wife. But that bounded me. Even educated people like us fell prey to this and felt that the best place for me is home!
When people started asking me how I'm going to feed and teach my kids, being disabled, I started a restaurant in 2003, with under-privileged children. My deal with them was that you go to school/college in the morning, and help me run a home delivery food counter for the Army officers in the evening. That's when I started interacting with these young officers, and learned all about the internet. They gave me an idea about how to go about networking and I learned it all. The key to success was learning. I was always open to learning!
The Fascinating Learning Curve
I was accepting change with a positive attitude and a good sense of humor. At 36, I was a swimmer, having swum against the Yamuna River! At 39, I turned into an athlete. And at 42, when I became an Arjuna awardee, I fought for government jobs and learned how to be a government employee. When I ran short of funds, I learned how to become a speaker and learned the corporate tricks!
I'm very proud that in this whole journey, I have not taken even a penny from my home. I've given the best of education to my kids. If I had not joined sports, my daughters may not have become international sports-women. So I have added value to my kids' life. My disability hasn't taken anything away!
I think disability has been a boon to me; it's a blessing! I think I'm the chosen one. The beauty is that anything that I do, which I love doing, becomes an achievement.
Riding on Roadies
When I got a call from Cyrus Broacha, how they heard of me was I had been meeting people to get the bike made for myself, and I was shown the door by most of them. Finally I learned that there's a customization house called Kaulson Racing Products. While I waited there, there was this journalist. He would come every 2 hours to click pictures of paint artwork on Italian scooters. He was writing an article for Bike India magazine. From morning till evening, he kept coming and saw me sitting in that office each time!
I was always found chanting one thing- "I want a bike!" A point came when my diaper got full and my pants were wet, but I was stuffing newspaper under me and still sitting there. The journalist was fascinated and he followed my story and wrote an article on me. I think this story got the attention at Roadies, and then Raghu called me and said- "If you want a bike, we want you biking for the first time on Roadies!" The first time I rode it was on MTV Roadies!
Equating Platforms for Inclusion

I wanted everybody to understand that our sports are equal to the able-bodied sports; in the value of the medal, the cash awards, and the job opportunities. When I went on Roadies for the second time, he invited me to a task where the men were against Sushil Kumar and the women against me. It showed people that we were all on the same platform.
Femina awards women achievers and I was nominated with Vidya Balan and Mary Kom for the 'Women We Love' section. Whether it was Bollywood, good looks, or sports, I was put at par with the women of this stature. So somewhere I was able to erase the wheelchair in the eyes of people and make them look at me as a woman who is doing something of value.
The Magic Mantra
Let's be honest- People look at you the way you look at yourself. People make disability a pivot and rotate around that. For me it's just another thing! I allow myself fears. But not more than 24 hours. I always have something waiting in my basket. I never leave myself without a goal.
My mantra is – Life is the only festival you can celebrate everyday. It does not need dates. Every other occasion does. Be absolutely open to ask for help. Let's cut our egos short. Let's stop giving ourselves excuses. Wake up and ask for help! People with challenges should feel free to ask for help and people who have the capacity to help should be more than willing to help. I think it'll then be a better and a more inclusive world.
KnowYourStar.com (KYS) interviewed Deepa Malik as part of India Inclusion Summit(IIS). IIS is a platform that brings awareness and drives inclusion of specially-abled people at corporates, schools, policy makers and NGOs. Yes, KYS is the official blogging partner for IIS and backs the event whole-heartedly in a thirst to see an Inclusive India.