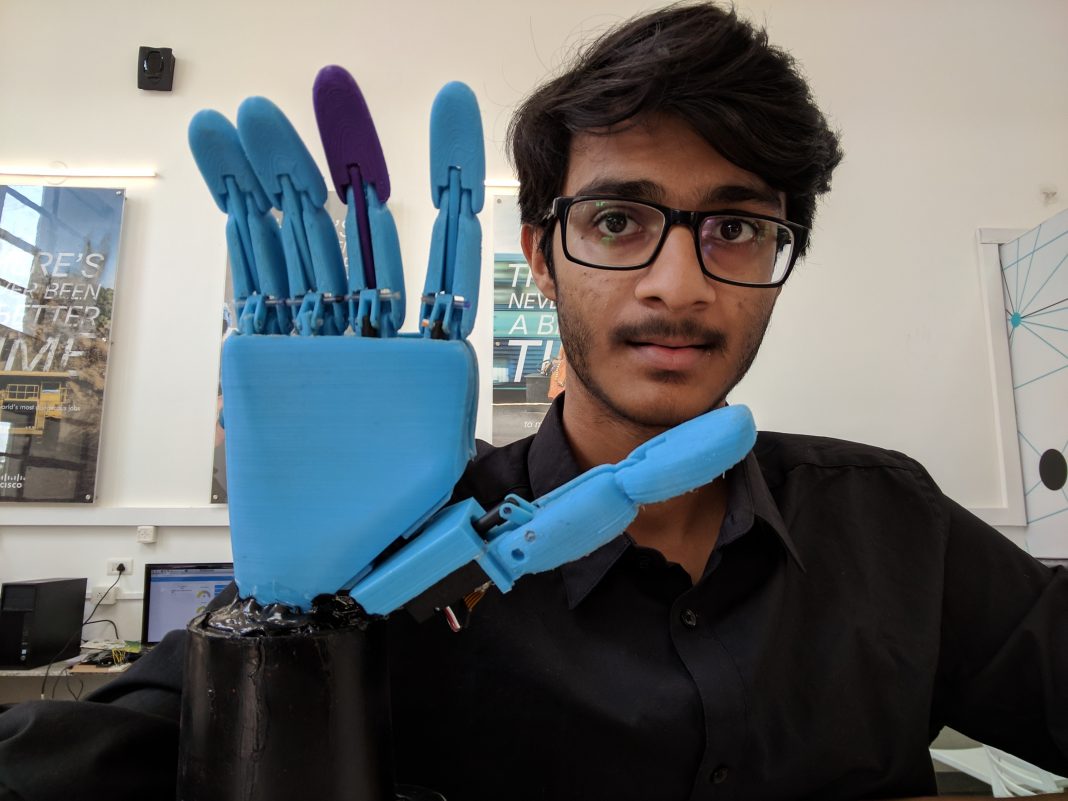 Dhruv Agrawal was mid-way his medical degree when he realised his love for engineering that was triggered by a special gift from someone, which brought about a mini-revolution in the lives of the differently abled community. By co-founding his company- Aether, Dhruv and his team have made bionic limbs made available for a much cost-effective option, which can be afforded by more people, enabling them to lead their lives as independently as they please.
Medical Student Takes Up Engineering Courses!
Dhruv is an MBBS student at VMMC & SJH and an Electrical Engineering Student at American Public University. He studied his 11th and 12th grade from Kota, while preparing for Medical Entrance examination. He scored an All India Rank 143 in AIPMT 2015 and got admission in Vardhmann Mahavir Medical College. But his journey from being a medical student to an engineering one is very interesting! Dhruv says-
"I had just started 2nd year of my college when I got a 3D printer as a birthday gift. In my first year, I was a total book worm and was mostly found in the library. But when I saw the capability of a 3D printer and realized its potential, I was driven towards the practical aspects of things. Initially as my educational journey was not in line with my passion, I had to struggle a lot. But over a period of time I developed the acumen towards engineering. I have read a lot about engineering in the past one year and acquired skills ranging from programming to 3D modelling."
He started taking up courses in engineering on online edtech platforms like EdX and Coursera, and recently joined a distance program of electrical engineering at American Public University.
Aether – College Club To Successful Startup
Aether was initially started as a Biomedical Innovation Club in college by Dhruv and his friends- Faith and Nisha, along with the support system they found in the college faculty as well as the principal.
He says- "We initially started working on 3D printed prosthetics for kids with symbrachydactyly. We soon graduated into a startup and increased our team size. We were fortunate enough to get the Nidhi Prayas Grant from Icreate, Ahmedabad. Icreate has been helpful in providing us with a Prayas Shala, which provides us access to 3D printers, electronic workstation and other prototyping equipment. Currently, we are working on myoelectric arm for upper limb amputees. Our Product, Zeus, is undergoing clinical trial as of now. The Icreate folks mentored us in converting Zeus from a project into a product. Our vision is to develop a healthcare innovation platform where doctors could come to us with ideas and we would convert those into products." He continues,
"It is really difficult to sum up the experience of founding Aether. It has ranged from frustrating to fantastic, draining to energizing; but I can fairly conclude that I have learned more in the past one year than I ever had. Founding a startup is always a win-win situation, because either you succeed or you learn. I have made it very clear to myself, 'Die, before you quit', and thus have never felt the need of giving up. We face challenges ranging from funding issues to regulation issues to manpower issues, but we always find ways around them."

Affordable Technological Solutions For The Differently Abled Community
Zeus is a bionic limb, developed by Dhruv and his team, for an upper limb amputee, which has multiple grip modes, various control strategies, anthropomorphic design and affordable pricing. It is sleek, elegant and cutting-edge in both design and technology. Zeus pushes the boundaries of multi-articulating myoelectric hands.
As the world's most affordable, functional and easy-to-use myoelectric hand, Zeus is comfortable, precise and intuitive for patients, transforming the lives and abilities of amputees around the world – from helping them perform simple tasks like tying shoelaces to giving them back their control and their pride.
Dhruv says- "We are currently doing clinical trials. Once done with it, we will get the product into market. We plan to continue working in the field of rehabilitation and use the knowledge gained to develop other products like exoskeletons and training platforms."
Takeaway – Habits That Help!
"I have a very strict habit of converting things into concept maps. This helps me a lot in planning and strategizing. We have also developed a habit of strict financial planning and working accordingly. Another helpful habit that I developed was reading for long hours. This has really helped me comb through loads of research articles and develop the tech accordingly", says Dhruv!
KnowYourStar.com (KYS) interviewed Dhruv Agrawal as part of India Inclusion Summit(IIS). IIS is a platform that brings awareness and drives inclusion of specially-abled people at corporates, schools, policy makers and NGOs. Yes, KYS is official blogging partner for IIS and backs the event whole-heartedly in a thirst to see an Inclusive India.
---
Liked reading this? Then you might also like to read Abhinav Dey- On Creating New Possibilities Through Design Thinking
---
If there's any story that needs to be told, we will tell it. Write to us at contact@knowyourstar.com with your story lead, or contact us on Facebook or Twitter.