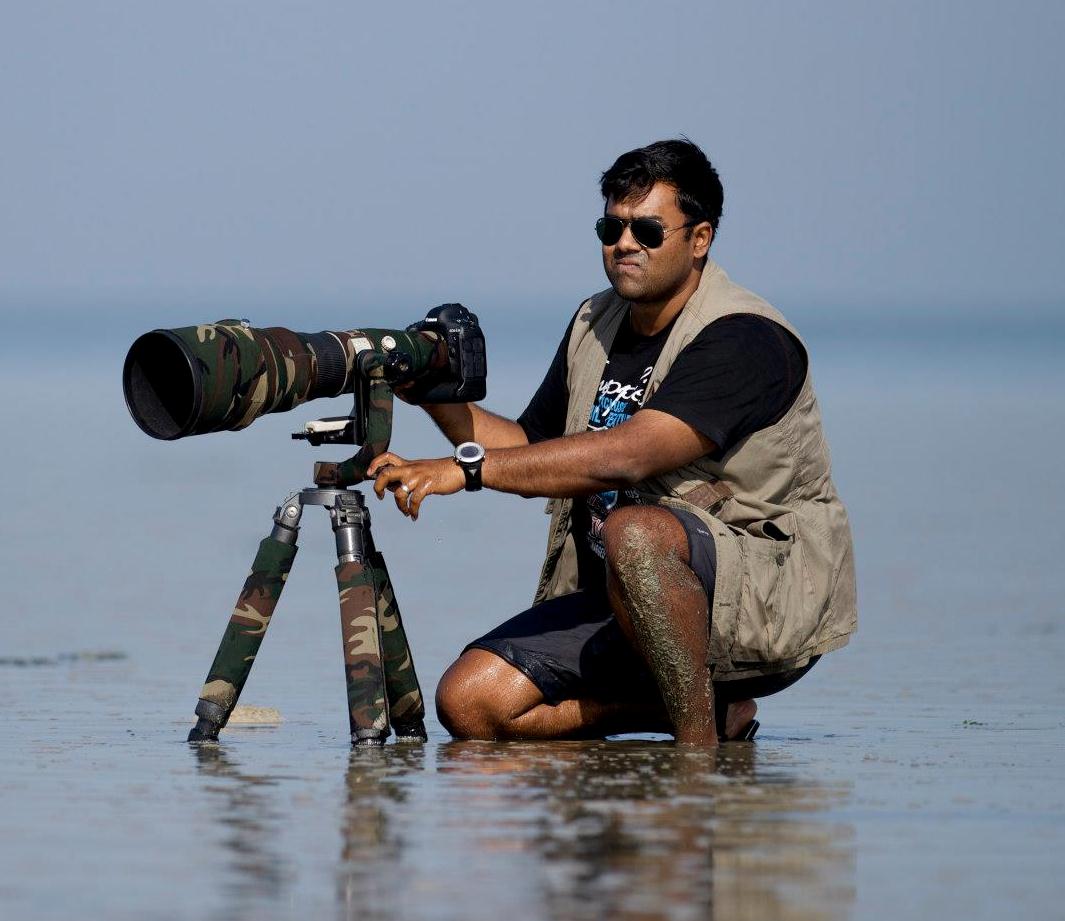 His holidays were spent visiting game parks and sanctuaries trying to photograph animals in their natural habitat. With time, his skills became more refined and recognition followed like a corollary. His photographs were published in a number of magazines, and were feted at photography contests. In 2007, he won a place in the Sanctuary Asia Wildlife Photographer of the Year award. In 2010 he went on to set up India's First Travel and Photography Company, Toehold. Presenting you this inspiring man with impromptus answers and a witty mind, an acclaimed wildlife photographer, Mr. Jayanth Sharma.
Hobby into Profession
Dot com boom had taken the Indian market by storm and so I entered the Information Technology sector as a graphic designer. During my spare time, I meddled into my interests – music and photography. Wildlife photography amazed me and over a period of time I got noticed for the same. It took six months of pondering to quit my job and get into freelancing. I didn't take that decision considering numbers or bank balances or risks. It's impossible to pursue your passion if you think
like a rational economist! I could afford to experiment since I was 25-26, and there were very few photographers out there. Honestly, today I wouldn't have taken that decision in the current conditions where we have too many dedicated photographers.
Living up to the decision is really tough. For the first couple of years it was very stressful. Things improved and I got into entrepreneurship as well. Interestingly today, wildlife photography is turning into a kind of sport.
Natural History Photographer          
Photography is not required to save the planet. But if you take pictures consciously, you can generate effective awareness and interest. You never know, this might strike a chord with people to nurture the eco-system.
My actual audience is the common man. He is the one who has to understand what I'm trying to showcase. In that context, I would think I haven't achieved whole success yet. Instead of 10 photographers appreciating something I have done, I'd love one common man to get inspired by it. That would probably be more satisfying.
Toehold Entrepreneurship
I come from a family that is driven by art. I'm classically trained in music, and was into a lot of extra-curricular activities at school. I wasn't a class-topper, and grew up as a practical oriented man and not the bookish kind. That has indeed helped me gain multiple perspectives.
At Toehold, we need to keep innovating to retain our credibility. Before we started, we were like the ideal customers for a concept like that of Toehold's. So we knew the pulse of our clients, and that's the reason we started Toehold – for people like us! Travel and Photography was never used together before. Even today, there is no company like Toehold in terms of our wide operations and offerings. We retain our top leader position because we have the ability to think from our client's shoes, on which we were standing a few years ago!
IT Career
I come from a modest family in Mysore. As a kid, summer holidays were about visiting Bangalore. My life changed when I moved to Bangalore. I was passionate about my company throughout my career. I never quit my job because I was bored of it. It was my most cherished time. I was into User Experience design role and that gave me a learning to always think from a user's perspective.
I always suggest my students to take photography as art and over a period of time, if they feel that they can make a career out of it, then quit the job. We have to stop this 'Changing the career over the weekend' trend for photography enthusiasts; it is not going to lead us anywhere.
Time, Patience and Standard
All three of them are integrally connected. You have to look at time as an investment. The more time you spend on your work, the lesser you shoot, and the lesser you shoot, the better you shoot! The last 10 years, I haven't been able to fill my 2TB hard disk and ironically, I am a photographer. I believe that one great image a year shot with incredible artistic mood and timing, will keep you in people's mind even after you die!
Here are some Quick Questions for you:
One thing you want to capture
Something that I'll be proud of! I am pretty open to things as they come. I can't focus on one as my dream shot keep changing every day!
Place you would want to revisit
The Arctic! Whatever you bring from there is unique.
Your biggest fear
Age. When it slows me down, and I can't live up to my own expectations. This is the motivation for me to turn into an entrepreneur.
Experience that changed your perception
It's an extempore answer – One thing that I have realized is while you are trying to inspire someone, you have to make sure he/she is not being deceived. Nobody wants to click better photos for pleasure; they want to become photographers for profession. Hard truth is that – you can't shoot the photos of your choice when you are a professional. This glamorous deception always unrests me. Zebras and Tigers don't pay for photos!
KnowYourStar.com (KYS) wishes Jayanth Sharma a fantabulous future. May those polar bears and humming birds live extensively with the help of his conservational awareness. Let's save this planet! Happy Makara Sankranthi, Pongal, Uttarayan and Lohri to all our readers!
For 1980 born Jayanth Sharma, it was natural to take up photography as a hobby, because his father was a professional photographer. But like most young Indians, he did not think of converting his hobby into a profession. Instead, he joined the Information Technology sector as a designer. However, the hobby soon turned into a passion over the years. In a natural merger, he combined photography with his other love—wildlife. In 2008, Sharma decided to push the envelope. He quit his nine-year-old job as a designer and decided to become a freelancer. The initial period was difficult but assignments began to trickle in gradually. He sold his pictures to magazines, travel brochures and travel-related companies. He launched Toehold with three like-minded people in 2010. Read Jayanth Sharma Biography here.