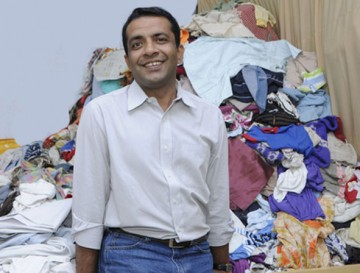 Who: Anshu Gupta
Education: BA Economics from Hemwati Nandan Bahuguna Garhwal University; PG Diploma in Journalism from Indian Institute of Mass Communications; PG Diploma in Advertising and Public Relations from Indian Institute of Mass Communications.
Anshu Gupta, affectionately called 'the Cloth Man of India' is the founder of Goonj, an organisation that been doing amazing development work in rural areas for many years.
Anshu, along with his wife, Meenakshi, was working in Delhi as a journalist. While he was doing research for an article, he realised that there was a real scarcity of clothing among the poor sections of society.
Having clothes to wear is something that most of us take for granted. Anshu and Meenakshi realised that except for when there are disasters and calamities, we rarely donate clothing. So, people in rural areas were struggling to afford clothes on top of their other expenses.
Goonj began when Anshu and Meenakshi took all their unused clothes and donated them. That day they had 67 pieces of clothing. Now, Goonj works with over 3000 tonnes of material a year. According to Anshu, Goonj has been working in a parallel economy which is trash based not cash based!
Goonj aims to 'give with dignity' so that people in rural areas have the chance to dress nicely. Goonj accepts donations of clothing, household items, shoes, toys, books, etc. They take these items and redistribute them to people who really need them. People donate things that would otherwise be discarded. Goonj takes these things, recycles them and ensures that they reach someone who needs them. They literally make something out of nothing!
Goonj also addresses the ideas that surround menstruation in India and how they can result in harming women. They have initiatives like NJPC (Not Just Another Piece of Cloth) that try to spread awareness about the issue. They also make and distribute reusable sanitary pads. Goonj also provides relief in the form of clothing and other useful items when disaster strikes. In exchange, the community comes together to rebuild and repair.
Long Story Short
Anshu Gupta and his wife Meenakshi started Goonj in 1999

They started the NGO when they realised that there was a real scarcity of clothing in rural areas.

They started by donating their own items of unused clothing

Goonj takes donated clothing and other items from urban areas all over the country and redistributes them to poor people in rural India.

Goonj also tries to spread awareness about menstruation and teaches women not to be ashamed because of society's perception of it.

They started the NJPC initiative which makes and distributes reusable sanitary pads to rural women.