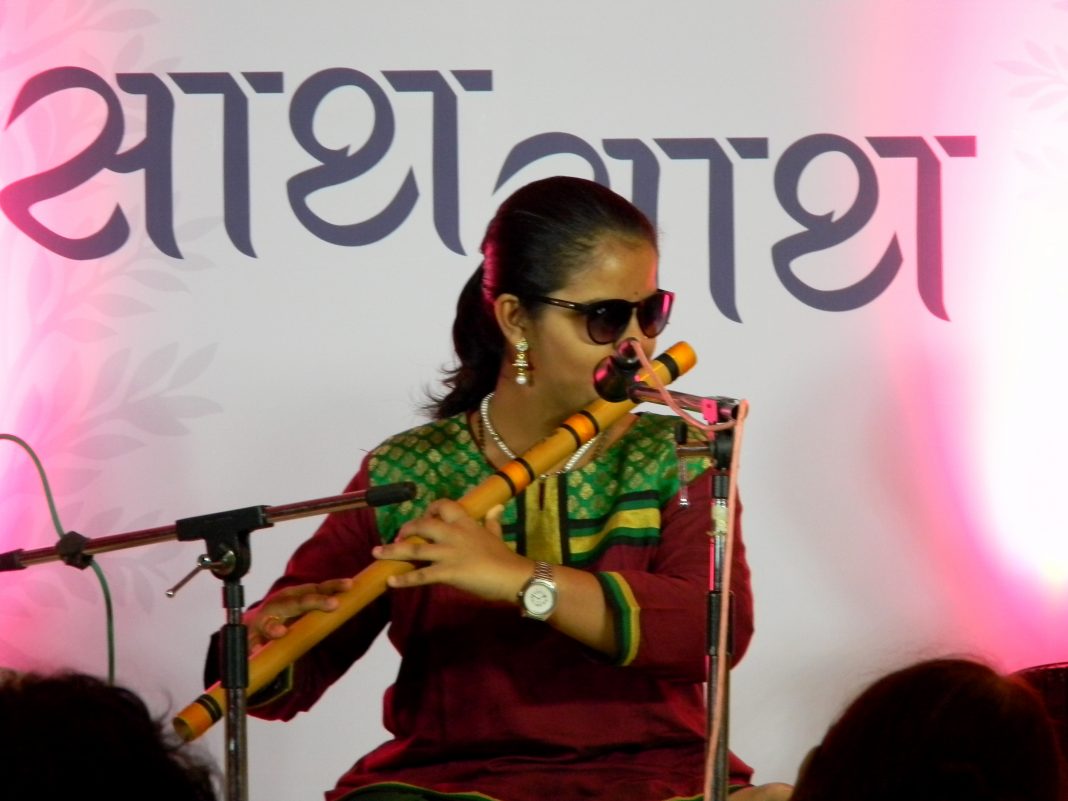 This article was first published in 'White Print' – a braille magazine for the visually impaired, founded and published by Upasana Makati.
"Music for Krutika began when she barely started talking. In our village, Bijapur, there is a temple where we would attend poojas. This chirpy, happy four year old was enjoying her usual chatter while her uncle spotted an old harmonium quietly sitting in the corner of the temple. He brought it to her and without an iota of training or knowledge; she instinctively moved her fingers all over it and in no time started playing it. We were left spellbound. Right then we knew she was gifted. To ensure her talent is honed in the right direction we took her to a music teacher. However, to our disappointment he refused to teach her because she was too young", shares an immensely proud mother.
The Story Of A Young Achiever
Krutika Janginmath immersed herself in audiocassettes and music of all forms. Her inability to see the world with her eyes didn't come in the way of her mesmerizing the world with her music. "I was learning vocal music at the LKG blind school in Bijapur. By the time I was eight years old, I knew 18 ragas. I could even recognize them with ease. In the journey that I am going to take you through, one thing remains constant – I am indebted to my parents for their support and love. I am what I am because they stand by me", hums Krutika.
"My nani (grandma) got me a flute while she was returning from her trip to Dwarka. Usually children play with toys at that age, but I chose that flute. In no time I started playing all the songs my teachers taught me in my vocal class on the flute, without someone having to teach me. Vande Mataram, Jana Gana Mana (Indian National Anthem) on the flute were the first few songs I played. My parents recognized my talent in music and that's where it all began".
Krutika started her training in classical music. Babuji Naikodi, a flautist in Bijapur promised to teach her basic course in flute playing to strengthen her foundation and introduce her to the techniques involved.  However, this God's child completed the training in two weeks only. "Sir told my mother that he had nothing more to teach me. He asked us to meet Pandit Hariprasad Chaurasia and train under him."
Favorite Student Of The Greatest Flautist
"Seeking his blessings we left for Mumbai and went straight to Panditji's Gurukul. There was anxiety and excitement to meet such a legend – Padma Bhushan, Padma Vibhushan Pandit Hariprasad Chaurasia. However we did not have a house here or any arrangement to stay; so he was unable to take responsibility for me to live in his Gurukul".
After five years, Krutika's parents got her to Panditji's Gurukul again, but this time they were bound by the same hurdle of accommodation in the city. They took back all the music CDs for Krutika to immerse herself into. With every passing day, the flautist in her became stronger. She would play all of Panditji's mellifluous tunes with ease and élan.
"When I turned 14, I started holding the E scale big flute that Panditji plays. The following year, after completing my board exams my parents took me to Mumbai and started training under Guruji. Our neighbour in Bijapur had a vacant flat in Malad, Mumbai. They were kind enough to give it us for three months. Each day my mother and I would go to the Gurukul and spend the entire day there. I would attend both Panditji and his disciple's class everyday. In those months my life bloomed, and the flute and I were spending all the time together. I was taught the technique of playing the flute like I had never learnt before. In no time I became Guruji's favourite student. This experience was life changing for me", gushes Krutika.
"You know I am so blessed that he has asked me to call him each time I have a doubt about what I should play at a concert. He actually sings for me over the phone and solves every query of mine. His first question is always- "Did you eat food"? (laughs) He always says "Acha khao, acha bajao!" (Eat well, play well). He always encouraged me and appreciated the fact that I was able to play the difficult pieces beautifully. In fact before every class he would ask me the raga everyone should play. The choice was always mine. After the class would get over, he would come and feed me with a sweet. He is really close to my heart and I am so thankful to God for his blessings".
Talent Recognised On A National Level
Krutika has performed with her Guru Pandit Hariprasand Chaurasia in Solapur, Hubli and Mumbai recently. "We had gone to Dharwad once since Panditji was going to receive an award. I told him about my wish to become an Akashwani artist. He immediately made a call to the Program Executive at AIR and enrolled me for their National Music Competition. Winners of the competition directly get to be a B grade artist and then can climb their way up to reach Level A. He wanted them to register me for both vocal and flute categories, but was allowed to participate only for one of the two. I cleared the regional and divisional rounds and reached the final round where the recordings of the artist are sent to the Delhi office of AIR and thoroughly judged. I was thrilled to have won the flute category and of course it was all because of Guruji's blessings."
"Whenver I would tell him how I am able to do everything because his blessings are with me. He immediately says, " No no. The almighty is very kind". He tells me I should bow down to my parents everyday and thank them for everything they have done for me. His humility is enchanting.
Krutika is currently pursuing her Bachelors in Music in Dharwad. "Guruji has given me a letter that states that I am eligible to be enrolled in the Post Graduation program since I have already completed the graduation syllabus. In fact I have also cleared the Central Government Gandharva Mahavidyalaya exams with distinction. However, the universities here are not accepting the letter. But my mother has taken upon her to fight it out this year with the authorities since mine would be a special case scenario".
Blind, Bold And Beautiful
"We are thrilled to be addressed as Krutika's parents now. Our identity has been formed thanks to our daughter. I share her story no matter where I go. I want people to know about how talented these kids are. I have encountered a lot of parents who do not pay heed to their children just because they have some disability. They think they are good for nothing. But I want to show the world that if we encourage and support them they can achieve the unimaginable. In fact the sighted see and waste their energy." She continues-
"Blind children have energy that they save because they can't see and they can chanelise this excess energy in a beautiful way. For Krutika it is music. When someone asks me what does Krutika do, we just show them her flute box. It is her identity, her asset".
Ask Krutika about her dream; "I want a Padma Bhushan and Padma Vibhushan both in flute and vocal music".
We at KnowYourStar are awed by Krutika's story and wish her the very best in her musical journey. After interviewing Pandit Hariprasad Chaurasia couple of years ago, it's such a pleasure to share his favorite student's story!
---
Liked reading this? Then you might also like to read Ratna Joshi – Driving Child Education, Women Empowerment & Health Awareness For The Poor
---
If there's any story that needs to be told, we will tell it. Write to us at contact@knowyourstar.com with your story lead, or contact us on Facebook or Twitter.