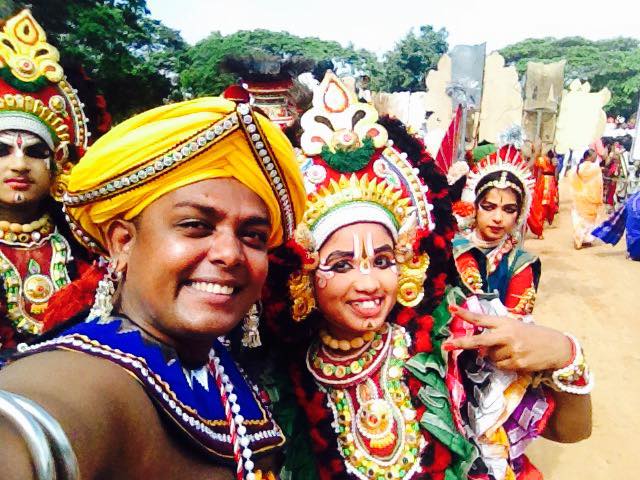 "Every individual grows up with the ambition to do something for his country in one way or the other. Soldiers serve the country their way, cricket players do it their way, and we artists do it our way."
Makumburage Gayan Pradeep is a professional freelance dancer from Sri Lanka. We happened to meet him and his team in a coastal town in Karnataka, where they have been performing. The troupe's performances have been welcomed by Indian audiences, who have nothing but appreciation for the beauty of the art form.
Gayan says that it feels like they are promoting the culture of their country in an alien land, contributing in their own way to enhancing the cultural richness of Sri Lanka. As he travels around the world performing, Gayan feels like he is proudly serving his country in his own way.
The Professional Kandyan Plate Spinner
Kandyan is the major cultural dance form of Sri Lanka and is mesmerising to watch. Gayan Pradeep is an expert in the art form and has had the privilege of performing in 26 different countries so far, including the UK, Australia, and Switzerland.
Some of his favourite moments include performing in front of Amitabh Bachchan, and performing at the opening ceremony of the ICC world cup 2014 at Dhaka, Bangladesh. However, Gayan has so many interesting stories to tell about his career as an artist that you find yourself worrying that by not being one, you're missing out on a lot!
Gayan has no family background in dance, and he is the only dancer in his family. But he says that the incredible support of his family helped him achieve what he has. He has been studying dance since he was in class 5 and has obtained professional degrees in dance as well.
The Efficient Manager
Gayan not only performs in India, but he also leads a team of 30 Sri Lankan dancers who are students in an institution in coastal Karnataka. As you can imagine, it's not easy managing a team while living in another country. Especially since for Gayan, and his the team, Indian ways of life feel relatively alien and unfamiliar.
But Gayan has been managing three different teams for three years now, and each team has been more efficient than the last. Gayan has learnt to converse easily in English and Hindi and is also consistently improving his Kannada. Before he could ask his team to adapt to India, and our way of life, he had to do it and lead the way. The biggest difference is that he had to guide himself.
Gayan travels for most of the year and has the chance to experience all kinds of cultures. However, regardless of the host culture, his team works towards promoting their own heritage, and ensuring that Sri Lankan forms of dance are appreciated around the world.
Connecting Cultures
Gayan's words drip with pride as he narrates the wonderful feelings that have arisen from representing Sri Lankan culture on international platforms.
He says that connecting cultures is the best part of his profession. He considers himself extremely lucky that he is allowed to showcase his talent on global platforms alongside other great dancers – a dream that he's worked relentlessly to achieve.
Gayan is all about the amalgamation of cultures. He says that his interest in Indian culture was spurred at a very young age from watching Ramayana and Mahabharata in Hindi with subtitles! He loves Hindi movies, and says that Indian art and culture has always intrigued and awed him.
Today, Gayan cherishes this meaningful phase of his life where he is doing his part toward amalgamating Indian and Sri Lankan art forms. He says that Indian audiences receive Sri Lankan performances with enthusiasm and that excitement serves as their daily dose of inspiration. Additionally, his students have also begun to learn Indian art forms, and he applauds the cultural exchange that can only be advantageous for both countries.
Between filling communication jobs, managing crises, building positivity, and promoting Sri Lankan culture in India, and around the world, Gayan Pradeep's life is both hectic and interesting. A calm and composed man, Gayan Pradeep finds time to enjoy life, believing that if he does, his audience will enjoy watching him. We have been his audience, and we can definitely vouch for his methods!
---
Liked reading this? Then you might also like to read about Subrahmanya Bhat – The Sonu Nigam Of Karkala.
---
If there's any story that needs to be told, we will tell it. Write to us at contact@knowyourstar.com with your story lead, or contact us on Facebook or Twitter.