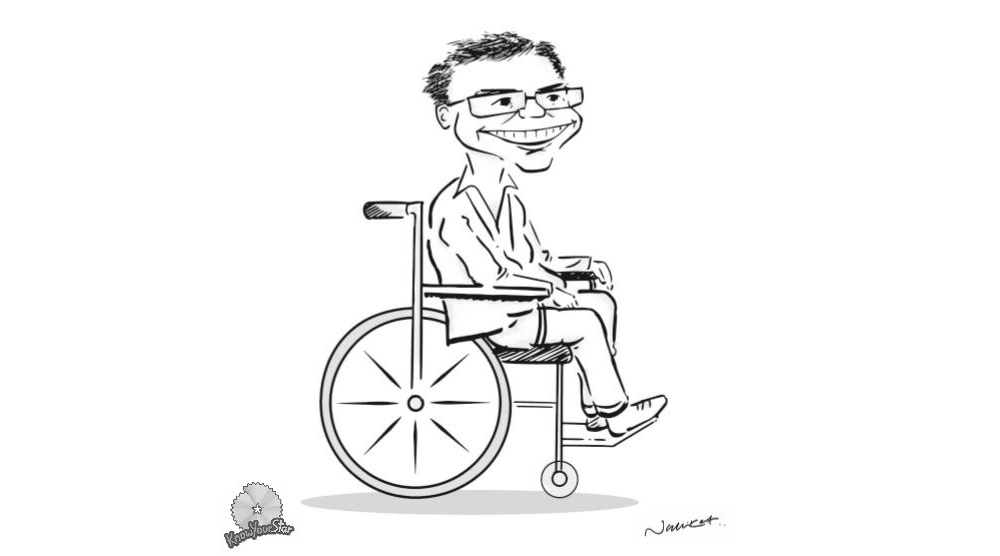 With this week's Monday Truclusions, I'm back with a story that reminded me of an incident from my childhood. It connects not only to a very strong and successful management theory but a very important life skill as well.
Faith Can Move Mountains
Recently I watched an Indiana Jones movie, the plot of which was to find the Holy Grail, a single sip from which would make a person immortal. Jones and his father discover relics that lead them to the final destination, where they are very close to finding the grail. But his father is severely injured during this journey.
In order to secure the grail and save his father's life, Indiana has to pass three tests at the cost of his own life. These tests are designed to prevent the faithless from reaching the grail. Of the three tests, one requires Indiana to step into thin air to reach the grail across a cliff.
There's no practical way anyone could jump that long a distance. The only motivation he had to go ahead and step into thin air was to save his father's life. Amazingly as he does this, he finds a ledge that provides him firm support, which enables him to walk across the cliff. The ledge is actually camouflaged to avoid any faithless person from getting to the grail! This story holds such a beautiful lesson on faith.
Another such example that inspired me was the Bournvita advertisement that shows a young boy and his mother practising gymnastics.
The mother tells the boy- Those who have the courage to fall over and over, shall one day rise and fly. She tells her son that she will always accompany him and fall with him, but he has to get up on his own.
The faith his mother shows in him in turn gives the kid the required confidence to try and try till he succeeds.
Faith – The Bridge Between Uncomfortable Outcomes
Whenever we see company, we are comfortable doing whatever it is in question, whether it's the right thing to do or otherwise! But if we have to make the first move in an unchartered territory, we speculate the chances of our success. We tend to forget that the bridge between a dream and it being realized is always "Faith".
Even in real life, there are times when we feel that a leap of faith is impossible, but then there are also times when we manage to find the motivation to do unthinkable things. That is how champions emerge!
A personal experience that speaks a lot about this context was when I was four years old. I had to undergo a spinal cord surgery and the doctor warned my parents that the surgery could be risky for my life. My parents were of the opinion that they were the ones who would be at the receiving end of the success or failure of the surgery, but with faith in the best outcome for me, they approved the surgery.
Now that for me was a leap of faith; eventually the surgery was beneficial for me. You can read more about this in my book soon.
Beno's Unshakeable Faith In Herself
Today I shall introduce you to one such champion, who built the bridge between her dreams and reality. India's first 100% visually impaired person who made the cut as an IFS officer. The 27-year old is a post graduate in English from the Madras University and used to be a probationary officer at the State Bank of India, before she was selected for IFS.
In 2008, four visually challenged people secured more marks than the students from general category. But they weren't given postings as they had limitations. But Beno's faith never allowed her to let go of her dream of becoming a civil servant.
She knew she would have to face social stigma and many other challenges to realize her dream. She says when she asked people to keep the surroundings clean, they ridiculed her. That is what inspired her and kept her faith alive to fight for her dreams, along with the support of her parents who are her greatest source of strength.
Motivation Lies In The Simplest Of Things
In the corporate world, we face so many challenging situations that give birth to self-doubt. But something keeps us going! I'm sure all of us have been in situations where we thought a particular target is just not achievable in time. But then when you approach someone who you think is a leader, a couple of inspirational and hopeful words from them is enough to pump you up and feel confident, isn't it?
So what's this magic that happens in a couple of minutes? If you have noticed, kids who are scared to jump into the swimming pool alone, get into it confidently when their parents enter the pool with them. It is nothing but the play of faith in all these situations! When you develop confidence in a certain situation, the leap of faith is bound to bring you a successful outcome.
Even if you fail, don't give up and don't lose faith. With faith, anything is possible and the kids know this very well. As we grow up into adults, we forget to find motivation in the simplest of things. The question is, can you keep the child in you alive and have faith?
---
Liked reading this? Then you might also like to read Monday Truclusions – Why Patience And Perseverance Are Surefire Paths To Success

---
If there's any story that needs to be told, we will tell it. Write to us at contact@knowyourstar.com with your story lead, or contact us on Facebook or Twitter.