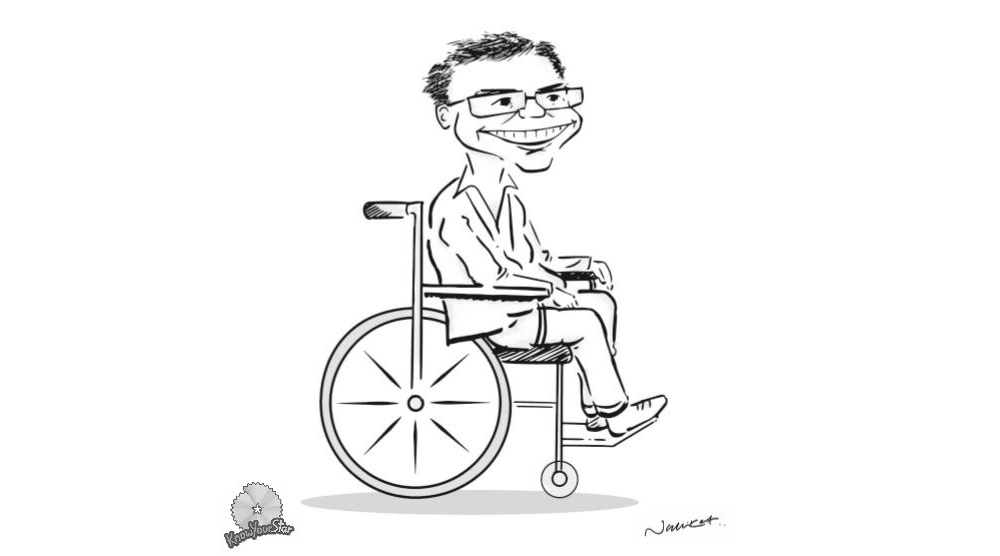 Years ago, I was told a story, which has since been imprinted in my mind. It has made my mother a stronger person, and she in turn has transformed me into who I am today. I want to narrate the same story to all of you. Then, I shall introduce you to an awe-inspiring child prodigy who will blow your minds!
The story goes like this:
Once, it so happened, a troubled soul wasn't able to find peace. One night, in bed, he dreamt of walking alongside God himself. Soon the sky began to flash through scenes from his own life, and after the last scene flashed, the man turned back to see two pairs of footprints on the sand. He also noticed that each scene was related to the footprints that he saw.
Through The Darkest Hours
He then realised that when times were the hardest, and he was going through the most distressed periods of his life, there were only a single set of footprints in the sand. He asked his Lord, "You promised me that if I follow your path, you will never leave me alone. Then why do I see only my footprints when times were the darkest?"
God replied, "My precious child, I agree that there are only one set of footprints when you were going through the roughest times of your life. But those footprints are mine. I never left you, my child, I was actually carrying you through the rough times."
Now, why did I narrate this story to you? That is because I am going to introduce to you a couple who never lost faith in the almighty, and were gifted a miracle in the form of a son.
Ladies and gentlemen, it is my proud privilege to introduce to you – Mr. Hiren Shah, Mrs. Jigisha Shah and their miracle boy, Master Sparsh.
A Musical Miracle
Why do I call him a miracle boy? That is because, even with a condition like Osteogenesis Imperfectam, commonly known as the brittle bone disease, he continues to live life to the fullest. This condition makes his bones extremely brittle, and has affected him from birth. He emerged with 40 broken bones from his mother's womb.
His father believes that Sparsh is a miracle who was born to do something extra special with his life. If his killer smile and cute face aren't enough to inspire you, then read on to know more about what this little bundle of joy has achieved already in his life.
Sparsh has written 10 original songs, and is also blessed with a silken voice. This Eminem fan became a worldwide internet sensation when he launched his cover version of Eminem's hit, 'Not Afraid'.
He's currently 13 years old and has had more than 125 fractures. His hands and legs are unable to bear his body weight, rendering him unable to walk. However, his will is indomitable and is the strength he relies on to chase his dreams.
Sparsh believes dreams are not enough, hard work is what turns those dreams into reality. Hence, he works hard enough to realise them. He says he wants to be the courage of people who think having a disability is the end of all their dreams and aspirations.
Sparsh has been honoured multiple times by various institutions. Some of these are:
– Young Voice Of NYC/Youth Ambassador for St. Jude Children's Hospital
– Most Inspiring Individual from ICAN
– Inspiration Award of Excellence from SACO,
– Shoorveer Award from Ample Mission
– Swardhara Singing Champion (1st in sub-junior, 2nd in junior categories)
– Gaan-Nipun Spardha Champion
– Speech Competition Champion at Indian Consulate in NYC
– Pi Champion of Middle School
– National Junior Honors Society Member
– 'Junior Phenom' Award from Harlem Globetrotters
The Power Of A Smile
There is something that I have in common with Sparsh, a lesson that we both have learnt from life – smile through immense pain. Despite the numerous injuries that Sparsh has experienced and the immense pain he endures, he still manages to smile through the misery. The energy to smile comes from the faith our parents imparted in us.
On a lighter note, he says that he asks his bones to "Smile, please" whenever they hurt. He also wants to leave the his own footprints (AKA wheelchair tracks) in the sand, a legacy so deep that not even a tsunami can erase them.
Let's hope that this champion's dream of singing in front of a billion people comes true one day!