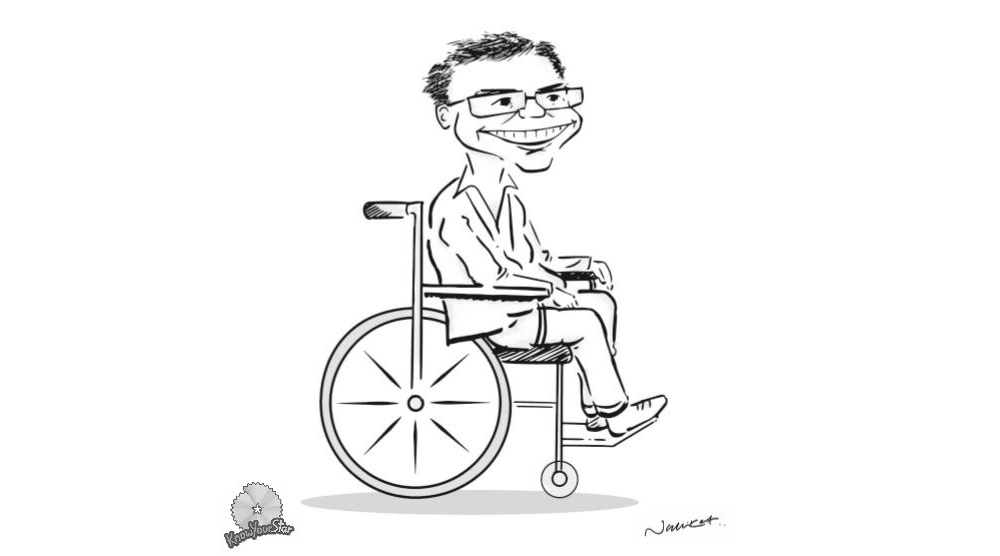 Welcome to another edition of Monday Truclusions! I must say, I've had an enthralling, exciting, and amazing weekend, which has now left me with withdrawal symptoms. This is because, all of a sudden, I have realised that the India Inclusion Summit 2016 is over.
I have gotten so used to working towards making the summit successful, along with the whole team at ANZ and SAP, and I am pretty sure each of them is experiencing similar feelings.
Today, I will tell you about the best moments that I have experienced at this event. Or should I say, 'movement'. Though I had participated in IIS in 2014, and in 2015 as a speaker, it was different this year. I participated as one of the organisers and had some insight into how much hard work goes into pulling off something like IIS successfully.
How It Came Into Being
It was the brainchild of Ferose whose vision for IIS was clear, he didn't want it to be just another event.  He realised that India could only become inclusive if there is a change in how people look at each other. A change in context was needed. The MD of ANZ, Pankajam madam, shared his vision and hence took over the mantle of IIS from Ferose and SAP last year.
Spotting Someone Special
With Ferose as a mentor, I am also learning to spot people who stand out and inspire the world with their work. Ferose believes it is very important to connect like-minded people to make society more inclusive. On my last trip to Delhi, where Bharath and I were invited as the keynote speakers at 'Amazing Indians,' an event organised by the Times Now group.
There, I met a young girl called Damini Sen, who has an amazing talent. She can paint 38 paintings in an hour. What makes her efforts special enough to have her own world record is that she paints using  her feet. Born without hands, Damini did not allow her circumstances to deter her enthusiasm to live her life fully.
She was honoured as an 'Amazing Indian' by the Times group this year. That night after our speech, when Ferose called to congratulate us, we told him about Damini. He was as excited as we were and instantly wanted her to be one of the speakers at IIS 2016. Bookings and arrangements for Damini and her mother were made accordingly to attend the summit.
The best thing about Damini is her confidence. We reached out to her to help her prepare for IIS, but she was very confident and told us she did not need curation. Somewhere, deep down, I was confident because of her self-assurance. I had done something similar and denied curation when I was invited as a speaker at the same platform. I knew she wouldn't let us down and she didn't.
She very confidently spoke of how with courage, willpower, and determination one can overcome any challenge one is thrown. She also emphasised on how important it is to educate the girl child and let her create opportunities for herself.
She summed up her speech with two beautifully poetic lines in Hindi, which translated to "Destiny doesn't lie in the lines on one's palm, even those without hands are destined to greatness". It made me feel happy to know that I had helped add value to the summit with Damini's presence.
A Truly Memorable Musical Moment
Another special moment occurred on day 2. Ever since I was in college, I have written songs and have dreamt about the day that my words would be sung. Many months ago, when the preparations for IIS had yet to gather momentum, I was introduced to Rohhan Patel, a music composer trying to make it big in Mumbai, by a common friend called Deepika, a very talented singer.
Rohhan and I used to work on compositions but were still waiting for an opportunity to showcase our work. The opportunity we were waiting for came in the form of IIS. I shared a composition that Rohhan and I had worked on with a key member of the IIS team, and a very dear friend, Jaideep Rao. Jaideep liked the composition so much that he suggested, with minor changes, that this could be the theme song for IIS 2016.
Both Rohhan and I loved the idea, we made the changes and then shared the composition with the larger group. Everyone loved the song, which was voiced by legendary singer Vijay Prakash. The best thing, which made our day, was the interpretation he gave of the song and of IIS at large after the performance.
He said that he saw life as a large canvas on which various colours were spread. According to him, the life we live is not destined but is chosen by each of us. He also said that there are three kinds of people – the first kind who admitted to god that they could not sustain themselves in pain or any other trouble as they did not have the courage.
God took mercy on them and granted them all the happiness they wanted.  Then came the second set of people who were open to the concept of little pain and little gain. God granted them the mid-way they wished for. But then a thought emerged – "For us to attain self-realization and attain liberation it is important to go through pain of some kind".
But then he wondered, who should he give that pain to? It was then that a separate class of people offered to take all the pain he had to share, unflinchingly and without any thought towards gain.
God was moved by their courage and he blessed them with a reward of great joy once they were through experiencing their share of the pain. Vijay sir went on to say that he saw such brave hearts in the speakers and audience of IIS 2016, which is indeed the essence of IIS.
This is how I summarise IIS 2016:
I can
 My eyes can't see but I dream,
My lips don't speak but of joy I want to scream.
I can't move my feet but my mind is in no prison,
The strength of my will second to none;
To fall I will never be shy,
My eyes will not leave the sky.
I face my fear without a blink,
My hope will never sink.
The dark is no more a scare,
I will find the light of my share.
Some say I am a sin,
But I know I can win.
---
Liked reading this? Then you might also like to read Monday Truclusions – Finding Opportunities In Diversity.
---
If there's any story that needs to be told, we will tell it. Write to us at contact@knowyourstar.com with your story lead, or contact us on Facebook or Twitter.