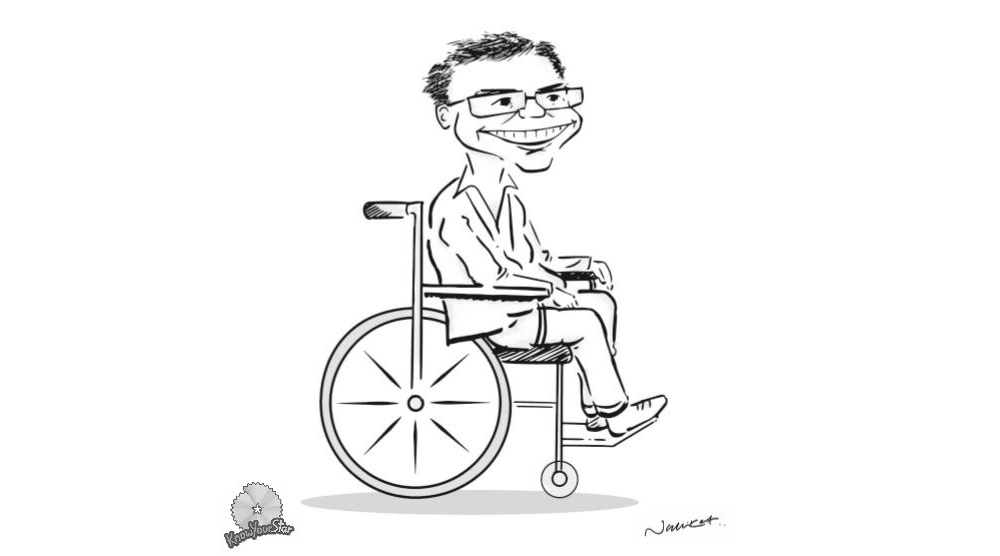 It's time for my Monday Truclusions yet again, and I am back to tell you something interesting. My participation in the Inclusion Retreat, held in Gujarat, gave me an opportunity to meet some great people. With our hearts connected, we came together again a week back, with a determination to pull off something amazing. The venue chosen was my residence, which was aptly named – 'The House of FRIENDSHIP.'
The Circle Of Friends
This retreat was the brainchild of a Master Blaster – a techie turned entrepreneur turned Heartpreneur who has recently taken to "sainthood" – our very own Jaideep Rao. The other person who helped conceptualise this was a man with a gorgeous heart called George. He is a former techie who is now focused on building communities and works with Enable India.
Next in line is a dear friend, Ranjana. An M.com by qualification, her calling is not commerce but service. She started as a scribe for the visually impaired and is now serving at the White Swan Foundation for Mental Health as a content writer and organises outreach programs for similar causes in rural areas. Additionally, she is also a trained classical dancer and dances like a dream.
How can I fail to mention the celebrity in the group – Priyanka, the Master Chef. Thinking about the sambar she made in Ahmedabad still makes our mouths water. Her amazing sense of space makes her dance as if no one is watching. Her confidence allows her to explore new avenues. She now leads a team of 6 at IBM.
The Bonds Of Family
Then there were the 3 pillars of my life – my mom, brother and my best friend, Bharath. And then there was me – a drop in the ocean of knowledge, experience and achievements.
The discussion began, as any debate in a group of friends always does, with no formal agenda, but only a seed question.
"Do we need more inclusion retreats like the one in Ahmedabad?"
Though the answer was a unanimous yes, we needed to dig deep to explore the right reasons for it. Because we did not want the circle to be just another gathering where afterwards we would return to our lives and forget what we spoke about.
The Importance Of Inclusivity
As Ranjana was the newest member of the group, she was given the opportunity to break the ice.
She did it so beautifully and in a touching manner, when she said, and I quote, "The profession I am in, I need to tell true stories which not many people want to listen to.  I want to be part of this group because I know these are the ears that want to listen to those painful stories and act to make India inclusive in every aspect. I want to play an important role in realising this dream."
Then it was mom who shared her emotions, she told the group how she had to make a conscious effort to bring inclusion into the family between me and my brother and with my friends at school.
Naveen then shared an instance where he and Bharath argued at a mall for the rights of the differently abled. I had been denied the elevator as it was closing time. He also shared how people came to support us and from then on it became a norm in the mall that the elevators would stay switched on until all the customers leave. This could help so many others. My sister-in-law, Rajani, shared how happy she feels when my nieces make me feel included at home.
Next, it was Pranita who shared her experience at the retreat at Ahmedabad, where though she was a stranger there, she never felt like one. It was because she felt that she had a mirror, and she saw herself in everyone. Though there were diversities present, there was also a oneness that she experienced.
Bharath then shared his views on how he felt that the seeds of inclusion must be sowed in the minds of adults, and especially the parents of young kids. They should encourage kids to practice inclusion rather than spending their time playing with mobile applications and social networks.
Gorgeous Jorgious (George) opened up after that, and he told us about his experiences in the corporate world. He also expressed his beliefs that top management should encourage employment and growth opportunities for employees with special needs.
A Community Tale In The Making
Finally, I had the chance to speak, and being the so-called storyteller of the group, began with a story. The story of a bird who was a great believer in God.
Once it so happened that a bird broke its wing and was in great pain and agony. Miserable, it asked God, "What sin have I committed to have a broken wing?" God told the bird that it was going to set an example for others of how to progress as a community.
The bird was able to do this by holding the broken wing of another bird and combining their strength to fly – because if you want to travel fast you will travel alone, but if you want to travel far, you have to travel with the community.
This is how I would like to present our efforts:
Why is it that we tend to walk alone?
And believe we are just a bundle of flesh and bone,
In our agony, we sulk and mourn.
Living ruthless apart we are torn!
All of us live in our shell,
When we have so many tales to tell;
Together we need to cast a magic spell,
To save the world from a burning hell!
A dawn follows every dark night,
A smile follows every plight,
No vision is out of sight,
Together our dreams shall take flight.
---
Liked reading this? Then you might also like to read Monday Truclusions – Conquering The Trials Of Life With Positive Actions.

---
If there's any story that needs to be told, we will tell it. Write to us at contact@knowyourstar.com with your story lead, or contact us on Facebook or Twitter.