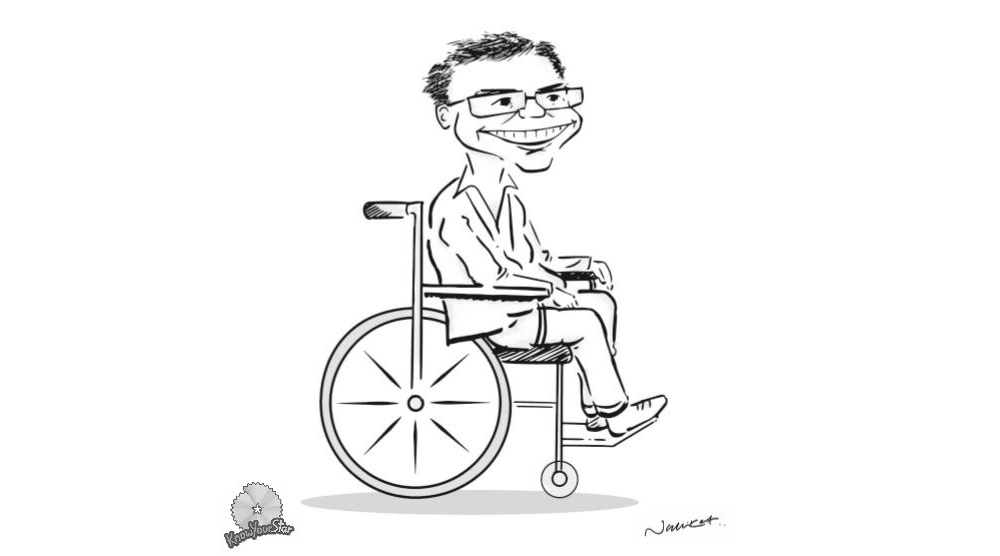 "It doesn't matter what you start with, what matters is how you finish!"
Welcome once again to Monday Truclusions, the saying above is one of the most powerful things I have heard, and it's something that I have grown up believing. I was reminded of this today because I read about an awe-inspiring individual, who has made the best use of what he had and become a role model despite the limitations and challenges he was posed with.
He could have very easily blamed fate for his state and done nothing about it. But he decided to act and rewrite his own destiny. He decided to carve out a path for himself. But before I get into that, here's a short story:
Putting Your Best Foot Forward
Once there was an old carpenter, whose work was appreciated by his employer. His boss thought that the old man was the best resource he had because of the quality of his work. One day, the carpenter decided to quit his job. He wanted to retire, and he informed his employer of his decision. The employer requested that the old man work on one last project as a personal favour. He was not only asked to do the woodwork but also to supervise the construction of an entire house.
Since it was the old man's last project, he wasn't his dedicated self on the job. He didn't choose the best wood available for the doors and windows, didn't mix the right amount of cement required, and didn't care enough to ensure that additional amenities were constructed.
Living With The Choices We've Made
At the end of the project, when the house was built, the employer handed over the keys to the carpenter and told him that the house was his as a mark of respect and gratitude for his services. The carpenter was stunned! If he had known that he was building his own house, wouldn't he have worked with more dedication? Definitely. Someone once said, "Life is a do it on your own project!" They couldn't be more right. Your choices and attitude are the blocks used to build the house in which you will live tomorrow. So build wisely.
I have always believed that one black mark against your character can overshadow all the good work you have done over years. One wrong blow to a rock can ruin the beauty of a sculpture.  
Living Life On Your Own Terms
The person I was talking about earlier has a similar motto in life. He is a young boy, who was born with congenital limb differences, missing his left knee, the fingers on his left hand, and his left fibula. His name is Ezra Frech, and when he was two-and-a-half years old he underwent a surgery to remove the non-functional part of his left leg. The doctors transplanted the toe to his left hand, giving him two fingers.
When he was 4, he was given a prosthetic leg that enabled him to walk. His determination and love for all kinds of sports, especially basketball, made him eager to play with other able-bodied kids. Needless to say, Ezra had to go through immense physical and occupational therapy to optimise the functions of his body.
He spends most of his time practising basketball in his backyard and running laps around the space. He can also skateboard, which is extremely challenging for an above-knee amputee. Not only has he been surfing but he wants to learn how to snowboard!
Ezra holds nine national-level track and field records and is a blue belt in Karate. His strength and endurance have been recognised with some significant awards, a few of which are:
A Courage Award from the Kobe Basketball Academy

The Rising Star Award From The Challenged Athletes Foundation
Ezra believes that success comes not to those who dream of it nor those who just hope for it to happen. It comes to those who make it happen. He says it is OK to be different as long as one is not OK with a mediocre life. Ezra believes in living life to the fullest.
Here's a dedication to this young champion:
It doesn't matter how you start,
Just believe in what comes from your heart.
You need to wait for your turn,
And not let your heart burn!
The more skills you sharpen,
The better you shall make success happen.
Lead the way and be the beacon of light,
Dawn would be just at the corner of your sight.
Forget the number of times you fell,
Remember you still have to finish well.
---
Liked reading this? Then you might also like to read Monday Truclusions – Overcoming The Struggles Of Depression.
---
If there's any story that needs to be told, we will tell it. Write to us at contact@knowyourstar.com with your story lead, or contact us on Facebook or Twitter.