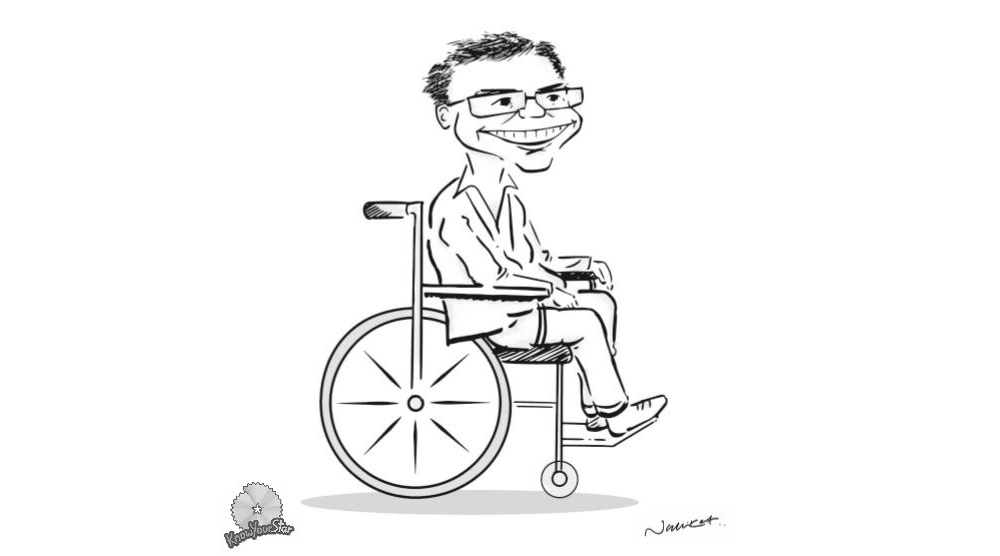 "However bad life may seem, while there is life, there is always hope",
…said the legend, one of the greatest minds the world has ever seen. Yes, I am talking about none other than Stephen Hawking, who is one of the three role models I looked up to while growing up.
The greatest thing that I have learnt from Stephen is to be hopeful in the most adverse situations that life throws at you. To never quit but focus on what your strengths are and not your weaknesses. It has been just a little more than a week since the man has left us physically, but he is definitely with all of us in spirit and is inspiring each one of us to live life to the fullest! This week, I dedicate my Monday Truclusions to the love that Stephen displayed towards life.
To begin, I'm going to narrate a true story that I found most inspiring, and then I'll introduce to you an equally awe-inspiring personality, who never learnt how to quit!
Karoly Takacs – About Unshakeable Resolves & Self-Belief
The 1938 Hungarian army had a soldier by the name, Karoly Takacs. He was an ace shooter and the only ambition in his life was to win the Olympic gold medal in the shooting competition to make his country proud. The entire country of Hungary and the whole of the shooting fraternity looked up to him as a potential Olympic gold medal winner.
But little did he know that fate had something else planned for him. His journey towards his lifetime goal wasn't going to be anything but smooth and easy. An accidental blast of the hand grenade resulted in the loss of Karoly's right hand, which unfortunately also happened to be his shooting hand. If it were anyone but Karoly himself, the dream of winning the Olympic gold and making his hand the best shooting hand in the world would have been all but over.
But Karoly wasn't the one to quit. Just after a month of the accident he was back on the mission of making his only hand the best shooting hand in the world. In 1939, he once again became the national pistol shooting champion, but he wasn't going to stop there. His dream was still the Olympic gold.
Losing a hand wasn't an obstacle he had to face in achieving his goal. The Olympic games were cancelled twice because of the world war. In 1938 Karoly was 28 and by the next Olympics in 1948 he was 38. He was past the pink of his sportsman life! But his will was the only thing that he had to compete against all odds, including the only hand that wasn't his strong side. He went on to become the first sportsman in his discipline to win two Olympic golds in back-to-back games.
This was all possible because Karoly believed in one man completely and that was none other than himself!
Zues Andre – From Fitness To Fight
The second champion I want to tell you about today is someone I feel very closely associated to. Even though I do not know him at all; the name of the man I am talking about is Zues Andre. His medical condition is what associates me with him. Andre is affected by cerebral palsy. Till the age of 14, Andre suffered with a hunched back and knees that were bent almost at a right angle. But a supra-major skeletal and muscular reconstructive surgery helped him a lot. Today at 29, he is medically cleared to fight able bodied boxers and is practising for his first professional boxing bout.
He says, "I get better every week and my goal is to get my first fight by the end of 2018." He wants to dedicate his journey to raise funds for kids with disabilities who cannot afford medical help. Right from the time he was diagnosed with CP (cerebral palsy), the physiotherapy and related pain have been his constant companions.
He goes on to say he always felt he was normal in his mind, but the society around him often reminded him he was different and something was wrong with him. People often asked him why he walked the way he did, commenting on his situation. Climbing the stairs was a struggle for him, and he decided to start working on the symptoms of his problem areas. Zeus needed to strengthen his ankle and knee to improve his balance, and he worked towards that with the utmost perseverance.
By the time he reached engineering, he could walk without a stick but his balance was still bad and so his speed was slow. With constant exercise his speed and balance improved tremendously, but still had a long way to go. Andre was a boxing fan and when he moved to Canada for higher studies he enrolled himself into a local boxing club. Primarily to improve his fitness, but he had enough strength in his hands and feet. He only needed to work on his balance.
What started as an attempt to get fitter, ended up making him believe that he could actually fight. But would he get the license to actually do so was a million dollar question. Based on the extent of his movement, the doctor considered him as an exception and cleared him to fight able bodied fighters. His aim is to make his boxing debut in 2018!
Looking at the three people we spoke about today, it reminds me of a dialogue from the movie Sultan where Salman Khan before making a comeback to wrestling says –
"Maine pehelwani chodi thi par ladna nahi bhoola", translating to, "I had stopped wrestling, but I haven't forgotten how to fight!"
Think about it; if we hang in, fight our way through, and don't quit, could achieving anything ever be impossible?
---
Liked reading this? Then you might also like to read Monday Truclusions – Saluting Women For Their Capability To Achieve The Impossible
---
If there's any story that needs to be told, we will tell it. Write to us at contact@knowyourstar.com with your story lead, or contact us on Facebook or Twitter.