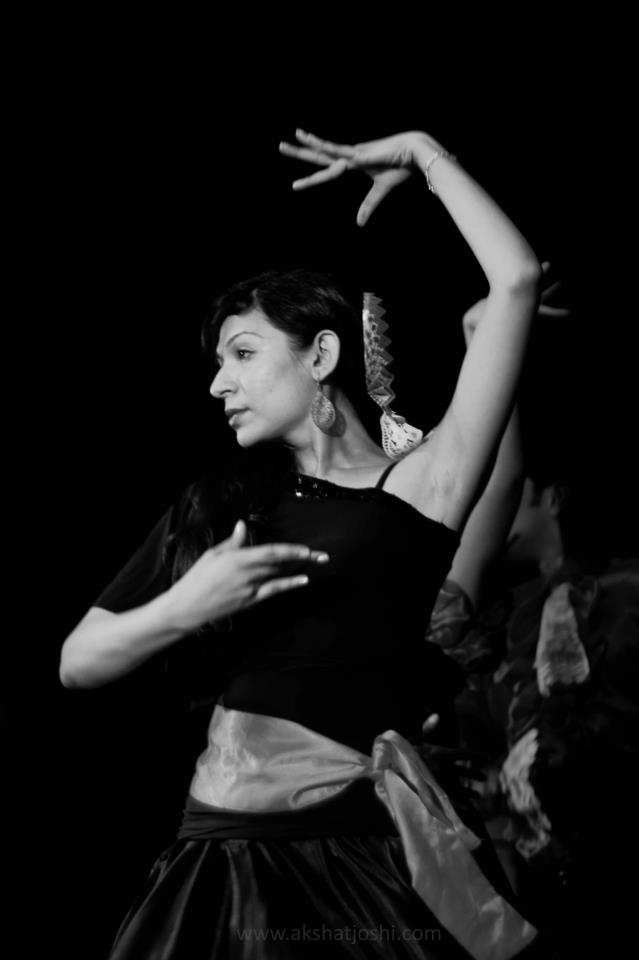 The immortal Martha Graham once said, "Great dancers are not great because of their technique, they are great because of their passion." It was that driving passion that led Mridula Martis, a chartered accountant, to quit her secure, financially successful job at KPMG and dive into the world of professional dance.
Mridula comes by her love of dance honestly – her father, a former naval officer, taught himself how to dance by watching more accomplished dancers spin across the floor. Like her father, Mridula adored the art form and when the opportunity arose to explore the field further – she jumped at it. Today, Mridula has written two books on the subject and runs her own dance school – a far cry from the young girl who had no formal training.
She says,
I always loved dancing and my father, who was in the Indian Navy, did his diving training in Italy and London and he used to show us what he picked up while watching people dance there.
Numbers To (Dance) Numbers
Her journey to becoming a full-time dancer is a familiar one,
Being good at Maths, I pursued accountancy and when I got bored of accounts at KPMG, I got a transfer to the M&A department, which was a more glamorous job. Eventually, that also failed to hold my interest and when I felt I was not doing justice to my job I quit, and over the weekend decided to travel to London to learn dance.
Her impulsive decision has paid of and today Mridula is considered one of Bangalore's premier dancers. Classes at 'Dance With Me Studio', the institution she founded, are sought-after by fresh-faced dancers determined to prove their talent.
In addition to the shows put up by her students, she also conducts workshops for corporates like KPMG, TCS, Unilever and Cisco. She and her team use dance as a way to encourage teamwork and bonding between colleagues.
This Dance Is For Everybody
Mridula's enjoyment of her art form is an inclusive one and she also conducts dance therapy classes for children with special needs. When asked about her work with these kids, she says,
Music is magical and has the ability to reach everyone. Dance is the medium to music for kids with special needs. Many of them are highly intelligent and are able to recollect music memory and do the steps by just listening to songs that are repetitively played.
What are the benefits? "We improve motor skills through action songs and many kids are now able to remember the entire song playlist. If I deliberately leave out a song, they actually ask me for the song in their own way by the end of a class." These might not be the traditional classes she's used to teaching but she admits, "These classes give me the maximum job satisfaction."
Putting It Into Words
Translating her love for movement into words on a page couldn't have been easy, but Mridula has done it twice over. Her book, 'There Is A Dance For Every Song', is a memoir of sorts, charting her journey from dissatisfied corporate life to one filled with energy and vitality. She says,
Dance has brought me so many memorable moments and I wanted to log all the precious memories of my first connection to dance. That led to 'There Is A Dance For Every Song', which has 3 parts – Get out of the rut, find your passion, and make it work. The book charts my journey into dance and setting up Dance With Me Studio.
Her second literary venture is for an entirely different audience. Mridula explains that storytime for her beloved nephew inspired her latest series, "I used to tell him these stories 10 years ago so he would eat his food and he would ask me about a new animal every day. I would think of one unique quality of the animal and would tell him how he could benefit from interacting with the animal. The stories were then told to all children when they were that age and led to the book series."
Sharing The Beauty Of Dance With Others
Like any other artist exploring their abilities, Mridula has several personal revelations to share. She says,"Dance is everything to a dancer. It helps you reach within yourself and find depths that you never knew existed. Dance to me is creating new dimensions and that is through music that constantly inspires."
One of her greatest joys is sharing that inspiration with others,
In our ballet classes we rarely use classical music for routines, we use songs with beautiful lyrics that children today can feel and express in their dance movements, which is known as Modern Ballet. In academic sessions, we have activities wherein the children interact in a group and learn acceptance, leadership, listening skills, choreography and confidence.
Adult students are no exception and Mridula works with several, "The Christ university Theatre Studies classes take us back to 15th-century dancing, where each dance originated from. This requires extensive research and in-depth understanding of each dance. The students have an entire semester to learn about dance and the dance productions are their internal assessment. They also have a theory exam. These classes are a different side to dance and give me scope to use their talent and energy in our productions. Keeping things modern and current are always important in the dancing world."
The important thing, Mridula stresses, is finding your niche and rhythm, "Teach like only how you can, find your USP, do not try to be like any other dancer or teacher you know. Be the best dancer you can be and your students will learn the most important lesson in life. That each person is unique and special, and no one can take that away from anyone."
Does she have any advice for kids (and adults) who look to her for inspiration,
A career in dance is not easy. It is not just about teaching and choreography, it is about connecting with every student in every class. There are no sick days or tired days for a dancer. 7 days a week, 365 days a year is work with extra hours for choreography, research and administration.
It may not be easy, but it's clear that though she's painting a realistic picture for those who follow in her footsteps, she has no regrets. We leave you with Mridula's motto – something that can be universally applied – "One life to live, I choose to dance." We're glad you did, Mridula!
If there's any story that needs to be told, we will tell it. Write to us at contact@knowyourstar.com with your story lead, or contact us on Facebook or Twitter.