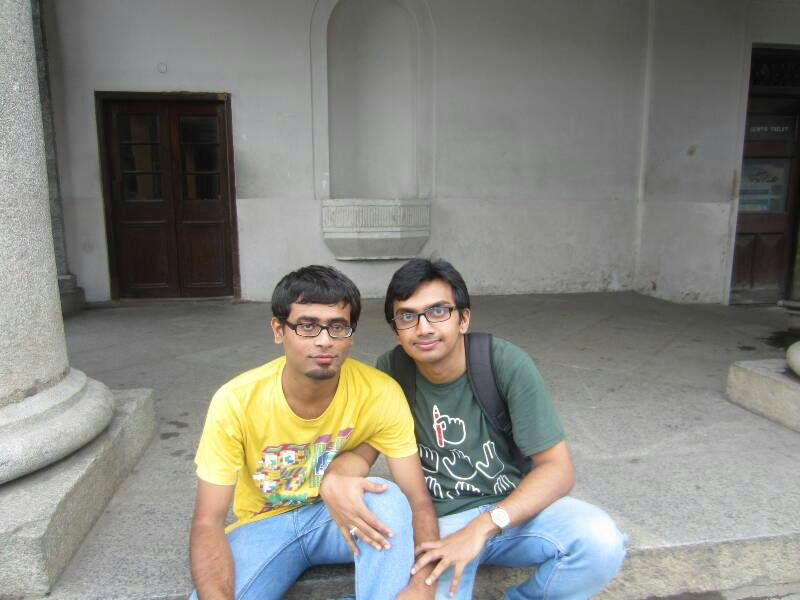 In her first ever column on LGBTQIA, Madhumitha Venkataraman shares Karthik and Naveen's love story and their journey towards acceptance and happiness.
Namma Pride – #1
Two people began chatting on a dating site, met, and were attracted to each other. Attraction grew into fondness and later love. This is the story of Naveen Joshi and Karthik Rao – their journey of coming out to themselves, falling in love, standing by each other through thick and thin, and supporting and growing with each other.
As you read, I want you to ask yourself – is this story any different because of the gender of the protagonists, and does that matter?
Read on to find out a little bit more about this beautiful couple – how they met, their journey together, coming out to themselves and to others, and their message for all the allies and members of the LGBTQIA (Lesbian, Gay, Bisexual, Transgender, Queer, Intersex, and Asexual) community.
Meet The Couple
A brilliant student, a trained Hindustani vocalist, a young scientist par excellence, and, most importantly, a warm and affectionate friend. Born and brought up in an orthodox Hindu family, Naveen hails from Gadag, a city in North Karnataka.  
Karthik is a banker, an avid reader, a huge fan of Kannada literature, and loves Mohammed Rafi's music. A silent poet who lets his actions do the talking for him, Karthik is a dutiful son and a dependable friend.
Jab We Met: When Karthik Met Naveen
In Karthik's words, "We first met through a popular gay dating site. Well, the meetup was not at all planned, and both of us had different things in mind. While Naveen was looking out for a stable partner, I was out on a casual date! Our initial chats revealed that we were very different and I was not very keen on meeting a guy who is three years younger than me".
He continues, "I had just returned from an overnight Kannada Play that I watched with one of my exes, was jobless, and was recovering from an ugly break up, and so was in no mood at all for anything heavy. Naveen was new to the dating world and was hopeful about finding love. We met and went for a long walk around my college campus".
Not an auspicious start, but Karthik elaborates, "But once we met up, things did change! I won't say it was love at first sight (not after having been there and having done that before) but I was clearly drawn to him. There was something very familiar and easy with him, and the fact that we conversed in Kannada was endearing! After that weird evening, I pursued Naveen. I told friends I was interested in a guy again, and kept checking how he felt about me and things like that." 
Everything didn't fall into place immediately, however, as Karthik explains, "Things were not very positive from his side initially. He was confused maybe or too naive, but he was not very interested! We kept meeting and hanging out but Naveen was not very keen. We stayed in touch though! With time, things did change, and we got closer! Our dependence on each other grew eventually, and on a cloudy evening at the Yeshwanthpura Bus Station, Naveen asked me 'What are we to each other?' and I replied 'We are two boys in love and we need not give it a name'. I consider it the day our relationship began."
The Long And Bumpy Road To Happiness
Their journey hasn't always been an easy one. Karthik says, "We have had more tough times than easy ones. There have been a lot of issues, arguments, fights and what not! But over time, our relationship has grown more mature and seasoned! We started out as the stereotypical mushy lovebirds went on to become a notoriously possessive couple. And now we realize we are more than just that. We consider ourselves beyond the clichéd definition of couplehood."
"All through these years, It's love that has kept us going (cheeky isn't it?) But what else keeps a family going? A lot of love and understanding, and trying to keep your expectations at a moderate level always helps! You can't live in a fantasy world and expect a Karan Johar romance to happen each day of your life!"
Good advice for any couple, I think! 
All You Need Is Love (And Each Other)
When asked what they value the most about each other, Naveen says, "Karthik listens to all my thoughts and responds to even the silliest tantrums, which I love a lot about him. Also, he is the only person who knows and understands that the child in me is craving attention, and he gives it to me."
Karthik says, simply, "I love his energy! He is always on the go! Also, in spite of being a very mature person himself, he puts me first when it comes to making decisions."
Do they have disagreements? Of course! There are quite a few things they want to change about each other. When asked, Karthik said, "I want him to be a little more planned and organized – his room is a mess!"
Naveen retorts, "He is a homebody! It is an effort to get him out! I want him to be a little more outgoing!"
Changing Attitudes: Navigating The Coming Out Process
Coming out is an emotional process, which can take a toll on you personally. Naveen says, "Hailing from a small town, I had no resources to understand sexuality. Gender was such binary construct in the society I grew up and lived in. However, I always felt good about boys from a very young age, and in my teenage years, I realized that I was attracted to my own gender, unlike my other friends. I was a little confused about why this was happening, but it never bothered me much. There was no hostility. But as days passed, I was exposed to terms like homosexuality, and in a very negative way."
Naveen explains, "I started understanding a little more about my sexuality, and put in a lot of effort to speak about my feelings. A few failed attempts to talk to my parents about multiple sexualities only made them super annoyed. There came a point when I decided to shift to Bangalore for higher studies, and after I came here, I met a lot of people. I hesitantly attended my first pride and then I started understanding the diversity around sexuality. I grew more and more confident of who I was."
He made the decision to start speaking to his family about his feelings, "I was 21 and one night, I called my sister who is six years younger than me! She literally cried, and I was shocked and became terribly diffident about my decision to come out. But then I decided to take it slow. As days passed, I helped her understand more about the community, read more about sexuality and its diversity, and she got more comfortable with it and accepted me happily."
With his parents it was a whole different situation, and he admits, "The process is still on. I take every single opportunity to make them understand more and more about the LGBTQIA Community, and in the process, hostility is slowly turning into the neutrality. I look forward to the day when I'm accepted completely!"
Naveen points out, "Anything that we do beyond the stereotypical gender construct in this society, is considered wrong. As a homosexual man, I deserve and demand dignity. I cannot tolerate the fact that I am looked down upon based on my sexuality and orientation. When there is nothing wrong with being who I am, why am I supposed to hide something that is so integral to me? Coming out is one important way to let society know that I am this way, and I'm not wrong!"
Karthik's coming out process was not as voluntary, he explains, "Coming out was not a choice I made! It just happened the day my mom decided to read my diary. What followed was a very painful process of coming out as gay to parents who have the wrong ideas about homosexuality. It happened in December 2013, and it has not been easy. Especially because of my quiet nature, the process is still going on! Three years, several arguments, and some failed psychological counseling later, I still find the matter conveniently pushed under the carpet most of the time."
He says, "The fact that my parents are quite old – they have crossed their early sixties – is the excuse I give myself and my partner, but I know it has not been helping. I am not out at work as well as it is a traditional organization and I am not sure how this will be received. But, I am glad that I have had the courage to stand my ground through the coming out phase which still ongoing."
The LGBTQIA Community: United Against Oppression
When asked if they have a message for the LGBTQIA community, Karthik says, "I do not have a message as such! I feel very much at home when I am at community events! I just hope that the community remains a close-knit one in spite of the diversity and the obvious differences. We just need to remember that each individual on the LGBTQIA spectrum has suffered some oppression or the other and so that's where we all stand – united against oppression!"
Naveen agrees, "Love is love. It can happen between any two persons irrespective of gender, sex, and orientation. Treat everyone with love and dignity. Live and let live".
Wise words, indeed.
Being An Ally: Support And Solidarity
If you want to show support for the LGBTQIA community, you always have a place as an ally. According to Karthik, "An ally is someone who can make you feel OK about being yourself! Like if I am going out with my partner and an ally, they should let me do simple things like holding my partner's hand, and let us be a couple! I hate pretending to be just another friend of Naveen's when heterosexual colleagues are around. Things like talking about your relationship just like they do with others, sort of creates that ease!"
---
If you would like to show your support, you can attend Namma Pride, Bangalore's annual pride march. To learn more, check out Introducing Namma Pride – The Bangalore Pride March 2016.
---
If there's any story that needs to be told, we will tell it. Write to us at contact@knowyourstar.com with your story lead, or contact us on Facebook or Twitter.