His musical journey has had the most unlikely beginnings and yet today he is the greatest living flute player in the world. It didn't take us much time to discover that his innocent smile hides a sharp mind and ready wit. We are blessed to bring you, an interview of the legendary flautist, 'virtuoso', officier in de Orde van Oranje-Nassau, Kinight in Ordres des Arts et Lettres, Padma Vibhushan, Pandit Hariprasad Chaurasia. ( Read Pandit Hariprasad Chaurasia Biography)
Guru-Shishya Parampara and Modern world
It's very difficult to make them understand the importance of a Guruji. In India, it's kind of more than gods and goddesses. We revere our Gurujis more than our parents, more than our family members, more than gods and goddesses. But they'll never understand. Never understand who a Guru is. There are so many differences. But when I am teaching at Rotterdam in Netherlands (He heads the World Music Department at the Rotterdam Music Conservatory), I tell each and every student-"keep your shoe out, you have to sit down. If you want to learn Indian music, you have to treat me- not like your teacher, not like your Guru, you treat me as a friend and we share our willing." Then they understand and try to follow our Indian way, Indian tradition.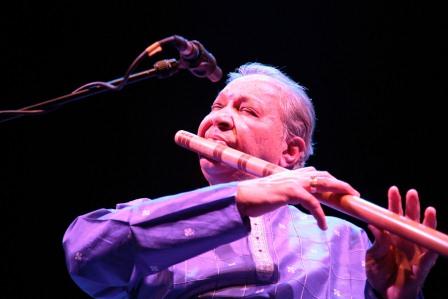 I take pride in learning from Anna purna Devi-Baba Allauddin Khan's daughter and Ustad Ali Akbar Khan's sister. She is not just my guru, and my mother; she is the reincarnation of goddess Saraswati for me.
Western Culture and the so-called Revolution
Why to bring revolution? They are also human beings. Why don't we treat ourselves as human beings? I speak Hindi and you speak your native language, but we are all human beings. Why do you treat them as foreigners? They also want to adapt to our tradition- some are visiting temples, they become vegetarians, some have given up spoons and eat using their hands, they try to become Sadhus. Why do you want to treat them as foreigners, they are human beings! If we get influenced by their tradition, it's okay. If they get influenced by our tradition, it's okay. Younger generation who try to emulate them will eventually come back to their native tradition!
Music has no differences. We played alongside each other; it was not in fusion but in unison. I have enjoyed playing with all the artists. I have collaborated with musicians from the west and fellow Indians, including Ravi Shankar, Allah Rakha (father of Zakir Hussain), George Harrison, Jean Pierre Ramphal, Jethro Tull, John McLaughlin, Jan Gabarek, Yehudi Menuhin and others. I composed for Bollywood. It made me affluent. It was Pandit Shiv Kumar Sharma who asked me one day if playing in Bollywood films was all I was going to do in my life. I was not growing as an artist. I needed more. What did I have to show in terms of personal creativity, or growth? He was right.
Parents and Passion
Who can you blame, parents or their friends or the children? In India every parent wants their child to earn more money and fame than any of their peers, no one wants their child to be set on a cultural journey and do tremendous things like other artists or musicians or sportsman have done. They think the entertainment sector won't earn them any job or money. I blame the parents. They should inspire their children to pursue their interest along with the regular studies. I feel really sorry about this.
My father was a wrestler and though everyone liked music in the family, it was a taboo to even think of a musical career. I used to wrestle to keep him happy. When I was about nine years old, I started learning vocal music from Pandit Rajaram, secretly! At the age of fifteen, I heard the flute for the first time on Allahabad radio. It was as if I was being transported to heaven. The flautist was Pt Bholanath and that was the major turning point in my life. Soon after, while I was still in my teens I got an offer to work as a staff artist on Cuttack radio in Orissa and I accepted. It was then that my father found out that I was a musician. It was a major shock for him.
Best Performances
Really difficult to answer this one. If you have 10 children and if someone asks you- who is the best among them, isn't it difficult? This is not my concert, this is my pooja. And you ask a pandit- which pooja has been the best?!
Ideas: Ideals: India
Motivate the younger generation to listen to music especially, when they are tired, when they are upset about anything. Music is the best remedy; it remediates you mentally, physically and emotionally.
Eventually you cannot stop the sun from rising, the water from flowing, the moon from spreading its light and you cannot compromise the seven notes with anything else.  Live your life, live the music.
Today, we were mesmerised, not only by his blissful flute rendition, also by the harmony of music within him and the rejuvenated energy that he imparted on everyone. We could see his childlike enthusiasm even after a daylong concert where he transformed the auditorium to a Brindavan.  Secret behind it? Panditji made his final remarks of this magical conversation–
I have 50 students training under me today in my Gurukul- at Mumbai and at Bhubaneswar. I am trying to pass on whatever I have acquired. People say it's a wonderful place. I have named it Brindavan- Lord Krishna's Brindavan…
Snippet of video
[Ugadi/Gudi Padwa/Vishu/Cheti Chand/Baisakhi marks the new start of the Hindu's lunisolar calendar, hence celebrated as New Year. KnowYourStar.com (KYS) wishes all it's readers a  very happy and prosperous Ugadi/Gudi Padwa/Vishu/Cheti Chand/Baisakhi ]