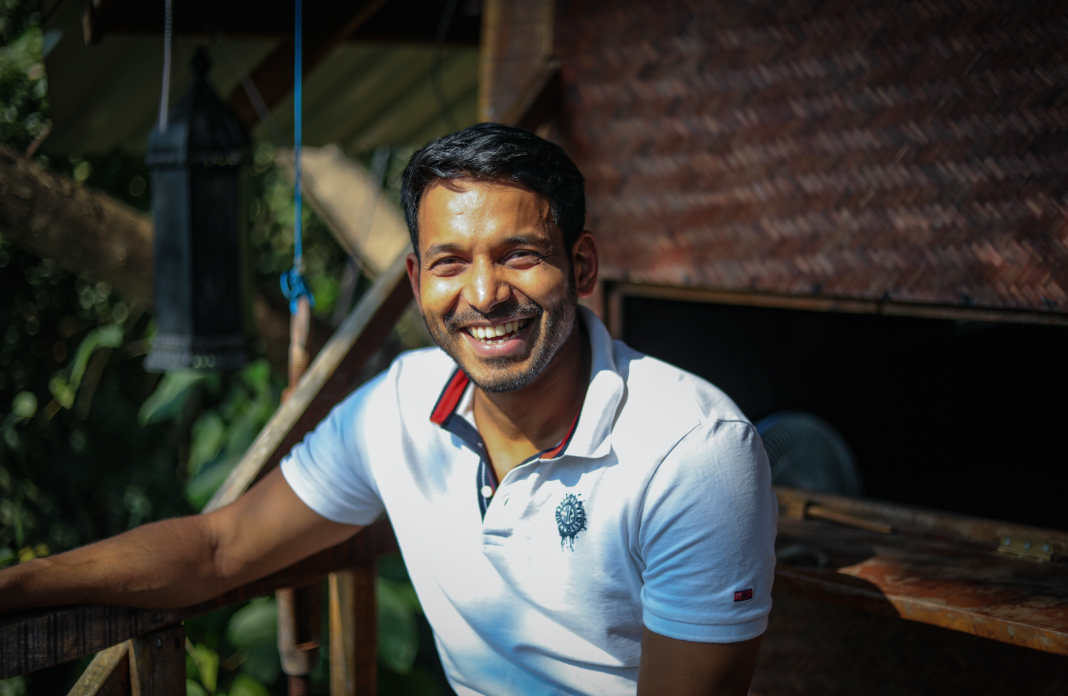 We can all agree that success and accomplishment are defined subjectively. While some success stories make us want to rush ahead in life and aim higher, others suggest that we slow down and take it easy. And then there's a set of unconventional examples conveying that the ideal accomplished life is built on a foundation of ambition and ease. On holiday at a lesser known yet beautiful spot in Coastal Karnataka, I came across a prodigy that dove his way right into the list of unsung heroes – Partha Varanashi.
From Roots To Waves
Within the isolated interiors of the Karnataka – Kerala border, an expansive farm, which makes for a perfect getaway, sprawls over 50 acres of land. The unmatched serenity it provides, combined with a creatively established adventure sports facility, which pulls in young and old visitors alike, have made it a popular destination. Varanashi Organic Farms is slowly turning into a must-visit destination in Puttur – and it also sets a high standard for organic farming and agri-tourism.
Born into the well-established Varanashi family, Partha had an inherent legacy to carry forward, which gave him a start that many dream of. While it is easy to imagine Partha as a spoilt little kid who loved the idea of spending his life within the safe haven of the family farm, just the opposite is true.
In fact, his talent for swimming grew from an unexpected place – As a little kid, Partha's father took him around the farm, and one fine day chucked him right into water! It was to teach him how to swim, of course. Partha's family does have a background in swimming, but this man has taken their legacy to another level altogether.
He says he never enjoyed swimming as a kid, though he was very good at it. It took him a while to realise that swimming was what he was born to do, and when he did, there was no turning back.
Finding His Passion
Even though he has a Masters degree in Agriculture Biotechnology from Australia, Partha has given himself up to the seas, and spends his days battling the waves. Having tried his hand at a handful of jobs in Australia – some related and some completely different from his field of study – Partha had a trampoline start as a swimming coach at 3 academies simultaneously in 2009.
The journey began with managing 900 students and 24 swimming coaches at State Swim Unley, Mt. Barker, and Morphit Swimming Academy in Australia. Today, he has trained over 10,000 students and counting in India and Australia.
It an effort to keep track of Partha's seemingly unending list of accomplishments over the last few years. A world champion twice over (in 2014 and 2017), Partha has a crazy collection of national and international medals.
While his students steal the spotlight at every contest they enter, Partha's ambition is to produce swimmers of Olympic stature. It has ensured that he pushes his boundaries further than anyone else might have tried. And the best part? He sees and appreciates the incredible talent that can be moulded in his own hometown, which has led to the establishment of multiple institutions that are elevating the standards of competitive swimming in Coastal Karnataka.
Getting In Gear
It all started in Mangalore with a high that Partha obtained from the words of Paul Mason from State Swim Unley, "Bite off more than you can chew, and chew like crazy."
There was neither awareness nor the inclination towards competitive swimming in Coastal Karnataka, but Partha changed it all. Varanashi Swimming Academy, Stoked India Adventures, Stoked Mangalore Surf Club, and Puttur Aquatic Club (PAC) Sharks are the institutions Partha has established in the area. Not only has the swimmer brought his expertise to Coastal Karnataka in the form of newly established institutions, his Midas touch has also transformed an age old academy into one of the front runners in the state.
A team of 13 trainers, as well as the Balavana Swimming Academy in Puttur itself, have been credited with Austswim recognition through Partha's headship. With over 80+ competitive swimmers honing their skills under his guidance, the proud coach boasts about his International swimmers rather than his own accomplishments!
Fulfilling A Need
However, there is more to be done. Partha explains how India is in desperate need of Surf Life Saving institutions, but has no realization of it. The statistical data on the number of people who drown in Australia as opposed to India puts us to shame, and yet the country has never been serious about safety training and life saving management despite being surrounded by water on three sides.
Partha and his team, consisting of 9 members, took it upon themselves to fill this void. They've started small, yet started well. "If no one else does it, we must. It is appalling how we can be completely ignorant about other people here," he says. Having established the country's second ever Surf Life Savers Club at Mangalore, Partha is proud of having facilitated over 50 people being saved from drowning.
The club doesn't have a ceremonial form yet, and all the investments have been made by Partha and his team – including equipment, time and expertise. They're hopeful that it will soon turn into a formal institution and expand all over the country. He adds, "We could do so much for the community, and a country that holds tremendous potential for progress. Imagine where we'd be if everyone just realised their role and began displaying a zeal towards doing their bit."
We could go on and on about Partha. What makes him really endearing is the genuine concern he displays towards sustaining the glory of nature in his own (not so little) way. Varanashi Farms are a great start for management of all environment related concerns. They are managed by safe and able hands now, overseen by young yet temperate eyes that envision living with a zero carbon print.
Partha's farms host nature enthusiasts, adventure seekers, experimenters and agriculturists of all sorts. Partha's vision to produce Olympic standard swimmers pushed him towards the ambitious side of the spectrum, and the farms keep him glued to reality. He makes you realise that the rushes in life will all be worth it, and that contribution to your community is essential.
It's rare when ambition and talent coincide to produce someone so special. We can't wait to see what he and his talented team of go getters will do next! 
---
Liked reading this? Then you might also like to read Tharanath Gajendra – On Choosing To Follow The Path Of Healing, Service, And Joy.
---
If there's any story that needs to be told, we will tell it. Write to us at contact@knowyourstar.com with your story lead, or contact us on Facebook or Twitter.