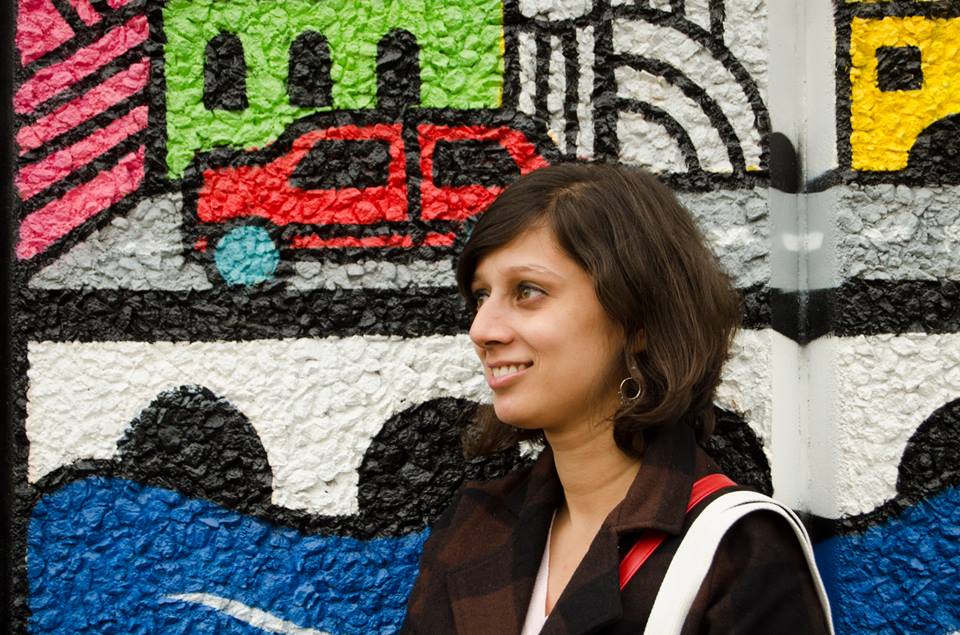 This article was first published in 'White Print' – a braille magazine for the visually impaired, founded and published by Upasana Makati.
Journalists and writers usually spend their time interacting with people and writing about their life journeys and experiences. This time, I decided to put a journalist to be on the other side and share more about their life and work. Payal Khandelwal switched careers to nourish her love for words. An advocate of indie journalism, she has floated out her own online publication 'The Floating Magazine'. We spoke to this passionate writer about her relationship with words, some of the most exciting experiences she has had, and her comments on the indie publication scene in India.
Pursuing A Career in Journalism
After my English Literature graduation in Delhi, I studied Advertising and Marketing in Mumbai to become a copywriter. However, after spending only a few months in advertising, I was quite sure that it wasn't really my cup of tea. Also, in one of the insane number of meetings with various creative directors at that time, one of them said that my portfolio somehow reflects that I will be better off writing, not copywriting. Though I felt terrible, but what he said somehow stuck with me. And I obviously loved writing. I had been writing poems, short stories and journals since I was about 13 years old.
Anyhow, then randomly, a colleague at this ad agency I used to work with then told me about this opening at Financial Express newspaper (part of the Indian Express Group) for a trainee reporter. I landed at FE's office the next day and gave a copy test. A few days after that, I got a call to join them. I had no idea what was in store for me but I was just excited to be getting out of advertising.
However, once I was in the job, I knew I belonged there. I was over enthusiastic to work and was a quick learner. I was highly inquisitive. Even though I was the junior-most person there and I was hired to do the media and entertainment beat, but because of the shortage of staff, I got to cover various other beats and interview some very senior people. I was meeting great people left, right and centre, and attending at least one press conference every day!
It was all too much fun and a great learning experience. Before I left Financial Express to join Campaign India, my second job in journalism, I had done a front-page lead story in the paper, which was not so common for a trainee reporter. My super boss asked me stay back and that was the biggest compliment I had got in my life till then!

Digging Deep For Diamonds

I mainly write about Visual Arts and Visual Communications. In addition to that, I have also written about some fantastic local innovations from India for a US based magazine- Makeshift. Writing about creative people is what I enjoy and I love to get to know these people better. I get to the bottom of what actually led someone to become who they are.
For instance, I like to find fascinating things, like how something that happened in someone's childhood actually influenced their one particular creative project. It has obviously taught me a lot. Sometimes we take too many things for granted, but each experience of our life and our observations come into play in our creativity, in our work processes without us being very conscious of it.
The Life Of An Evolving Journalist

With a newspaper, it's slightly more hectic than with a magazine. And a daily dotcom is the most hectic for sure. It usually depends on the expected turnaround time of any story. My first stint with Financial Express (I have worked with them twice) was like a rollercoaster ride, which I enjoyed in those days. Then when I was part of the founding team of Campaign India (the Indian version of the very famous UK Ad and marketing magazine), it was easygoing when we just had the print magazine but when the dotcom started, we had to upload stories daily, and then came the era of the hyper hectic social media.
Again, initially I enjoyed the quick turnarounds. It was thrilling to do those "breaking stories" but as I started evolving in my career, doing large, more in-depth and meaningful pieces became a priority and a necessity of sorts. So I consciously started opting for jobs, which gave me some time to turnaround things so I could do a better job.
The Art Of Interviewing People

That's a tough question. But like I said, I enjoy doing large, in-depth profiles and interviews with people. I mainly started doing the kind of stuff I enjoy most when I joined Kyoorius Magazine (a creativity and design magazine in India). I was given a lot of freedom there to do what I wanted and to experiment too. And I used the opportunity quite well, or so I think. At that time, we started doing lot of longform interviews. Even with features and short stories, we tried to go beyond the usual stuff that gets covered.
So for example, we interviewed Rajiv Rao, National Creative Director of Ogilvy- one of the most well known ad agencies in India. Rajiv is usually known as an extremely shy person. Till that time, I had never read any interview with him that really went beyond all the amazing work that he had done. But we went far beyond that and asked him way too many questions about his creative process, the things that inspire him, the movies he watches, how does he make note of his observation and so on. As expected, the four –page long interview turned out to be great. That was quite inspirational for me. Of course we did many such interviews.
Then as a freelance journalist, I did a few in-depth profiles (usually 1800-2000 words) on some of the best-known contemporary artists in India right now like Gigi Scaria, Reena Sani Kallat and KK Raghava, among other.
I have no arts background as such, so all my interviews were based on some very thorough research. But I would still be very nervous about each of these interviews. However, when I actually met these artists, I would ask them questions that I was genuinely curious about. Of course the research helped great deal in probing further. Again, I am repeating myself, but the more you get to know a person genuinely, the easier it is to write about their work. It also puts them at ease, and makes them really open up.   
Why The Floating Magazine?
I started The Floating Magazine (TFM) for a very selfish reason. I just wanted to have more of these kinds of conversations from people in different parts of the world. And I wanted complete freedom to do it. I decided on covering visual arts from Asia and Middle East as these are still pretty much unexplored territories, and I wanted to make the magazine unique and niche so it provides immense value to its readers.
TFM, for me, is like being back in school. I am learning so much, and I hope the readers are too. So with each artist interview, readers actually get to know so much not only about a particular artist's inspiration/life/work process, but also about their country, the culture, the unique features and issues of their country and how that influences them.
Like for example, in Nepal right now, it is almost imperative to be influenced by – and thereby reflect in some way  – what's happening in their country in terms of politics, earthquake aftermath, etc. For me, this exploration of not only different places but also the deep connections between a place and its creative individual is of utmost importance. And I want to be able to present that to TFM's audience.
The Journey So Far

Of all the memorable interactions I have had, I interviewed this amazing young photographer, Nouf Alhimiary from Jeddah, Saudi Arabia. I had a very long conversation with her. She was just so passionate about women's rights in her country. In Saudi, of course, women face a lot of restrictions. They have to abide by a dress code. They can't really express their individuality. Nouf is doing art activism by simply documenting the women around her. I loved how Nouf is so deeply affected by things around her and is also taking a strong and brave stance about it through her photography.
We obviously hear/read all this in media and know what's happening in different parts of the world but to actually hear it from someone who is in the thick of it, through their own personal stories, is truly an eye opener and is very inspiring.
Coming to challenges faced in my career, I just hate petty office politics and silly things one is usually expected to do in an office environment to get what they deserve. I also don't like being forced to attend events to "network". That's one of the biggest reasons I am happier doing what I am doing on my own now. It might be boring and isolating to work alone at times, but I would take it over working in a 9-5 office scenario any day!
Indie Publication Scene In India
Indie publication scene (I am specifically talking about magazines here) in our country is still pretty nascent. There are some interesting indie print titles like your wonderful magazine White Print, Gaysi, Motherland, Kyoorius (which has recently decided to shut down the print version), but it's still too less in the context of the Indie magazine revolution that's happening in the western world. I am happy to see some interesting online indie mags emerge in India though- loverand.co, thecitystory.com, stripteasethemag.com, borderandfall.com, etc.
Helter Skelter has been around for long. In terms of news and current affairs, Scroll is simply fantastic. They are all doing mostly offbeat stuff. Covering people that don't usually get covered in the mainstream media. So I guess things for indie mags in India are only set to go. Paper Planes, an indie magazine subscription service in India, provides a good distribution opportunity for any indie print that wants to reach out to its audience and that's a great thing!
We wish Payal Khandelwal all the very best with her future ventures and encourage our readers to read more of the amazing stories she's adding to the world!
---
Liked reading this? Then you might also like to read about Upasana Makati – The Woman Behind India's First Magazine For The Blind
---
If there's any story that needs to be told, we will tell it. Write to us at contact@knowyourstar.com with your story lead, or contact us on Facebook or Twitter.