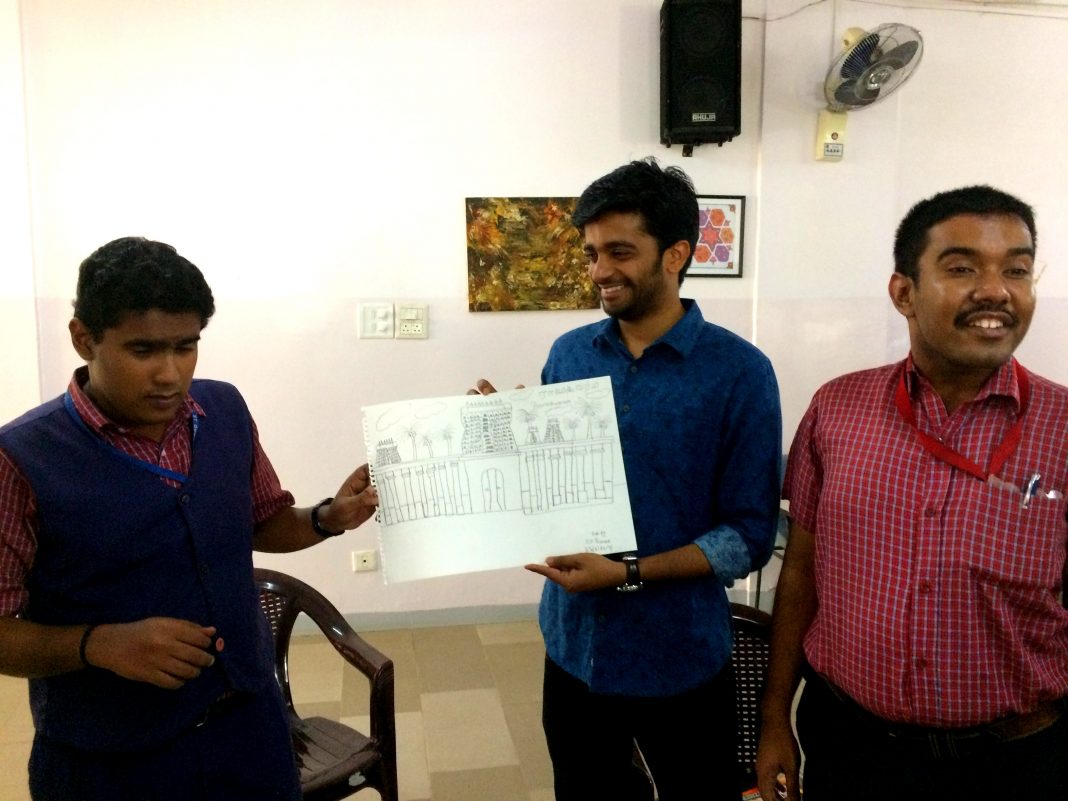 "When you do things from your soul you feel a river moving in you, a joy." – Rumi

We had an opportunity to feel a river of immense joy moving inside us a little more than a week ago. Why, you ask? Because we got to celebrate our first #ContentWithACause success story.
Flashback To Our First CwC Story
A couple of months ago, we published a story on Pranav Varma, a young artist diagnosed with Pervasive Developmental Disorder (PDD), who studies at the Spastics Society of Karnataka in Bangalore. Seeing his amazing sketching skills, and watching him create the most intricate paintings in 5-10 minutes, we were dumbfounded. When Priya Ma'am told us that they were trying to help him make a career out of art, Team KYS volunteered to help him by selling some of his paintings, giving him some exposure, and a push in the right direction.
When we brainstormed about how we could go about it, we decided to tag his cause with the story of Asia's fastest speed painter – Vilas Nayak! When we spoke to Vilas, he readily agreed to help us spread the word and help Pranav in whatever way he could. With so much love and support, we managed to sell more than 20 paintings!
A big thanks and a lot of gratitude to all those who helped us spread the word, and to those who purchased these paintings, either for themselves or to gift to others.

Celebrating Young Pranav's Big Success
There's a quote by Theocritus which states, "Even a little gift may be vast with loving kindness." So, to present our little gift to Pranav, we decided to request someone who embodies loving kindness – none other than Vilas Nayak – to come to SSK for a gifting ceremony. He readily agreed to be our impromptu chief guest.
So, on 23rd June 2017, Team KYS and Vilas Nayak went to SSK, where we were warmly welcomed by a beautiful little gathering that comprised of the wonderful teachers at the institution. Pranav, his mother and his grandmother were also present, which made the gathering extra special! We started the celebration by sitting together in a circle. Jaideep opened the circle by sharing,
"It is so amazing to be welcomed by so many smiling faces. It feels great just to be here at this moment!"
SSK Faculty Speaks:
The witty teachers were quick to exclaim that they are always smiling and that it's the trademark of SSK!
Soon Priya Ma'am shared –
"To the team of Know Your Star and Vilas Nayak, our heartfelt gratitude and thanks for promoting Pranav as an artist in the section #ContentWithACause, for giving him the recognition, and helping create awareness amongst the general public about young adults with special needs. Thank you very much!"
Mrs. Rukmini Krishnaswamy, the Director of SSK, who was there in spite of having just landed in Bangalore and jetlag added,
"I feel great to see the younger generation showing dedicated interest in social causes. At such a young age, you all have started your service journey. We need more youngsters like you!"
We were very humbled by Rukmini Ma'am's blessed words. We replied that we are here to simply do whatever we can do to help. The real talent is in Pranav, which made our job easier! To which, she went on to tell Pranav,
"Sometimes I wish I was a mother too. I really wish that because you are such a wonderful boy… young man, actually! You told me you will soon start drawing Mahabharata, right? You start drawing and then I will take it from you. I will buy it from you! Thank you everyone for doing this to help Pranav. We have seen him grow up from a little kid to a young man, and we are very happy that he is receiving your support to make a career out of art."

Vilas Comes Bearing Happy Gifts
Vilas expressed how very happy he was to help Pranav by encouraging his art and was extremely proud to see Pranav's progress. He then presented Pranav with the gift money collected by selling his paintings. Priya Ma'am explained to Pranav why he was receiving the gift and how his paintings were being appreciated by people all over the world. To show more support and enable Pranav's journey, Vilas had another surprise for him – a hamper consisting of drawing books, paints, brushes, crayons and other art material!
Pranav was so excited with the hamper that he started sketching a temple right away! He promised to start using colours soon. Soon, Pranav was joined by Anubhav, another talented SSK spark, who sang a devotional song straight from his heart, while Pranav sketched Rama! This jugalbandi (video at the end of article) was a treat to our eyes and ears! It was a blessed moment, where all of us stood in silence watching sincerity and purity in action, the product of these young talented men!
When The River Joined The Ocean
For Team KYS, the whole celebration was a very emotional one, because we had set out with a small idea of helping someone, which soon created ripples that turned our little dream into reality. In the process of trying to sell the paintings, we met such amazing people, who not only purchased the paintings but also did their bit to educate people about Pervasive Developmental Disorder (PDD). All it took was the resolve to help someone. The path to success carved itself – all we did was follow it!
We were very happy to see Pranav and his family experience a small milestone – the first of many. And the fact that we had a small part to play in this story gave us immense joy and the motivation to continue doing small things with infinite love! 🙂
---
If there's any story that needs to be told, we will tell it. Write to us at contact@knowyourstar.com with your story lead, or contact us on Facebook or Twitter.