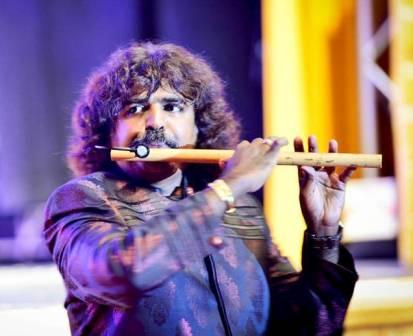 We had the honour of interviewing Mr.Pravin Godkhindi(Read Pravin Godkhindi Biography), the talented flutist, singer, music director and composer. Pravin possesses a truly inspirational persona, remarkably open and flexible in terms of his thinking. He completed his B.E. in Electrical Engineering and still chose to pursue his musical dream. Wise, with plenty of wonderful experiences to share, a kid at heart, always looking forward to experiment new arenas, this star left us with a feeling of strong positivity after our interview.
Being Cultural Entrepreneur
Cultural entrepreneurship is basically making art viable and sustainable. From a musician's perspective, it is an innovation to inculcate contemporary qualities in one's music. I believe we have to explore our possibilities. Once people broaden their horizons, new possibilities arise. You can begin arranging music, go on to composing and eventually develop a brand that is marketable and profitable.
In 1977, my dad Venkatesh Godhkindi added an extra hole to the bamboo bansuri. Nobody had tried that before. With the help of that, certain ragas could be played effortlessly. During my entire childhood, I have seen my father compose new ragas and write new music.  I always looked up to my father and this fascinated me. Creation was a way of life.
Music culture abroad is radically different. Producers aren't just moneybags like in India. They know what kind of music they want to produce. They come up with ideas and get the composer to turn their ideas into reality and cash in on it.
Why did you pursue Bachelor of Engineering?
Interestingly, it was the same thing I asked my father. I had an idea of what was waiting for me in the music industry. Soon after I finished my schooling, I wanted to start off my career in Delhi and move to Bombay eventually. As I was a very good student, my father did not want me to get left behind academically. My father insisted some kind of basic degree for me.
When I look back, I feel I needed it. Education and experiences affect different people differently. It certainly gave me an edge. It helped me improve myself. It hones my analytical skills. I am able to differentiate and assimilate better now.
How hard was your decision to become a musician?
Once when I completed my B.E. in Electrical Engineering, my heart knew what I wanted to do. I finally was sure of what I wanted. The only question that sprung to my mind was if music was viable.
I came to Bangalore in the pretext of applying for jobs while continuing to pursue music. I was absorbed by the music industry almost immediately upon arriving. Times were different then. New albums used to be launched very frequently and flutists trained in Hindustani music were a rarity. For almost a year, I lived in a small shack, working three shifts a day, sleeping for a few hours before reporting the next day. The heavy workload came with an equal amount of learning.
The other time when I had to choose was when I received an offer from an MNC to come join them for work. The day of the interview happened to coincide with the day of my recording with Hamsarekha. I tore up the job offer and followed my heart. I have not looked back since.
You play classical and contemporary music. Don't your styles of music conflict?
I have been asked this frequently. I relate this comparison to someone who performs a pooja and then sets off about their day wearing jeans and a t-shirt. The two are in no way related but both are the attributes of a single person.
As long you have the ability to focus, you can train yourself to produce beautiful music of any form. This is how I switch effortlessly from contemporary to pure Indian classical to western, from distortion, metal guitar to flute and also to use the best of all of them to compose music together.
I always look out for new wind instruments. I love trying them out and practicing, listening to the notes they produce and the kind of music they make. I always try to incorporate classical elements into my music, as classical music is my passion.
The television contributed in making you a household name. How did that happen?
Actually, TV came knocking at my door. I owe a lot to Dr S. P. Balasubramaniam. Even before Ede Tumbi Haaduvanu, we had a rapport. He sent me a message asking if I was interested in doing an ETV Kannada show. He was familiar with my work and he said that he it would be wonderful if I could join him in this venture.
He was my guru in many ways. Other than music, he taught me how to conduct myself on stage and off stage. He mentored me how to speak to the audience and even minor technical details like how to pronounce some syllables on the mike.
You play the flute and it sounds like an electric guitar and a saxophone!
When I saw that guitars can do these conversions, I wanted to try the same with my flute. I bought a guitar processor and tried to hook it up to my flute. I wrote to companies abroad, asking if they had what I was looking for. They didn't, so I decided to come up with the technology. I used to constantly keep myself updated with journals and the latest news. I once found someone in the U. S who was working on the exact thing and I flew to meet him in person. We both worked together for a while and designed an instrument. Sadly, our experiments failed and I decided to give up on the wild goose chase. Soon enough, a UK company had come up with a converter that came with software. I was the first person in India to order it and play around with it.
I truly enjoy trying out new things and learning how music gadgets work. I enjoy innovations and inventions.
Pravin Godkhindi on stage…
Well, the feeling that comes to me while I play music is difficult to express. It is a concoction of many emotions at once. When I share the stage with other musicians, it is a constant learning experience. You need to be alert and receptive, learning from the other performer. The both of you should complement each other's music and gel together on stage.
However, in a solo concert, I find it hard to resist delving into my music. It is an inner battle between reproducing what you have learnt over the years and the new tune that is evolving from inside of you at that very moment.  At a certain level, a mature musician's thoughts try to go deeper and explore into the raga. I don't realize I am on the stage. It is a great, yet scary feeling. In the entire audience, a fraction of a percent, maybe just one single person would be with you in that ecstatic moment. This is that one audience who will meet you backstage after the show and tell you how great they felt. That is when you feel truly happy.