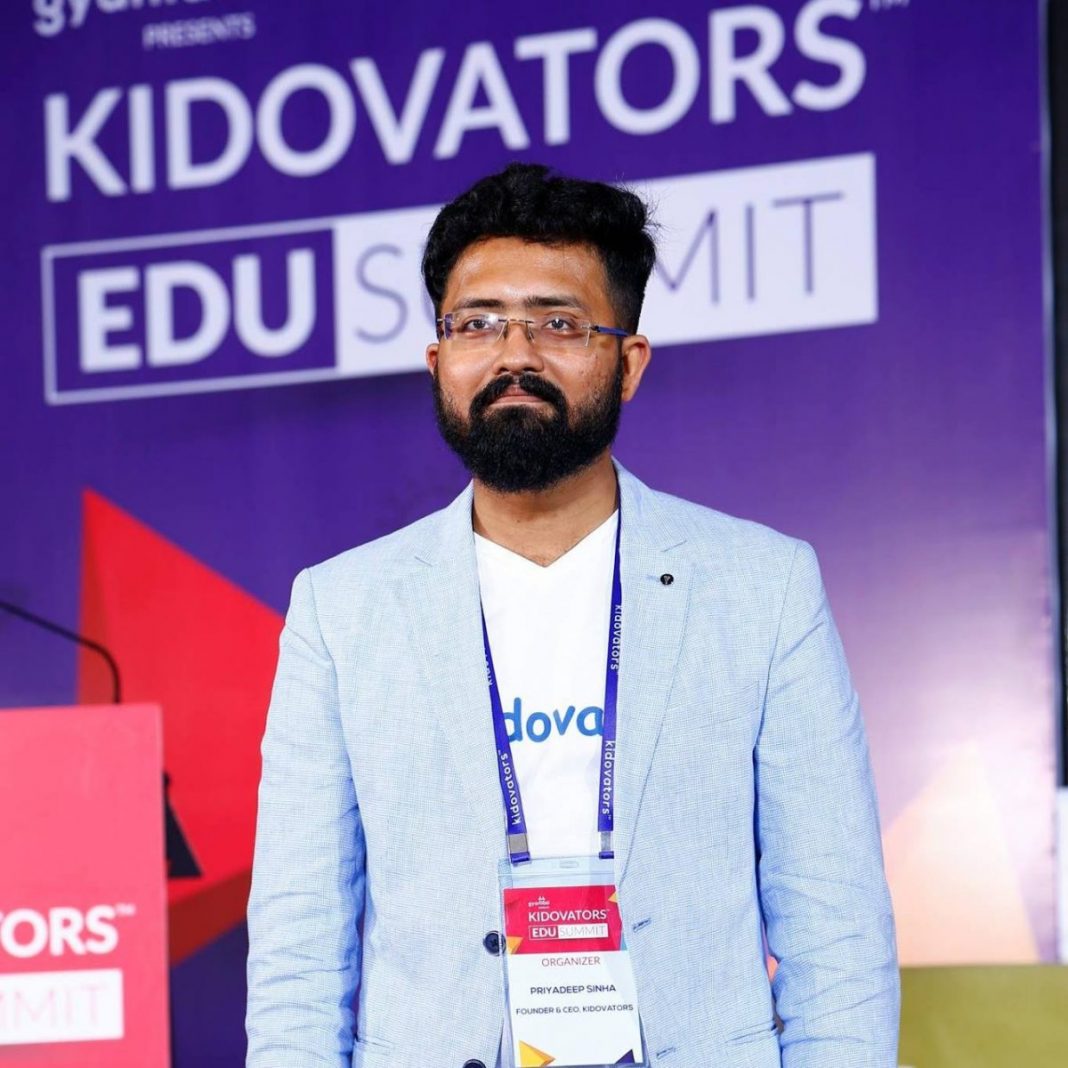 It's always a pleasure to share stories that really resonate with us. Priyadeep Sinha, the CEO and co-founder of GyanLab, has been on a journey that not only inspires us, but motivates us!
When Priyadeep and his co-founder, Sonali Gupta, began GyanLab in 2011, it was because they were dissatisfied with their own educational experiences. Priyadeep says, "The story for me started when I was in Grade 9. It was the beginning of my loss of interest in school education because I felt a massive distance between what education meant to me and what I was actually doing in school."
He continues, "Over the next 4 years as I completed high school, my disinterest and discontent in school education grew even more. During this time, I also saw many of my classmates and friends to be fitting this profile. Some of my friends who I knew to be extremely intelligent and clever were tagged to be laggards in the classroom. There was definitely something wrong with the picture there."
The Beginnings Of The GyanLab Journey
Their fledgling business idea really took shape during their time at Manipal Institute of Technology. Priyadeep explains, "When I landed up in Manipal and scenario did not change much, I completely lost all interest in the systemic studies at college. I knew I had to do something about it, and do my best to help as many young people as possible find meaning in their school education."
He says, "This was bundled along with my interest and ability to present business plans. Throughout my 3 years in Manipal, I presented and won multiple business plan challenges. During the 7th semester, I, along with a couple of my friends, came across a notice for the B-plan competition hosted by the newly formed Manipal Business Incubator. The winners would be allowed to start up in the Business Incubator. I knew this was a great opportunity for me to startup. We presented GyanLab at the competition and even though we only finished 5th, we got an opportunity to startup. We took the offer, and in doing so, became the 1st student startup to be incubated at Manipal."
Priyadeep adds, "I think it just happened for us. I never intended to start something that I would not see all the way through. What helped the whole equation was my belief that in case I land up in a corporate set up, owing to my rebel nature and natural inclination to do things my way, I would not survive long. To add to this, the goal of building future human capital was too lucrative to pass up and do anything else."
The Next Big Step
Priyadeep also played a large role in conceptualizing Kidovators. He recounts, "What started as Kidovators Challenge was a mere lucky stroke. It was late 2013 and our original model of setting up makerspaces in schools had reached a non-conclusive end, and we were on the verge of pulling the plug on the program. This came down to multiple reasons such as high cost of setup, extremely poorly thought out fee structures and high maintenance costs including personnel. We had a lot of our inventory left and had little clue what to do with the same."
He says, "It was around this time that my then co-founder, Sonali suggested that we start a national level challenge for school kids and give these kits away as awards. What we also had complete cognizance of was there were already multiple competitions around academics running in India, and Kidovators doing the exact same thing would not make sense. So, we created a three step program: Round 1 was an aptitude test, Round 2 was a telephonic interview, and Round 3 was the Grand Finale where students would be given different existing national and global problem statements to solve in groups. We ran this program from 2013-2016."
Adapting And Innovating
The programme wasn't without its challenges, and Priyadeep knew that they would have to adapt further to stay relevant. He says, "A major problem that I had with the program was a lack of dedicated focus areas. In a meeting with our Board Member, Madan Padaki, in early 2016, we came up with the idea of looking at new age skills that will have a solid impact and value for today's school students who will also be the future human capital. It was around this time that I stumbled upon the Future of Jobs report."
According to the study conducted by the World Economic Forum, 65% of students who are entering the educational system today will eventually take on roles that don't exist in the current job market. A staggering statistic that made Priyadeep and his team rethink their approach.
He says, "Some more research into this showed us that while skills such as creativity, critical thinking, problem solving, communication, collaboration among a few others were spoken of by almost everybody, there are no dedicated programs and continuous learning platforms around these topics."
Priyadeep adds, "We also learnt that only one in ten students felt creative in the classroom and that while schools want to introduce 21st century skills and core competencies, they lack the expertise and resources to do so. Our talks with corporates also helped us understand that these skills were what they were looking for in the future workforce as automation aided by a growing global expertise in artificial intelligence will take away a large number of mainstream jobs that we humans currently do."
He says, "With this ammo, we took our plunge into taking 21st century skills and core competencies to school students through the Kidovators Platform. As part of the platform, we have our online app that includes online self-paced learning modules on creativity and upcoming modules on critical thinking and other skills, as well as our Creativity and Critical Thinking Olympiads and a series of spotlight challenges. I strongly believe that within the next 3 – 5 years, Kidovators will be the go-to platform for school students across the world for all 21st century skills and core competencies. Inadvertently, it is also becoming the confluence of all stakeholders of education (students, educators, parents, corporates) when it comes to future of learning and that is something we are extremely keen on growing further."
Finding His Niche
Taking on the role of CEO for a startup is a big commitment, but one that Priyadeep didn't take lightly. He says, "As we started up, I became the CEO of ADD-on-GYAN but over the last 7 years, I have sort of struggled to find out what that exactly means. However, what I do know is that I take care of all the administrative, sales and innovation areas of the company. While I completely detest the administrative work, I am in love with sales as well as product development. I believe that both these jobs are married to each other and only someone who loves and understands both can grow a solid organization."
He adds, jokingly, "I am also the resident clutz thanks to my out of world poor motor skills and lack of understanding of new age technologies!"
Though their story sounds idyllic, GyanLab has faced its own bumps in the road. Priyadeep elaborates, "One thing that I am very sure of is that education is the hardest sector to start up in and anybody who takes the plunge and survives for a long time is scarred and battle hardened. The challenges keep changing as the journey progresses. Initially, it was all about how to convince highly experienced educators of the value of our work given I was just out of college."
He says, "Then, the challenge changed to how to build the right team with the right skill sets. We needed people willing to battle to make the relevant impact, which then transitioned into convincing external investors that education and Kidovators are the right sector and organization to invest in. Right now, we are going through the next challenges, which include convincing a large number of stakeholders of the value of the skills we are pushing since the benefits will show only when these kids grow up and join the workforce."
But it's all worth it in the end, and Priyadeep says, "It is the satisfaction of being able to do something that matters and that is positively impacting thousands of lives. Nothing can be more rewarding than this. And, each time you add a child to the program, you know that you are inspiring multiple lives. To top it off, a large number of our school partners learn many things from us and implement it in their schools, which benefits an even larger number of students. I don't think the rewards can get any better that this."
What's Next?
The GyanLab team has a lot planned for 2018. Priyadeep shares, "We have launched our Critical Thinking Olympiad and Learning Program for students of grades 4 – 9 and will be available for enrollment shortly. We are also aiming to work with a few corporates this year to bring spotlight challenges on solving particular problems and issues using 21st century skills for students. We are also working towards launching our programs in at least three different areas outside India this year."
When we asked him if he had any advice for our readers, he exceeded our expectations! He says:
"Students: Take charge. Stay hungry and foolish to learn. Life is going to change (for better or worse, we do not know), you must take cognizance of this and keep adaptability on top of your skills chart.

Parents: Your kids are smarter than you are. You need to let them be. Life for them is going to be much different than it has been for you or me. And, your help in supporting them in what they desire rather than push the burden of your own desires on them is going to help them win in life no matter what

Teachers: You are the backbone of the learning system. You need to keep adapting and growing on the job everyday. Because if you don't, then neither will your students. Keep inspiring all of us!"
He couldn't have put it better! We can't wait to see what GyanLab's does next – and witness the development of their already wonderful story!
Takeaway – Habits That Help!
We asked Priyadeep if he had any particular habits that he had cultivated, which had helped him on the road to success. He said, "I am sure that I don't want to call myself successful, but one habit that I have cultivated deeply myself as well as within my team is creating systematic structures and processes for everything we do. It has helped us save time, money and effort beyond comprehension."
---
Liked reading this? Then you might also like to read Savi Munjal & Vidit Taneja – On Bruised Passports And Traveling The World In Style.
---
If there's any story that needs to be told, we will tell it. Write to us at contact@knowyourstar.com with your story lead, or contact us on Facebook or Twitter.