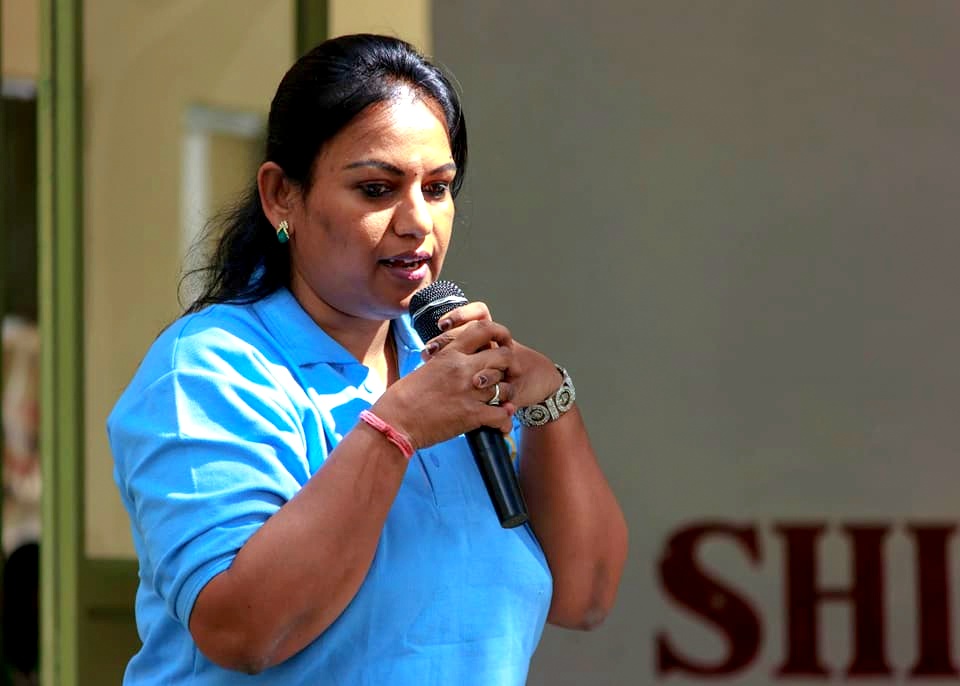 Writing our own exams is a pain point for many of us, and retaking exams are just unthinkable! But then you come across some people who don't take these examinations once, twice or thrice but more than 600 times! No, not because they just cannot pass their examinations, but because they are taking it for other people, who are not capable of writing for themselves. We met such a person recently, who is breaking records every other day by being a scribe to people with disabilities. She is all over the media for having scribed over 657 times, as of February 2018, and we were curious to find out more about her journey. Meet Pushpa Preeya, the blessed scribe who brings a ray of hope in the lives of many!
About Humble Beginnings
Hailing from a poor family, Pushpa Preeya's childhood was a struggle. With no support from relatives, her family of three – mother, brother and her, had to fight to even manage one decent meal per day. She says –
"My mother had a job, but her salary wasn't sufficient. She could not get a better paying job because she was not well educated. So my brother and I also had to work at a very young age to make ends meet in a big city like Bangalore. There were times when our breakfast, lunch and dinner was just water. I dreamed of becoming a doctor, but getting an education was not even an option for us back then."
Over the years, Pushpa worked really hard to become what she is today, while supporting her family. She says- "I couldn't fulfil my dream of becoming a doctor, but I'm enjoying my work now because it's a respectable job and I can provide for my family. I started my career as a receptionist, but now I'm an IT professional. I enjoy my job and I get to learn so many new things. Sacrifices are a part of life. I live by the proverb – 'Man proposes but God disposes'."
She gradually completed her Computer Diploma and went on to do certification courses in Information Technology like MS project and ISO 9001: 2008 Internal Auditor. She worked in companies like Nokia and Amazon, and currently works in Target.
Dedicating Free Time To Volunteerism
Pushpa Preeya is a very socially responsible person and her volunteering journey is laudable. When asked about it she had this to say –
"Though my dream was to serve people by being a doctor, I didn't let the unfulfilled dream stop me from volunteering. I try to get free medical treatment for underprivileged children with the help of NDHRC (National Dalit Human Rights Campaign). Here, I used to coordinate with doctors and provide dental kits to the kids. I also volunteered as part of Doctors For Seva, where we took doctors from Bangalore to the Primary Health Care Centers (PHC) in villages. I also spent a lot of time researching about blood. I donate blood very often and am able to connect needy patients and willing blood donors. I also have an active Facebook page called '"We Help India ", to provide donors.' dedicated to this!"
The Journey Of Becoming The Best Scribe In Town!
With all the volunteering gigs Pushpa Preeya has under her sleeve, it's difficult to imagine making time for something more. But that's what she did and is today a volunteering scribe who is breaking records and making new records as we speak! This is what she told us when we asked her what led to her becoming a scribe –
"I am actually an accidental scribe! My first scribe volunteering was to help someone I knew. Who knew that would be the first of many more to come! My first scribe experience was not so great! I was too impatient and was waiting to finish and get out of there. The reason for this was that I had to repeat a single question 20 to 30 times and wait till the person recollected the answer."
But in spite of her first impatient experience, she went back for more.
"When I was studying in my 7th grade, I was asked to walk out of the examination hall because my fees was not completely paid. My mother frantically ran to my neighbours and requested them to lend the money so I could appear for the exam. Finally someone empathised with us and I was able to write the exam. We paid them back as soon as we could! This incident is still very fresh in my mind and I can never forget how I was able to continue my education because of someone's timely help."
She continues, "Even in my later years, when I was studying in a government college, there was no free admission. A person with polio, who did not have one leg, ended up paying my fees. I was not capable of being financially independent in those times, and had to rely on others every now and then. I can still remember those days when I had only two pairs of dresses and no money to even purchase books. These experiences have taught me the importance of education and the role it plays in securing a job, and being self sufficient. This is the gift I wanted to give other people in need, which is when I decided that however tough it is, I will take up scribing and support these kids as much as I can."
Fighting The Challenges Like A Boss!
According to Pushpa Preeya, the main qualities required to become a scribe are patience, listening skills, and knowledge about the subject (which can be acquired!). But in spite of that, every student with disability is unique, and every experience varies. She had to tackle multiple challenges in her journey as a scribe. She says that it's most challenging to scribe for a person with blindness. The blind candidate has to completely depend on another person who may or may not be familiar with the subject to write the exam. Their performance in the examination completely depends on how well the scribe manages to comprehend and answer on their behalf.
"There are essentially two points of communication before an answer is put down to paper, and there is scope for error at any of these two stages. First, when the scribe reads out the questions to the blind candidate. At this point, any linguistic or accent issues may lead to misunderstanding of the question. The scribe could also wrongly interpret diagrams or symbols in a question.

Second, when the blind candidate dictates the answer to the scribe based on their understanding of the question, the candidate doesn't really spell out every word, so a scribe may misspell words while putting the answers down, which may result in changed meaning at times! But I'm used to the students and their ways now, which I was able to do only because of my experience. I never gave up!"
Rewards & Recognitions Of An Outstanding Scribe
As of February 2018, Pushpa Preeya has scribed 657 times and is writing 7 subjects for 2nd PUC exams in March 2018. She has been scribing since the year 2000 and has been unstoppable ever since!
Over the years, she has written for candidates with Cerebral Palsy, Down Syndrome, and visually impaired students, appearing for 10th/11th/12th class exams, BA (1st/2nd/3rd Year), B.Com (1st/2nd/3rd Year) B.Sc (1st/2nd/3rd Year), MA, Law, M.Sc, M.com, MBA, and BCA. She also helps with government exams, such as BESCOM, SDF, FDC, PG entrance exams, FDA exams, and KPSC exams. She says –
"Whatever be the exam, I have written it for my candidates. I have even supported them by helping them in their project work and recording their syllabus in MP3 format. Apart from this I even tried supporting many by getting there eye operations done, speaking to their doctors, and getting there blind certificates done. I also wrote for engineering college students who met with an accident and were unable to write. Whatever be the case, if someone is in need, I'm ready to support them in whatever way I can."
Pushpa Preeya was awarded the Women of the Future Awards 2017 In Jaipur, honored by Media Association of Karnataka  in Bangalore, won Best Outstanding Scribe from Amrutha Bindu and Deepa Academy Seve award 2018. She was also given the best achievement award for supporting disabled students at Koppal district by the government of Karnataka and a lifetime achievement award at Kannada Sahitya Parishat, Chamarajpet. The Newspaper association of Karnataka International women's award 2018 was also showered upon her.
From One Scribe To Another
Pushpa Preeya says- "I have immensely enjoyed my experience as a scribe. It has taught me a lot of patience and I got an opportunity to enhance my knowledge on different subjects. Every time I work with a candidate, I get to hear their life stories and the lessons I take from them shapes my life. I'm blessed to be doing this!"
"If you're planning to become a scribe, there's nothing like it. But make sure you take it up seriously and not just as an experiment, because your every move can make or break someone's future. Keep in mind that it is not easy to gel with some candidates with disabilities. You might have to repeat every single question more than 20 times before they grasp it. It will take some time for you to figure out the best partnership. Patience and understanding is the key!"
Takeaway – Habits That Help!
When you take up a challenge, work on it endlessly. Never give up! Cultivating a positive thinking mindset has helped me a lot in my life, and is the reason for what I am today. When we take up something new, it's very interesting initially, but with time the interest might fade away. But I try to take it in my stride and move on with it, without giving up.
---
Liked reading this? Then you might also like to read Sonam Mittal – Striving Towards Making This World A Genderless Abode With Azaadi
---
If there's any story that needs to be told, we will tell it. Write to us at contact@knowyourstar.com with your story lead, or contact us on Facebook or Twitter.