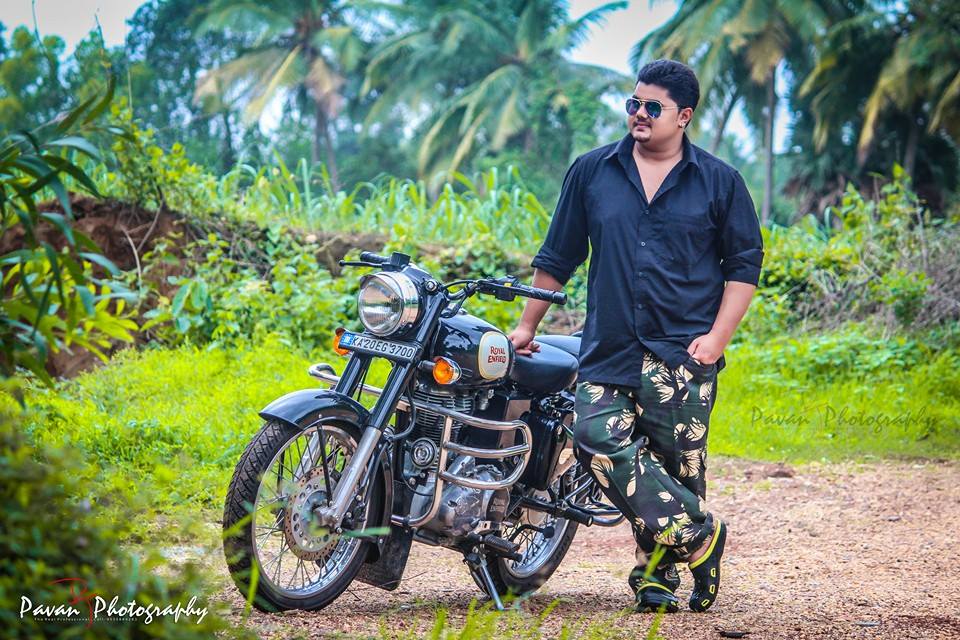 There are a set of passions that young people seem to relentlessly pursue, of which parents are usually not big fans. One such craze is biking and only people who passionately ride would understand the thrill of it. Others only wonder what good can possibly come out of the tiring activity.
Just watching a group of bikers speed off—almost fly—without a worry in the world is enough to give you the chills. So, you can only imagine the thrill they experience in person! It's probably a common sight in cities, but in a small place like Karkala, the passion for biking is seeing its initiation only now, since the past few months.
We met Rajath Shenoy B, a 22-year old passionate biker, who is among the very first people in Karkala to be giving the passion of biking a solid form. Rajath and his team are making the existence of their bikes worth to the core.
Embarking On A Biking Journey
Rajath Shenoy says that his passion for biking started very early. Coming from a business background, he never had a lack of resources, but naturally was deprived of permission. But after graduation he convinced his parents that his passion for biking is way more than just a fun thing to do. When Rajath began making long distance expeditions on his bikes, more ideas came rolling and more like-minded people joined him, in order to undertake a never-seen-before biking expedition from Karkala. And then the adventure of establishing the biking passion – even in a conservative town like Karkala – was set in motion.
The Ladakh Expedition
It accounts to a total of 10,892 kilometers to and fro Karkala-Ladakh. Rajath Shenoy and his team consisting Stephan Gomes, Stanley Fernandes and Rajesh Salian undertook this adventure of riding from Karkala to Ladakh and back, and successfully accomplished it in 21 days.
This expedition is one of its kind because the passion for biking is not as well accepted in South Karnataka as it is elsewhere. However, Rajath and his team have changed a lot of opinions about young people pursuing biking after they undertook this adventure. Rajath says,
It was claimed that it would be an impossible venture to travel so far on bikes, but after our return, a lot of people in Karkala have themselves volunteered to take up an expedition of the same kind.
He says that it feels like they have been successful in making an impact and this is evidence that passion can make miracles happen.
The expedition was completed in 21 days because Rajath and his team painstakingly rode day and night, taking only few hours of rest. But "painstaking" is how it seems to us as he narrates narrates the journey to us, but for them it was the time of their life. Rajath says that it was a splendid experience to ride through different areas, across different people, relishing different cuisines, experience different weathers and mingle with varied cultures. "It is impossible to experience such majestic transformations of cultures through any other means of transport", he adds.
Rajath and his team also made a mark by gaining access to Siachen, where no civilians are allowed. He says that the best part of the expedition was getting to see nature in all its glory in different landscapes; mesmerizing forms of forests, lakes and waterfalls as they rode.
The Royal Enfield Club In Karkala
Rajath and his team have now initiated a club for like-minded people in Karkala. They call it the Royal Enfield Club where passionate bikers can come together with ideas for expeditions and execute them in groups. This club is the first of its kind in Karkala and by the response that it has received, one can easily claim that Rajath Shenoy is making a big time impact. There are already 80 people in the club and there are more flowing in every day.
The next plan is an expedition from Kanyakumari to Kashmir and back, and Rajath and his team are to execute this next year. Now that they have complete support from the people of the area as well as the authorities and media, Rajath has all plans to make it as large as he can.
Pain Behind The Gain
Biking seems to be an easy passion to pursue. But ask a biker about it! Rajath says,
It is vital for a biker to study everything about bikes before he can even say that biking is his passion. It takes a lot of patience and technical intellect to understand how one can deal with bikes, because they can get as moody and difficult to handle as people!
Also, making long distance expeditions requires a lot of material and non-material resources. That includes possessing the right knowledge, optimum health and brimming energy to complete what has been taken up. Because, as Rajath says, "There is generally no turning back once an expedition has started."
Rajath Shenoy is a unique personality because he has given a spin of productivity to what was otherwise considered a waste of time. Biking is a rare passion to undertake for a young man who hails from a considerably rural background, but Rajath has made it possible for the youth of Karkala. Alongside being a passionate biker he is also an extraordinary artist, a singer and an actor, and is already working on an album which is soon to release. Let's hope he inspires young minds to responsibly carry out the unthinkable crazes out there and gain experiences to last a lifetime.
---
Liked reading this? Then you might also like to read about Deepa Malik – Erasing the Wheelchair in the Eyes of People.
---
If there's any story that needs to be told, we will tell it. Write to us at contact@knowyourstar.com with your story lead, or contact us on Facebook or Twitter.