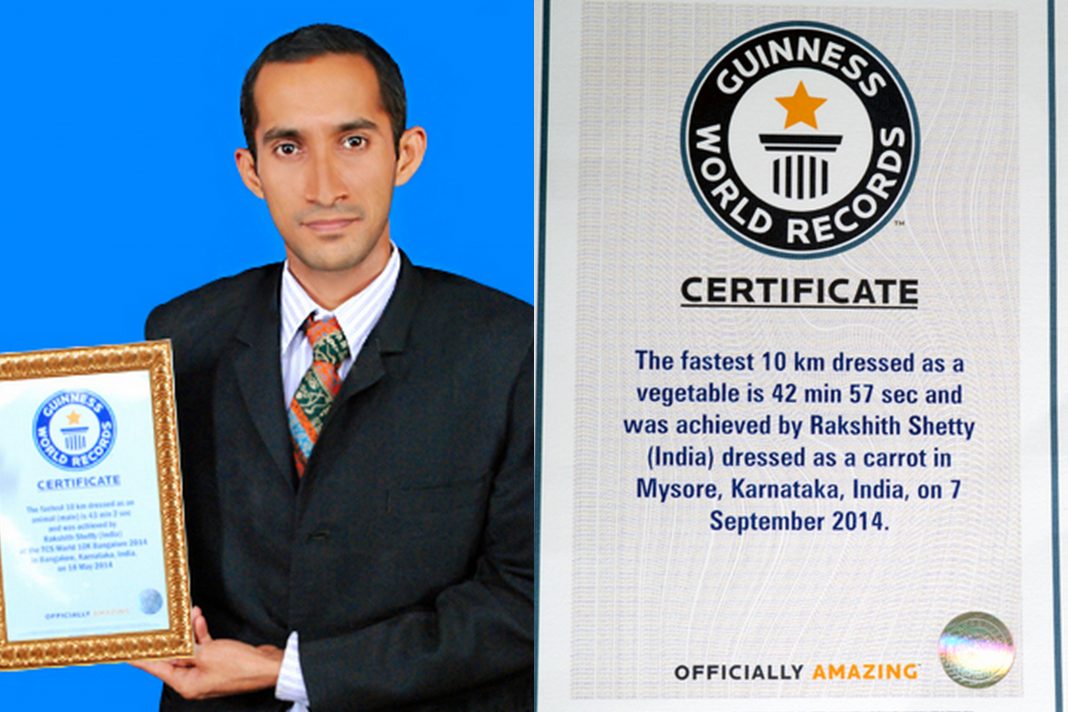 For people with a willingness to achieve, the world is full of opportunities. We met Rakshith Shetty, who shows the world that to be an extraordinary achiever, all you need is a lot of passion and some out-of-the-box thinking. Meet this 31-year old, who lives by the principle of simple living and high thinking. The down-to-earth, soft spoken Rakshith Shetty holds 7 Guinness World Records and he's the only one of his kind in India.
Costume marathons are a popular concept abroad, but not much in India. Rakshith Shetty has pioneered this unique idea on his own, without much support from any source, and the lone warrior has so far made it to the Guinness Book of Records 7 times (and counting). He's still in the running, and we can expect more to come! The only sad face of the coin is that the glory of 7 world records and the uniqueness of Rakshith's achievements have not been celebrated enough.
Costume Marathon Running In India
Athletics came to Rakshith early and he took part in a number of long distance races and marathons during his education days. International long distance races were supported in Mumbai and that was his foundation for what followed after. Half marathons and long distance races were his fields of expertise during those years, but he made it large with the idea of taking part in marathons not as himself but being dressed up as something else, which made all the difference.
Rakshith says that he came across the idea of costume marathons online. The concept is well endorsed abroad, but hardly anyone knows of it in India. Each kind of costume shall be considered for a completely different record, which provides vast scope for anyone to create any number of world records provided he thinks differently; and obviously runs fast.
The Costumes Worn By Rakshith Shetty
The 'record making' marathon began in 2014 when Rakshith completed a 10 km marathon in 43 minutes, dressed up as a leopard. He claimed the costume marathon record in the animal costume category and that was just the beginning. Then came the records for his costumes as a vegetable, as a heart, as a musical instrument, as a playing card, a costume of measuring tape, and a cushion costume.
The 4th, 5th and 6th records were created within a span of 30 days, in the month of December in 2015. The 7th record was previously held by a citizen of London, whose timing Rakshith beat in April 2016 and made it his. There are a total of 7 records for now and Rakshith says he intends to bring in more, provided his health supports him. Regardless of that, Rakshith Shetty is the only athlete in India who holds world records in costume marathons and that is reason enough for us to celebrate this rare personality.
Alongside making records by due of his costumes, Rakshith has also won a number of marathons that he has participated in. However, it takes a number of marathons to create one record and Rakshith does a lot of ground work before he hits the racetrack. It is only after a lot of authentic work and evidence, that a field achievement becomes a world record.
The Unsupported Journey
'One man army' is what we'd call Rakshith. The path of his achievement being so rarely walked on, he had not much reference of resource to draw inspiration from. He gave his own ideas form and backed them up himself, receiving minimum support from associations or institutions in connection to sports.
He says no one or nothing came in his way of achievement, but not much support was received either. Of course, there are friends who stand by Rakshith emotionally as well as financially. Rakshith has also made his appearances in a few newspapers and media, but we have every reason to believe that this hero is way too underrated.
Lack Of Recognition And Celebration
For anyone who might want to accomplish a venture like this, there are plenty of opportunities. However, financial resources and other forms of support become vital, which was a little insufficient for Rakshith. Also, costume marathons are not as easy as they look. He had to practice for years before he could run for world records. But from a spectator's perspective, the major demerit that we can observe here is the failure on the part of people and the government to recognize and encourage a rare talent like this one.
Rakshith says that none of the organisations have come forward to back him up, even after 7 world records. Given proper support and encouragement, talents like himself could achieve way more than what he has achieved, he says.
Thinking Out-Of-The-Box
An achiever would find a hundred ways to achieve, while others would find reasons. Rakshith Shetty is that positive force who overcomes a number of hurdles and achieves in a way unknown to most. He says that should anyone take up an interest in his area, he would love to guide them with it. He adds, that not just costume marathon, the world of sports provides infinite opportunities for people to make a mark on Guinness levels, but sadly, most of which are not even talked about in India. One only needs to think out of the box and pursue an idea seriously.
We hardly come across the concept of costume marathons, because it is not promoted as much in India. But it was a moment of pride when we met Rakshith Shetty who not only pursued an idea alien to his surroundings, but made an unequaled mark in the same. Team KYS celebrates this hero!