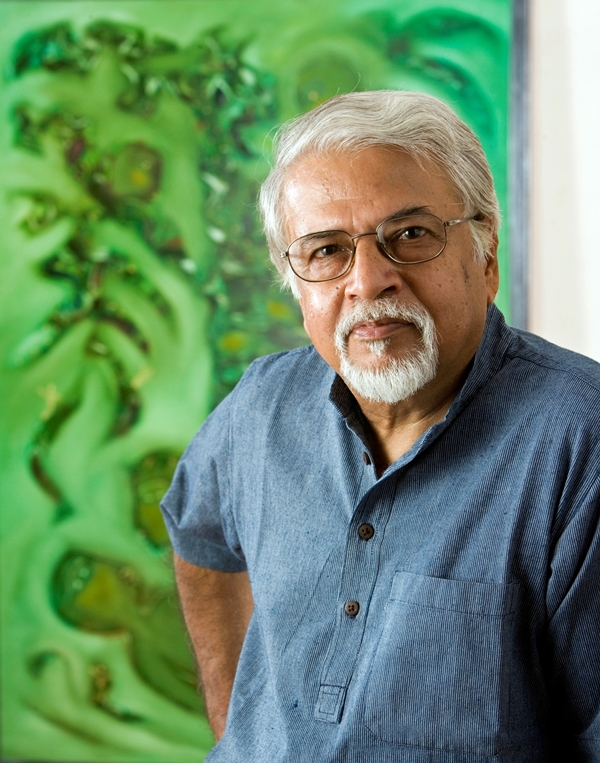 A simple man with a childlike smile sat on a rocking chair in the dimly lit interiors of his lovely cottage. He spoke to us about some of his life incidents, which led to the making of an artist out of a young boy. Growing up in Mysore, he also went through the usual grind of our regular education system consisting of maths, physics, chemistry and maths.  As he speaks about his life story, which is shaped with intense passion, love, and people—some of whom are very dear to his heart—his words trigger one's imagination to conjure up pictures and visuals in the mind. A beautiful tapestry, a mural with exquisite copper work, and a canvas with colors painted with delicate balance stood still, but narrated a thousand odd tales of life. Here's introducing one of the finest artists of India, well known for the "Vriksha" (Tree of Life) and "Maithuna" (Act of Love) series, SG Vasudev.
Entering the Portals of Art School
I grew up partly in Mysore, and my mother was an inborn artist though she did not have the opportunity to pursue her passion. Probably she influenced me with her distinct liking for art. I would initially draw cartoons influenced by the works of great masters like RK Laxman and David Low. Although my cartoons were regularly published in leading newspapers in Karnataka, I was still searching for something more to learn and explore.
My life took a different path when I met the first generation art critic, Mr G Venkatachallam. He advised me to join an art school in Madras. It was difficult to convince my parents who were skeptical about my career, but thanks to Mr. Venkatachallam, who counseled my parents and pushed my case for realizing my dream. Finally they approved! I packed my bags and left for Madras, after which there was no looking back.
A Beautiful Life
Best part of my life was the time I spent in the art school—Cholamandal Artists' Village—along with other artists, by the sea, on the outskirts of Chennai, en route to the historic Mahabalipuram. I met people who had a profound influence on the rest of my life. Gurus like Paniker mentored me, not just in the field of art but also through the course of my life. I also met my first love, Arnawaz, in the same school, and got married. My meeting with some of my best friends like Mr. Girish Karnad, opened up many other dimensions of art like theatre, music and Kannada literature for me.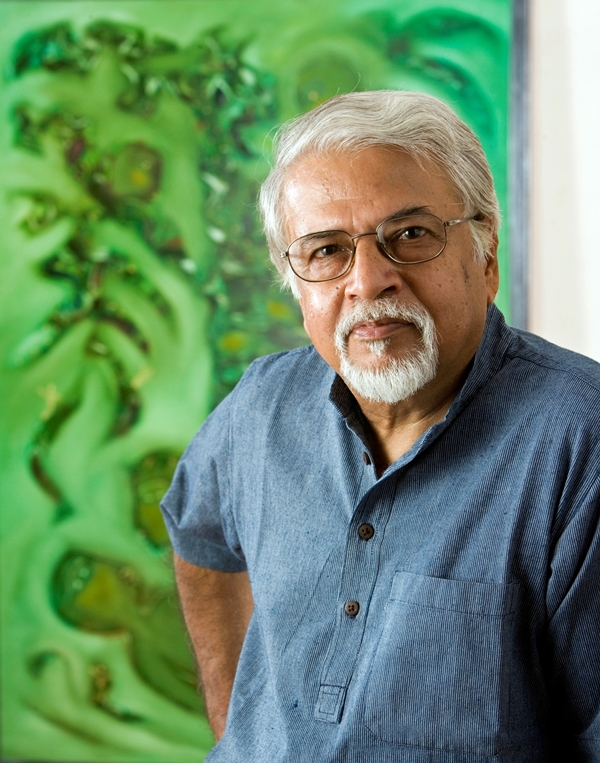 Tragedy Led Me Back Home
I lost my beloved wife, Arnawaz, to cancer. I was shattered. I was unable to paint for months. She was not just my wife but also my critic and a great artist herself. My little son was studying in Madras then, and needed family support. Hence I moved to Bangalore and settled down with my family. Gradually I began to paint and probably found solace with colors to overcome the cloud of depression.
Themes of Art
As you know, there are a few distinct and recurring themes in my works. One of them is "Vriksha" or the Tree of Life. I in fact unknowingly discovered this theme. I was initially fascinated with the tree and painted many pictures with the tree juxtaposed with other elements. Gradually the tree moved to the center of the stage and started absorbing various elements and forms; just like the gigantic banyan tree which is so amorphous and protective.
Later I explored the essence and nature of a man-woman relationship through contrasting forms and colors. The theme of Maithuna stands for the union between the female and the male principles – the prakriti and the purusha – that exist in nature, almost in a yin-yang fusion of being. Later on, I made a series of paintings and called it – "Humanscapes", "Earthscapes", and "Theatre of Life."
Arnawaz Vasudev Charities
After the demise of my first wife, I initiated the Arnawaz Vasudev Charities, a private trust set up to provide annual scholarships and other forms of financial assistance to young artists. It's been helping budding artists for the past 27 years. Studio Arnawaz is an extension of this effort to serve the community of artists to nurture creative enterprise.
The studio is located in the beautiful, verdant, spacious and quiet compound in the well-known Cholamandal Artists' Village. This is perhaps the only initiative of this sort in South India, which helps to provide the much-needed creative space to nurture young artists. Today, there are about 160+ artists who have benefited from this scheme and accomplished great heights in the field of art.
Art Park
"Art Park" is a platform which brings artists and the common man closer. People, including young and old, can ask questions and learn directly as the artists go about painting. With this initiative being successful in Bangalore, I now plan to extend it to other towns and cities in Karnataka.
Existential Philosophy
I believe in existential philosophy, which means one creates one's own life. Each one of us is responsible for our actions and its outcome. I just wanted to paint and never thought about money or a career. I have only been doing that all these years. One should be passionate about his/her work and pursue it with love. Slowly and steadily, every talent will find nurturing and the environment around will magically transform to help it blossom to the fullest.