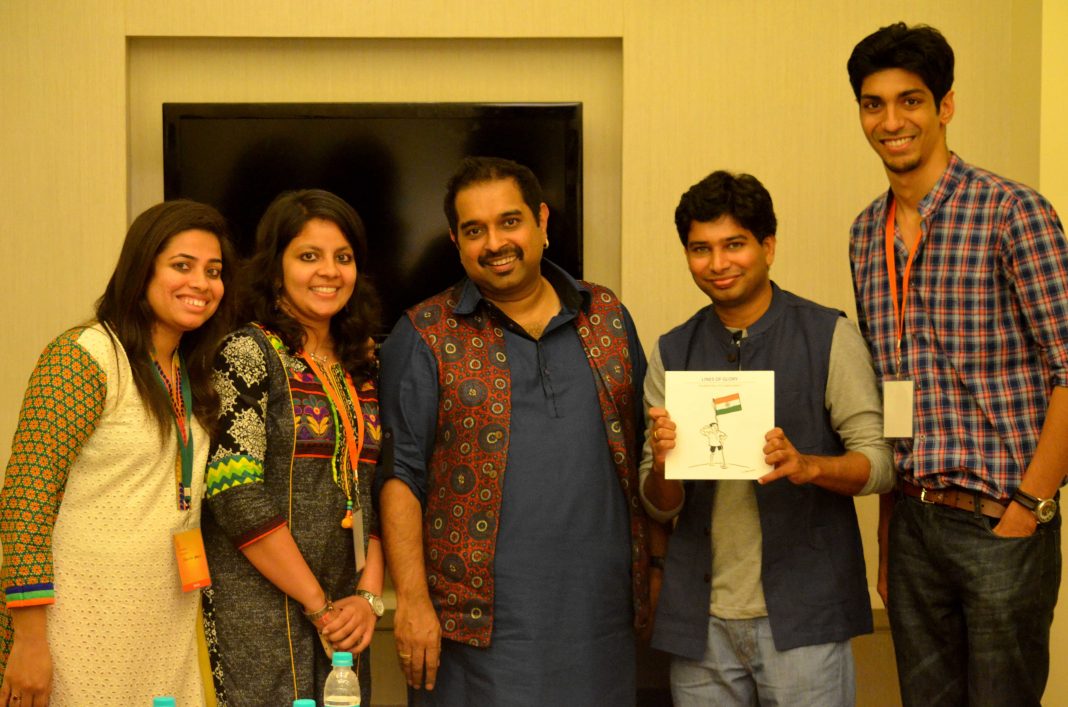 Known for his Breathless song, this music composer and playback singer has made himself a popular Bollywood name in every Indian household. He's known to be an amazing performer on stage and has won one-too-many awards for his soulful music. Apart from this, he's recently started an academy to teach music to students through online classes, across the world. When Team KYS interviewed this Bollywood sensation, we couldn't help but feel at great ease, with his down-to-earth, friendly, and happy-go-lucky nature. Introducing to you all- Shankar Mahadevan.
Music for Entertainment & Education
Music for me is an extension of myself. What I have realized is that music is not just about entertainment, and can be used to propagate many other things very effectively. For example, if you want your kid to memorize all the festivals in India by giving them a list, they're sure to forget many. But trying making a song with the mention of all festivals and their uniqueness, and see how quickly the kid memorizes it. Music can be used as a tool to teach many things. If I create a melody of all the physics formulae I've ever learnt, and put them together, it'll be a masterpiece! (chuckles)
Same Soul, Evolving Music
As they say, "Change is the only constant". Music is like fashion. The forms and trends keep evolving over the years, but the essence remains the same. The essence of music is its soul, because music is also a form of communication. It can be communicating happiness, sadness, inspiration, or just a way of uplifting moods. Whatever the form of music be, if there's no soul in your music, it won't make much sense. There'll be no impact.
Soulful Music & Goosebumps!
One has no control over it. It's that feeling you get when you create a piece of melody or a small line. It's like fragrance that comes out of a perfume; there's that one particular feeling that comes out of good music, which I think is its soul. It can be a potential to the melody, which is basically putting few frequencies together, which then turns into materialistic things like money and fame. It's like a resonance of melody with the universe, and that's actually why you get goosebumps when you listen to exceptional music; you tap into certain frequencies!
Respect Indian Music, It's Cool!
Our country has got some serious music potential. We have diverse music in our country; folk, classical, traditional, and so many other types. We should learn to respect our music along with all other types of music we listen to. Unfortunately many people in our country assume that it's not cool to listen to our own music. If you go to European, African or Arabian countries, you'll see people having immense respect for their own music, which I think is unfortunately not the same in our country. If we learn to respect our music, it can be cool too!
Also, we should be able to differentiate between mediocrity and good musical aesthetics. The way to do that is to see if something touches your soul.
Music Just Happened to Me
I started learning the harmonium without knowing what it was! My parents put in a lot of effort in teaching me and guiding me about music, but they never forced it down my throat. Today, I don't ever force my sons to learn music, I give them all the freedom to do whatever they want to do, but my elder son ends up practicing 18 hours of music each day! You need to have perseverance to master music.
Pursuing your Passion Full-Time
It's risky! I was working in a very pushy IT job and I would have been in the US earning thousands of dollars like all the other engineers out there if I was still at it. But I had people around me who supported me to try doing what I loved. You need support from those who are near and dear to you. They can give you the confidence, which will help you be ready to take that blind plunge!
Never give up on your ambitions. But you also have to be really good at what you do, which is when you'll start to get recognition. If there's a really good singer who is just floating around, his name slowly starts emerging like faint smoke, which will gradually take them to greater heights.
Being the Blessed One
I was very talented in the advertising industry and was very happy and secure with my job. I used to go to the studio and finish a jingle in 5 minutes and get out! When I entered the film industry, I thought I'd give it a try knowing that I had a backup job. So I always went with a subtle aggressive attitude. I've never had to pick up my phone and call anyone for work in my life. I never had to, because I was luckily one of those blessed ones!
If you're really talented, you can dazzle a person without much effort and the word spreads like wildfire. The music industry is pretty small, even though it looks big to us. They're all young, friendly, and helpful people out there.
Creative Freedom in Bollywood
You can never have complete creative freedom in this music industry, because it depends on the story and the circumstances. For example, I can't create an item song when someone's dying! We believe that the director is the captain of the ship. Each director has his own personal music choices and preferences, and we as music directors have to understand their requirements and vision, and create music for them. If I play something from Rock On to Karan Johar, or a loud Punjabi song to Farhan Akhtar, they'd hate it!
Conceptualizing Breathless
"Breathless" was a trigger of ideas between Javed Akhtar and me. His idea was to create a song that doesn't have a pattern similar to how it is in Indian classical music. Breathless was actually an improvisation of the Raag Yaman!
Online Music Courses at Shankar Mahadevan Academy
We started the Shankar Mahadevan Academy in February 2011. The journey of building this academy has always been a step-by-step learning process for us. We've come up with new things like forming a curriculum for our students and developing Online Music books called 'OM books', which we consider to be the treasure of our academy.
OM books have all the songs, references, and come with a separate video attached to it for practice. This is something unique we came up with, because there is no structured curriculum to learn Indian music. We have broken down the whole music learning process into small capsules to make it easy. It's like a video game! You go up level by level, which keeps our students entertained and motivated. You can go back and practice your lessons any number of times till you're thorough with it before proceeding. We're conducting these classes in over 47 countries now.
KnowYourStar.com (KYS) interviewed Shankar Mahadevan as a part of India Inclusion Summit(IIS). IIS is a platform that brings awareness and drives inclusion of specially-abled people at corporates, schools, policy makers and NGOs. Yes, KYS is the official blogging partner for IIS and backs the event whole-heartedly in a thirst to see an Inclusive India.