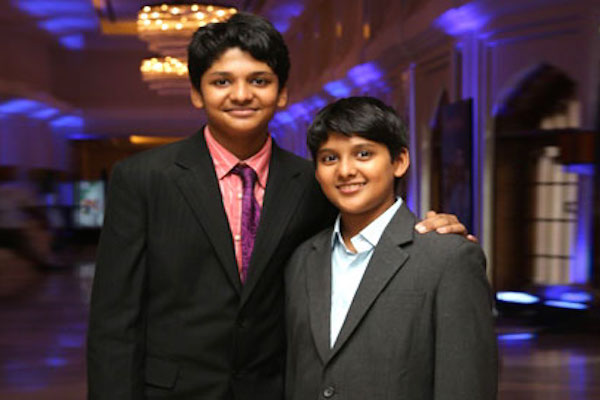 This article was first published in 'White Print' – a braille magazine for the visually impaired, founded and published by Upasana Makati.
They say that the current generation of children are fast paced, enthusiastic with curiosity that drives them to do the unimaginable. Little did I know that I would come across 10 and 12 year olds who would be India's youngest entrepreneurs. Surprising isn't it?
Shravan and Sanjay Kumaran, studying in Vaels Billabong International School in Chennai (at the time of this interview) were recognized as the youngest mobile application programmers in the country and one of the youngest in the world. The brother duo run a company under the name of GoDimensions where Shravan is the Co-Founder & President while the younger brother Sanjay holds the designation of Co-Founder and CEO. These heavy designations do not stop the brothers from brainstorming, planning and executing together.
"Both of us wanted to name the company Go. However since it was a very common name, we had to add another element to it. Shravan finally thought about how we were going to have apps with different dimensions. Hence we locked the name GoDimensions. Also, most importantly, the first three alphabets stand for the word GOD. Our vision for the company is to create simple solutions for the new and complex digital world", says the 10 year old, Sanjay Kumaran.
A Father's Gift – Doorway To A Bright Future
At such a young age, Shravan and Sanjay are well versed with programming languages like QBasic, Java, XML and Objective C. The boys have successfully developed apps for both Apple and Android users. There are seven different applications that are available for the world to download and use in Apple's App Store while three are created for Google's Android Play Store. What's even more exciting is how these apps have received more than 40 thousand downloads from over 48 countries!
"When I was in the 3rd grade, dad got us a desktop which increased our interests in knowing all about it. Both of us started from the very basic, Paint application. Thanks to our schoolteachers we also explored PowerPoint Presentations. To fathom our thirst for more, dad started teaching us QBasic, around four years ago and that was it. We were addicted to programming after this!" shares Shravan.
He continues, "The next step was taken with the increasing popularity of mobile games. Once again our father encouraged us to develop games. Without wasting time, we started with the development of Android apps. We made a calculator and quiz app to start with. To help us move forward in our journey, dad even gifted us a Mac book and iPad. When we are developing apps Sanjay and I discuss our ideas and work together. When there are two approaches, we present them to our parents and friends, and finally implement the better one."
When The Entire World Welcomed Their Apps
Catch Me Cop – This is a Game App, a con escapes a prison and there is a nationwide hunt for the Con. The Con has to run through a Desert, Beach and a Maze to escape the Cop. There are multiple levels of this app, with varying speed and cops. It was released in January 2012 and downloaded in over 25 countries world over.
Alphabet board – This is a Learning App available on iPhone & iPad. Free Game App for Learning alphabets in a fun way for children. Alphabets are shown on the board along with pictures to facilitate easy understanding, where kids can go back and forth, learn and master. This app was released in March 2012 and has been downloaded more than 20 countries.
Prayer Planet- The boys created this app for people to pray to God while they are on the go. With four different religious symbols of Hindu, Christian, Muslim and Buddhism, it plays religious songs with pictures too. This app was released in 2012 and was very well received particularly in Gulf countries.
Colour Palette is a colour-learning app for kids where colours are shown on a palette, when a child selects a colour it is explained and spelt for him or her.
Emergency Booth is an app that can be used to dial emergency numbers through a single button. It is essentially designed for Senior citizens and other people during distress. It also sends SMS to two selected preconfigured numbers. The most crucial part of the app is that it is supported in 14 different countries, which makes it very useful for a traveller.
Super Hero Jetpack EI5 – EI5 – Extreme Impossible 5 is an action game where the Superhero runs across various zones. It is a free run game where the Hero runs on Earth, Sky and Sea to collect coins.
Car Racing HD is a car-racing app where the player races the car against a heavy oncoming traffic, with an objective to collect coins and also get goodies while wading through the traffic. This game had more than 2000 downloads on the day of release, and it briefly appeared in Top 100 game app for that day.
Awards And Accolades That Were Inevitable!
The youngest entrepreneurs of the country, Shravan and Sanjay won many accolades for their phenomenal work at such a tender age. Rotary Club Entrepreneur of the Year award 2012, CII Chandigarh's Young Achievers Award, Lightning Pitch award from IKMC, Percept Achievers Award, HR Infotech Association IT person Award and Peter Haas, Consul General for USA appreciated their effort. In fact the exHIBIT magazine identified them as one of Top 100 Tech Indians in their anniversary issue among the big wigs of the industry.
"We have been invited by various schools, IIM-Bangalore, numerous independent TED events in the country, IIT Madras, IBS Hyderabad, and Wellingkar Management Institute among many others. We do not have stage fright. We prepare presentations on our own and then show it to our parents and friends for suggestions. It is great fun speaking to a live audience."
The Buck Doesn't Stop Here
Inspired by the innovation and superior user experience brought into Apple by Steve Jobs and the technical ability and business acumen of Bill Gates, the duo isn't keeping money as their focus. "All our apps are free of cost currently. Our only aim is to have more number of downloads and feedback to help us do better. Having said that, I'd like to mention that we do get money through the ads placed in our Apps. For ADs, we have provided space and Code to Apple who takes care of providing the ADs and ultimately they share the revenue generated with us."
The younger one continues, "Our dad has always taught us that we must do some good for the community and help underprivileged people. Shravan and I will be sharing 15 percent of the profit towards the education of the children. We will primarily buy them books, pencils and eventually familiarise them with the computer."
Technology Coupled With Social Causes
There is no end to the sensitive and innovative minds of these young boys. They already have conceptualised the applications they wish to roll out next.
"We want to make apps that would help senior citizens along with some that would record and reflect the pollution levels of a place. Currently we are also in the process of building a robot that would help the visually impaired navigate by the use of their phone. It would be a small gadget that would tell them if there is a wall ahead or is the way clear for walking. Our interest for robotics coupled with the teachings of our dad is what gave birth to this idea. Apart from this our ambition is to build the world's thinnest & fastest tablet GoSheet that will be affordable especially for people living in rural areas so that they can be connected, learn and help make India a Superpower sooner", smiles a young Shravan.
An ambitious Sanjay adds to what his brother has to say, "Another interesting project we are working on is GoMap, a Powerful Map which can show Live Traffic and Pollution information. To spread some smiles among people who are always on the go, we are working on GoCard, which will be a mobile card for Birthdays and Anniversary to friends and family".
A Beautiful Family Of Achievers
Dad, Kumaran Surendran is Director with Symantec while Mom, Jyothi used to work as a Journalist. Living with parents who support and encourage the boys to make the most of their potential, the boys haven't lost an iota of their innocence. The usual brother-brother chemistry is highlighted by numerous fights.
"Shravan and I never fight except when it involves chocolates. Our mother has narrated a lot of stories to us that tell us that we shouldn't fight. A story that has remained in my mind is that of the Wright Brothers. She told us that if the Wright brothers fought, they would have never been able to fly a plane. So true, right?! Our classmates are very supportive and keep inquiring about our work. They also want to join our company since all of them are very tech-savvy".
Juggling between school, homework, play and of course programming, the boys find enough time to pursue their hobbies of playing the guitar, keyboard, badminton and drawing. Only time will tell what these little stars create for the world. Shravan and Sanjay Kumaran, a true inspiration for each one of us. Isn't it?
---
Liked reading this? Then you might also like to read Rekha Bhardwaj – Celebrating A Life Deeply Rooted In Music
---
If there's any story that needs to be told, we will tell it. Write to us at contact@knowyourstar.com with your story lead, or contact us on Facebook or Twitter.