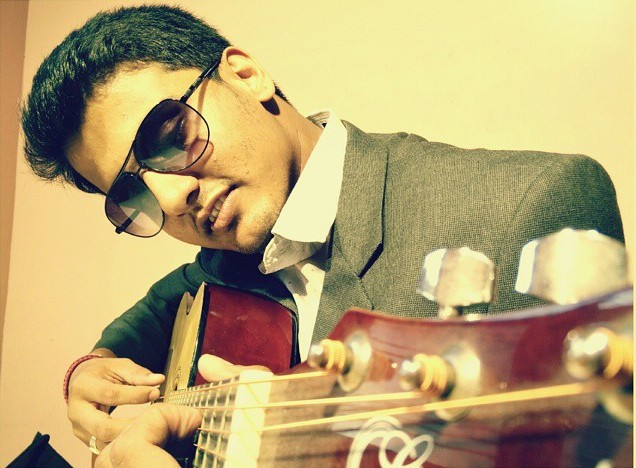 It is undeniably true that knowledge favors only a few, and it is one asset that comes to an individual only through hard work and persistence. But knowledge is an unparalleled strength that can take one to unimaginable heights, and we have seen a number of examples for that. Happily again, we crossed paths with a talent in whom resides Goddess Saraswathi in yet another beautiful form. This form of knowledge is sought after by many, but acquired by just a few. One such fortunate individual is Subrahmanya Bhat, a student and an employee in the commerce field, but a rare achiever in music.
Singing came to Subrahmanya quite early in childhood, when he learned the conventional forms of music in Indian style. However, music soon became his identity when people started recognizing his unique voice and style of singing that is almost hypnotizing. In college, Subrahmanya was identified as Junior Sonu Nigam; for all the right reasons!
The Gift Of Music
Music was gifted to Subrahmanya through his parents' interest. At a young age, he was made to study music and he took it with zealous interest. Subrahmanya was always an ideal student and took music seriously. However, he admits that he never assumed that music would turn out to be such a deep passion for him. Over the time, he says that music became a form of catharsis, as well as a form of self-satisfaction.
"There's no one who can escape the power of music, and I am just one person like that" he says.
Over the years Subrahmanya Bhat has pursued and performed music in different forms. Learning and making use of every platform that he was offered, he soon became a familiar face in his town- in other words, a familiar voice in Karkala! Today, he is nothing less of a local celebrity, having made achievements in the field beyond his age in the area.
The Unique Voice Bearer
Subrahmanya says that if there is one thing he is always thankful for, it is the ample opportunities that his town and its people provided him to bring his talent to the fore. Naturally, Subrahmanya won every contest that he was a part of since his childhood and made a mark at every program he sang. Eventually all this had to get bigger and he made his appearances in reality shows in South Karnataka and yes, won them all!
He recalls that everyone who has judged his performance, including popular names in music, such as Guru Kiran, Chaitra and Rajesh Krishnan, have all applauded him for the uniqueness of his voice. He says that he is incredibly blessed to have a voice that makes it easy for him to pursue music in this scale.
Sonu Nigam Of Karkala
Subrahmanya Bhat is a big fan of Sonu Nigam.
"I don't miss out on a single show of Sonu Nigam and I follow him more than anyone else in the world" he says.
It is an astonishing fact that Subrahmanya has a voice that resembles that of the idol of his life. Apparently a cover of the song 'Abhi Mujh Mein Kahin', originally sung by Sonu Nigam, recreated by Subrahmanya had gone madly viral in Karkala, and Subhramanya says that he received calls and messages from people he didn't know, asking him to pursue music on a larger scale. He says that music makes him happy on various dimensions and it would be difficult now to even imagine a life without music.
The Indian Idol Within
As it was expected by all those who know Subrahmanya, he will soon be seen in the next season of Indian Idol. He has already received a letter of invite for the mega auditions and we are pretty sure he will hit the small screens in a few months.
Nobody was surprised when he told his friends and well-wishers about this. It was as though everyone had predicted that Indian Idol is just the stage for his level of talent. Subrahmanya has already lent his voice to a number of musical projects, but it is high time that he shows the nation what a blessed singer he is.
He is currently pursuing a profession in the field of commerce and it reminds us of the famous dialogue from 3 Idiots – Lata Mangeshkar playing cricket! We hope that the passion soon comes back to life with a fire that shall never extinguish.
Even speaking to Subrahmanya Bhat is like turning on music. All his ways of life are influenced by his passion; he talks, acts and thinks just as beautifully as he sings. This 21-year old shall soon be a national celebrity in the very field that he aims and dreams of, and it was one of the most beautiful conversations that we have ever had with anyone. Subrahmanya sings when he talks, when he eats, when he travels, and probably even in his sleep! One almost wishes that he wouldn't stop singing.
---
Liked reading this? Then you might also like to read about Abhishek Shetty- Living By The Ideals Of Community Radio.
---
If there's any story that needs to be told, we will tell it. Write to us at contact@knowyourstar.com with your story lead, or contact us on Facebook or Twitter.