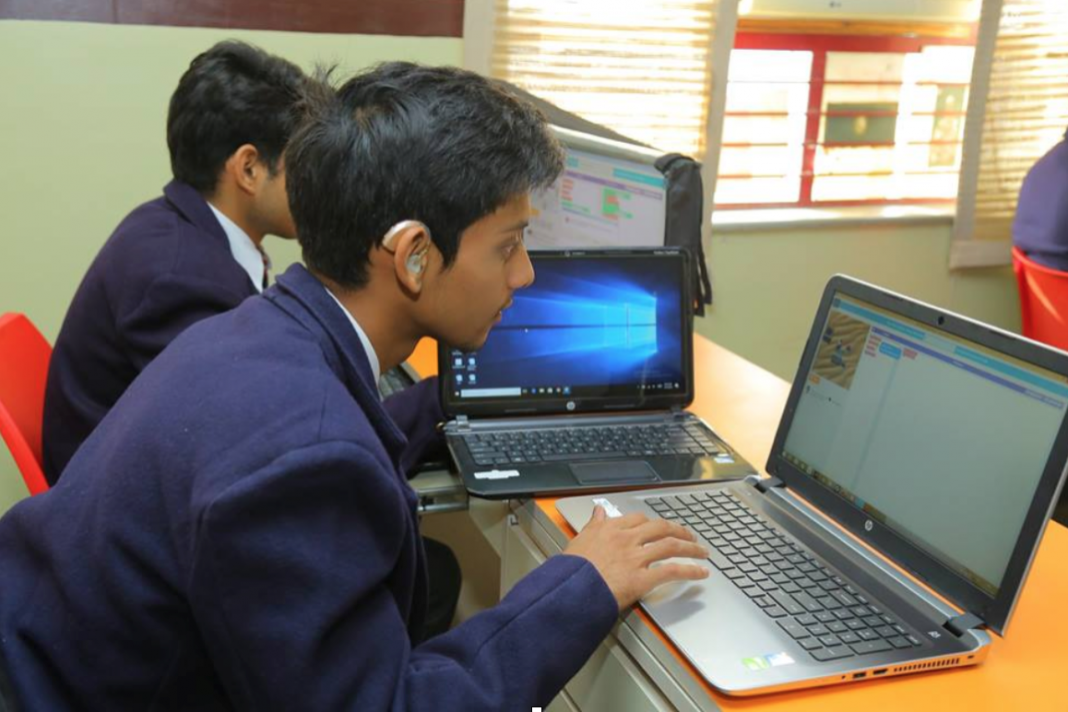 We've had the pleasure of interviewing Blessin Varkey before and covering some of his tremendous work with disabled persons and technology. So, when we heard about the latest event organised by Tamana in collaboration with global giant, Microsoft, we were thrilled to have the inside scoop.
A social entrepreneur and innovator, Blessin has always had his finger on the pulse of the field. With his passion for technology and using it to better lives, it's no surprise that Tamana's latest event, the Hour of Code, would include children with disabilities.
In association with Microsoft's Youth Spark initiative, the event showcased the talents of 90 kids with developmental disabilities, autism, and hearing impairments who are all students at well-known schools such as Delhi Public School Gurgaon, Lotus Valley School Gurgaon,  Lotus Valley School Noida, Delhi Public School RK Puram, The Shri Ram School, Sanskriti School, Ambience Public School, Army Public School, Vasant Valley School, Amity School, Bloom Public School, Salwan Public School, Government School for the Deaf and non-profit schools for disabled such as Manovikas.
Deciphering The Code – The Objective
The idea behind the event was to engage and interact with students who have visual and developmental disabilities through gamified and instructional activities. These exercises were designed to promote IT abilities, introduce the idea of computational thinking, and to give these students resources and an edge in the job market.
It also gave the students a chance to connect with educators and IT professionals and forge real-world networks. Additionally, these professionals had the chance to see and absorb the importance of diverse employment opportunities, and making the workplace more inclusive.
The Main Event – Breaking Barriers
The workshop was conducted on 8th December 2016, and was geared toward demystifying code for the kids, and laying a solid groundwork should they continue in the field.
The students were given a chance to work with gamified tools in order to build coding programs such as games like Minecraft. The objective was to help them develop their problem solving, logical thinking, and computational thinking skills, which are essential to understanding and mastering computer science and code.
Blessin, who currently serves as the Director of Innovation and Technology at Tamana says, "The event was phenomenal. It was interesting to see the special students and mainstream students work side by side to solve the code blocks from the Hour of Code. It wasn't just an exposure to the array of games available by Microsoft, but also showcased the potential for introducing computer science subjects to vocational training."
The event was also aptly timed and coincided with Disability Awareness Month and Computer Science Education Week.
Ms. Manju Dhasmana, the Director of Microsoft Philanthropies India says, "Microsoft believes in a society, continually transformed by technology wherein, every young person should have the opportunity to learn coding and computer science helping them enhance their problem solving and critical thinking skills."
She added, "Furthering our commitment to empowerment for inclusion, we hope to leverage the untapped potential that children with disabilities possess by introducing them to computer science and programming through 'Hour of Code' and are glad to find an able partner in Tamana to help us in this cause".
Dr. Shayama Chona, the Founder and President of Tamana agrees, "Microsoft has brought a revolution to today's world. It has not only transformed the lives of those who are enabled but has also given a new enlightenment to the disability sector. Their products have enlightened us to realise the potential of the sector, who were totally driven out of the society. Tech is as much there in their lives as everyone else."
Blessin adds, "We [at Tamana] believe that coding and computer science should be extensively used in programs for students with developmental disabilities and autism to open a new stream of opportunities in education and employment."
---
Liked reading this? Then you might also like to read Blessin Varkey: Technology for Social Innovation.

---
If there's any story that needs to be told, we will tell it. Write to us at contact@knowyourstar.com with your story lead, or contact us on Facebook or Twitter.