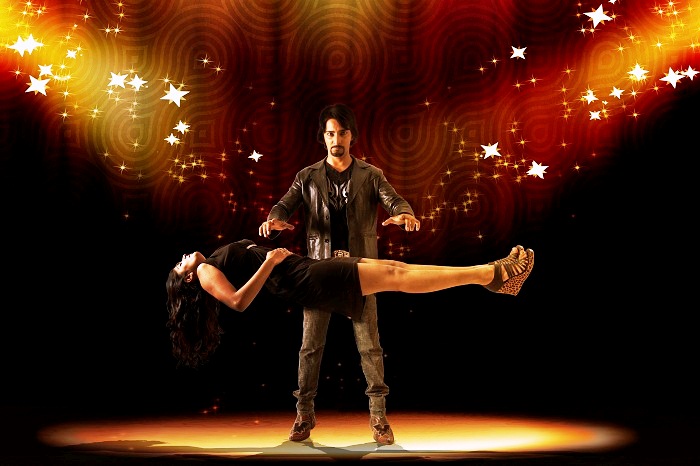 There is no word that exists in the Oxford English Dictionary which can describe this versatile, creative and persistent young man (who says he is 13.7 billion years old, when asked to reveal his age). He coined his own term, 'Mystician' and this will hit the dictionaries soon. He is a world class Magician who touches the lives of people with his magic touch. His simple, yet deeply philosophical ideas have transformed the destiny of differently abled people through a self-designed mission called 'IAmPossibleMagic'. Here is the magical tale of Ugesh Sarcar (Read Ugesh Sarcar Biography), who shares his saga with a remarkable sense of spontaneity, candidness and humour.
IAmPossibleMagic!
I got this idea of "IAmPossibleMagic" about 18 years ago. The idea was to hand pick differently abled people and train them into world class performers. It was an inspiration from my father (Prof. M. C. Sarcar) who undertook similar activities, but I wanted to take it to the next level. I realized that it was difficult because I was a 'nobody' then, and people didn't take me seriously. Keeping the idea in the safety locker, I went about picking different skill-sets in industries, as diverse as marketing, call-center, computers, medical transcription and so forth. Today, having compiled all these skill-sets, we have a team that is working towards creating a sustainable and scalable initiative.
I had set out with a target to take on only 10 people, but after months of knocking on closed doors, I finally got 2 willing candidates, Mark Dharmai and Vinod Rawat. Both of them came with a lot of baggage, little or no knowledge of English, very poor backgrounds and had never performed on stage before. After four months of intensive training, cut off from the rest of the world, emerged two real life heroes. They went on to perform for a packed international audience, in English!
When I first spoke to Vinod, he was very dejected. He turned down my offer saying that many people call him to give inspirational talks, give him a shawl and a coconut, and send him off without bothering to ask whether he had enough money to even go back home. There were times when he had to travel back without ticket on the local train, with the fear of getting caught and being thrown out. Just two days earlier, he had tried to commit suicide, but even there "kismat ne saath nahi diya" and the pipe broke! He very boldly announced that as we were talking, he was preparing for his second attempt which would surely succeed. After all, practice makes a man perfect!
I was highly taken aback from the overload of information within the first call. I told him to come and meet me, and that if he didn't like what I had to offer, then I will personally suggest him better ways of killing himself! Caught off guard by this unusual response, he came in and I am still keeping my promise. He happened to survive the blindfold ride!
The performance is designed not just to entertain the audience, but to leave them with immediately applicable life-skills, along with a life-altering question. Since each individual mind is different, we have a specifically designed course for each of the potential heroes. Each of these heroes will be the first in whatever they do, because I believe that if we're not creating history, then there is no fun! They go about inspiring the society, challenging and questioning the conventional mind, which is accustomed to only sympathize for them. It is a paradigm shift. A real magic!
Making of a Magician
Being born into a family of magicians, the desire to become one was born long ago. I used to tag along to my father's performances and be an inquisitive assistant. At one such performance, I proudly said to him that I will be the best magician! Those were the days when my dad used to wear a flashy turban, put on make-up and do his shows. I definitely wasn't into the whole act of wearing flashy clothing and tons of make-up. My personality more than makes up for the lack of these!
However, the distance between this desire and actually putting on a Magician's hat took no less than 15 years. I spent almost 3 years, completely cut off from the society, and dedicated all my time, energy and efforts in mastering the art of magic. In fact, I had come up with the idea of street magic very early on. Being in India, the first term people related to street magic was a 'madhari' which is an Indian term for the people who make monkeys dance on the street. I said, "No way, street magic is way cooler than that!" Once the idea became popular in the west, we Indians were more than happy to accept it! After a successful run for almost 4 years, unfortunately even today I am the only street magician in this country.
In retrospect, I understood the fundamentals of human psychology when I took up different jobs across industries. I could simplify and intuitively figure out the complexity of a human mind. I saw identical patterns in the way people think and function. I felt confident that I can now learn the art of magic from my father, who is one of the greatest magicians of this country. To my surprise, my father refused to teach me. I challenged him, that I will come back in a month to perform more than 100 tricks. Lo and Behold! I kept my word. I showed him my magic and he patiently saw each one of them. Now that I had kept my word, I asked him to teach me magic, and yet again he said, "No!" He then said "You don't need me to teach you. You have mastered the art on your own, albeit the hard way. Come to me now only when you need guidance." These lines have been etched in my heart ever since. That has been the best
lesson I could have ever asked for.
The Treasure Book
The idea of 'Treasure Book' was born when we were looking at different ways to raise funds, by adding value to people. We observed that in today's society, simple things such as acknowledgement of another person's good work or service has become old-fashioned. People seem to take each other for granted and a genuine expression of gratitude has become a rare phenomenon.
When we did our research on the subject of gratitude, we found that there is established evidence that apart from a feel-good factor, heightened sense of productivity and creativity, the simple act of gratitude practiced on a daily basis can cut down the chances of death by all diseases into half!
To trigger the feeling of gratitude in people and pave its way for manifestation, we designed a cool methodology and thus the 'Treasure Book' was conceptualized. It aims to make the act of gratitude as simple and straight as possible. The 'Treasure Book' looks like a cheque book, from the Bank of Gratitude and Happiness. It captures the essence of one's thankfulness, and makes the whole experience of giving and receiving, a very gratifying and memorable event.
Hi-Voltage Q&A:
What do you think of Dhoom 3?
I don't watch television and I think I am little happy with life…
Biggest Fear?
To find out what it is…
Magician or Hacker?
Neither. I am a Mystician!
Can you read our minds?
Yes, of course!
KnowYourStar.com (KYS) interviewed Prof. Ugesh Sarcar as part of India Inclusion Summit(IIS). IIS is a platform that brings awareness and drives inclusion of specially-abled people at corporates, schools, policy makers and NGOs. Yes, KYS is official blogging partner for IIS and backs the event whole-heartedly in a thirst to see an Inclusive India.