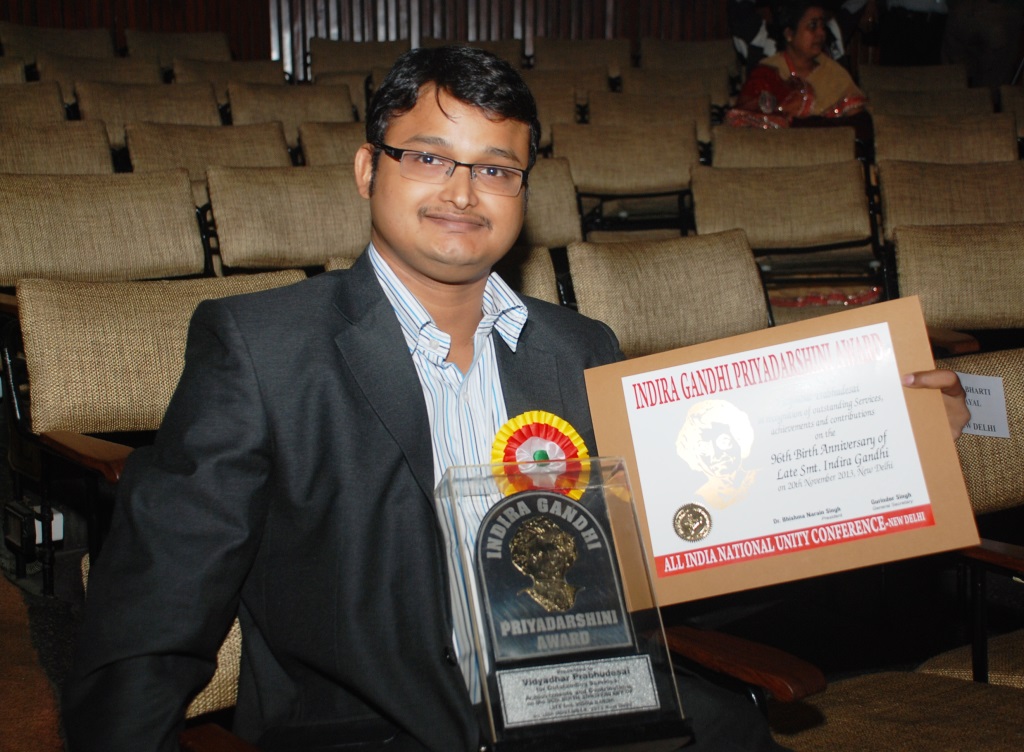 We got in touch with a unique global shaper who is nurturing ambitious young individuals and transforming world's largest democracy to the first leadership democracy. He dreams to help more Indians to embrace leadership mantle, in small and big ways, in personal and professional spheres, creating leaders in every villages, building a great country. Presenting you an insightful interview of a man who stands out for his nature of work more than the numerous awards that has come on his way, including Rex Global Fellowship Karmaveer Chakra Award 2014, Mr. Vidyadhar Prabhudesai.{Read Vidyadhar Prabhudesai Biography}
Filling the Gap
Youth unemployment today is a result of gap between demand and supply of labour. This gap will always remain unless the demand side (industry / employers) work with supply side (students, educational institutions etc.). Indian educational system is still riding on pedagogical method of teaching, importance to degree/certificates than actual learning whereas industry demands skills which can be put to use readily – leadership, communication, critical thinking etc. Hence majority of students are still not equipped with the requisite skills to succeed in the ultra competitive and resource starved Indian market place.
Kalpetta- Shaping up "Leadership Village"
Kalpetta comes under Waynad district of Kerala. Kalpetta is a village with abysmally low opportunities for a person to live and grow. Most of the families here are conservative and they do not want their children travelling an extra mile after school to get exposure to the outside world. They do not want children to use the internet. Talking to villagers had been toughest. We had dropout's everyday and it was hard to manage getting even one student for few months. Luckily for Anne Franc Research founders, both journalists, we could use media vehicle to encourage villagers to send their children. We even conducted open sessions within local communities explaining them need for advance education for their child development.
Revolutionary Change in Communities
The project started in Kalpetta and then spread to the rest of the region. It has the support of villagers, students, parents, teachers and civic associations. It intends to bring about a revolutionary change – a change that can only be achieved when people are pointed towards their true potential and when they are shown the true change that they could create in themselves, and in their communities. It focuses on young people aged between 15 and 25, aiming to show them that leadership is not reserved for a select few, but is for everyone who wants to discover their true potential. Its aim is to show them that leadership is a personal decision, rather than a position or a set of skills. Having achieved this self-awareness, we mentor these individuals to help them discover their hidden skills: in the areas of communication, self-motivation, problem-solving and decision-making. We support these leaders in implementing larger changes that add value to their society.
Impact with Eco-tourism
Between 1995 and 2004, 90% of farmer suicides in Kerala were from Waynad. With the knowledge and exposure gained during the program, students went back and shared their experience with their parents and families. This united several families within the community. They started exploring possibilities of generating extra income through tourism. The concept of ecotourism emerged and Waynad became the first district in India to launch this scheme with the support of the Government of Kerala. The scheme created more employment opportunities for villagers. This is something which was never planned before and came as surprise to us when we heard of it. So far this model is replicated for addressing issues like gender gap, social exclusion, employability etc.
"Mobile Library" and "Living library"
We execute several activities inside Leadership Village. Here we have "Mobile Library" where Young people ride around the village on bicycles with bags full of inspirational books. In their free time they visit homes and schools to distribute leadership and personal development books, empowering them and providing inspiration. We also have an interesting concept called – "Living library" where our students invite people from their village to their institute. He may be a newspaper reporter or village headman or even a foreign student who came down for studying Indian culture – all become their library for a day.
Ideas:Ideals:India
A data source says that those educated but without professional skills constitute 69 percent of the total unemployed in India currently.  Another source says that more than 90 percent of the youth who are coming out of Indian universities are not industry ready in any manner. These two statistics would change in near future. With a strong government support and large investments in education and skill development initiatives, the situation would change in next 2-3 years.
Oscar award winner Danny Boyle, director of the movie Slumdog Millionaire once remarked that the greatest asset India has is the aspirations that every Indian secretly thrives on – the aspiration to be better, greater, everyday. If each one of these aspirations is nurtured in the right way, we have a great country out here.
I would not force anyone to decide what to do. It is their decision. Do just what you are best at. Imagine if someone who have told Sachin Tendulkar to become a musician or  A R Rehman to play cricket – just imagine where they would be?
Quickies:
Youth: Powerhouse of India, waiting to explode
Education: Waiting to be upgraded
Empowerment: Access to information and knowledge imparts empowerment
Leadership: Leadership is decision followed by an action
Your role model: N R Narayana Murthy
Best thing about Kalpetta: Its natural and beautiful nature
You dream to: Build India as nation of leaders
We wish to see the dream Vidyadhar Prabhudesai has for India getting realised at the earliest. You can help us in this regard to bring out more such stories and more such leaders. Join KnowYourStar.com as a fellow and get a chance to transform the society. Click here to Apply!