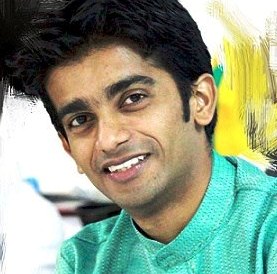 Vilas Nayak hails from Ujire of Mangalore district, born to Sri Vasudeva Nayak and Smt. Jayashree Nayak, started painting at the age of 3. Along with his brilliance in art he was also an exceptional student and always stood first in class. He was a 7th Rank Holder in B.A (Mangalore University) and 2nd Rank Holder in Master of Social Work (Mysore University) He was also a shuttle badminton champion during school and college days. He decided to quit his lucrative job at a multinational company and took art as a full time career in 2010.
Vilas also supports various noble causes like IIS by auctioning his live art works during select high profile events and routing that amount directly to charity. For the last one and a half year, he has raised over one million rupees for charity.
Inspiration for his art is Nature. BKS Verma and Denny Dent are the inspiration for taking up on the stage 'Hues n Tunes' performances.
You can Follow Vilas Nayak here: FB or Twitter
Testimonials to Vilas:
You have beautiful hand and great imagination …. God bless you!
Dr APJ Abdul Kalam, President of India, 2002 to 2007
I have seen your Gabbar Singh painting and it was just fantastic!
Shahrukh Khan, Bollywood Actor
I can do your kind of painting but it will take 6 to 8 months!  You are amazing..
Salman Khan, Bollywood Heartthrob
"Seeing your portrait done in front of your eyes makes you forget all the revenge
you had planned against producers who did not finance your films"
Bertrand Tavernier, Internationally acclaimed film maker, France
That was the fastest portrait of mine ever done! I still don't know how he
managed to do that!
Mr. Kalyan Banerjee, Rotary International President 2011-12
Dariya Dil Painter hai aap..
Dharmendra, Legendary Bollywood Actor
Vilas, I am so jealous of this talent you possess, what talent!
Sonali Bendre, Bollywood Actress