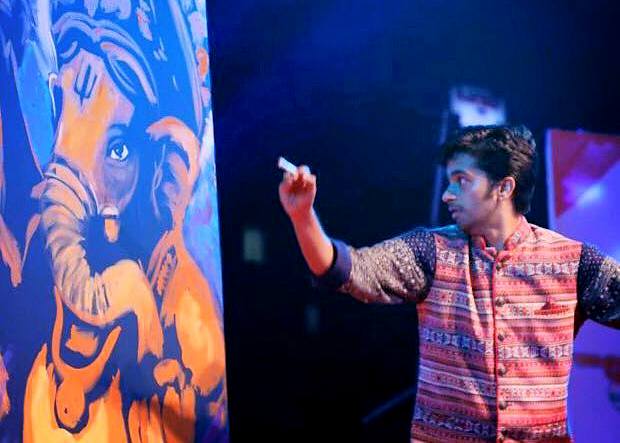 It's not our first encounter with Vilas Nayak, we've interviewed him before when KnowYourStar had just started off and watched him paint a number of times! But we have to admit that every time we see him walk onto a stage, dressed in his signature leather pants and flashing his wide smile – we're just as thrilled as the first time.
Because by watching Vilas at work, you are not just watching a passionate artist at play – you're witnessing a performance in the finest sense of the word. From the vibrant colours that he spreads across the canvas to the foot-tapping tunes in the background – it's an experience worth having!
Picking Up The Brush
Though Vilas' success seems meteoric, his story actually began many years before he charmed the audience on India's Got Talent. He found his artistic roots early. He says-
I started painting when I was 3 years old… so I believe it's a gift from God. Everyone has some special talent, the aptitude to excel in a particular area of interest, and it's up to us to discover what that is. I realised very early in my life that painting is what I want to do throughout my life, but I certainly had no idea how to take it forward professionally. Art started paying my bills only after I got a big break on a national TV show and I discovered a whole new world of opportunities.
He discovered, quite by chance, that he was a fast sketcher! It became his claim to fame in college, and he spent a lot of time performing at various inter-collegiate culturals. If only the audience members had known what the future had in store for him! After graduating from SDM College in his hometown of Ujire, Vilas went on to complete a Masters degree in Social Work from Mysore University. A passionate supporter of the arts, he was drawn to the city whose rich cultural heritage is its selling point.
Choosing The Right Path For You
After he finished his Masters, he took stock of his life and realised that a full time career in art was not on the cards. Hailing from a more conservative background, he understood the need for financial security and stability. He took up a job with a garment export company. He soon moved to greener pastures and worked as an HR professional at IBM for around 6 years.
Though he was doing well professionally, he found himself nursing a sense of dissatisfaction and a longing to pursue his dream. It culminated in a gamble – he quit his job and participated in India's Got Talent. He didn't win (much to our disappointment) but he finally received the recognition that his extraordinary talent deserved.
He says, "I knew a national level reality show would give me the opportunity to showcase my talent to millions of viewers and change my life overnight. And it did! I didn't participate with the intention to compete with anyone or win, my only desire was to find a platform. I'm glad it all worked out well… I decided to quit my job because while I had  a 'talent management' job in IBM, I found myself wondering what I was doing with my own talent. I was living alone and had the time to be introspective. I finally decided to take a calculated risk and quit my job to follow my passion. I simply wanted to dedicate rest of my life to art. Right now, it feels like I'm living my dream."
A Glimpse Of What Happens Behind The Scenes
Vilas Nayak has cause to be proud. After his rise to fame, he's consistently performed for bigger and bigger audiences both in India and abroad. He explains,
A lot of exciting projects have come up both in India and other countries recently. I enjoyed creating wall art in London that was 40 feet high and performing during half time at an NBA game in the US of A. I'm also making an effort to visit rural parts of India to perform for kids and people there. I grew up in a village with no exposure at all, but I want to encourage people to follow their passions and make a difference.
A philanthropist at heart, Vilas supports a number of charities like the India Inclusion Summit (IIS), "I have been associated with IIS for the last 3 years. It's a movement that inspires you and makes you come back again and again! It's been my privilege to perform and entertain the audience at IIS several times and it has made me take the idea of inclusion to many other places. Wherever possible I try to create an artwork based on the 'Inclusion' theme. In the future I would love to see IIS spreading to every corner of India to bring about positive changes in our society, which will ultimately become a way of life."
A Generous Heart And Helping Hands
He has also worked with other NGOs and has left a big impact on children and adults alike. "Recently I have supported various charity initiatives like Vatsalya Old Age Home, Spastics Society of Karnataka, Itihaas, Global Peace Initiative Mumbai, South Asia Rotary Literacy Mission, Hindu American Charity Foundation USA, and Sukhibhava NGO. Apart from the usual commercial events that I do to earn my livelihood, these charity initiatives bring true happiness to people – and to me! At times, it is to raise funds, but sometimes it's simply to make them happy. For example, the interaction and performance at the old age home and SSK made the elderly people and the kids happy. The smiles on their faces make it all worthwhile."
Vilas' work has led him to interact more with disabled children, and they are his favourite audience. He says,
I think that their emotions and thoughts are very pure and I love performing for them. Just the thought of inspiring a kid or encouraging them to be the best at what they do excites me. Differently abled kids are my best audience ever and I look forward to working with them in future.
Dreams Do Come True
Today, Vilas is living his dream and pouring his love of art into positive channels. He aims to give children all over the country something to aspire to. He elaborates, "I believe kids should be given a chance to try all kinds of creative, academic and sports activities… let them explore possibilities when they are young. I was a Badminton player and a rank holder in academics, but I knew that painting was where my heart was. It does help to get exposure at a young age because we are more receptive to learning things quickly."
He's the perfect example of how exposure changes lives. Having recently performed in front of the Dalai Lama and at Tim Duncan's NBA retirement match, Vilas Nayak is a wonderful representative of our country – an interesting, vivid, and ambitious individual whose real journey has only just begun!
---
Content With A Cause (CwC)
The first person we pitched the idea of Content with A Cause was to Vilas over a cup of coffee, and no sooner had we finished explaining our idea, his answer was ready – a YES! He was super thrilled when we told him of our plan of tagging him to the budding painter studying at the Spastics Society of Karnataka – Pranav Varma.

Pranav, who's diagnosed with PDD (Pervasive Developmental Disorder), doesn't use an eraser, just puts pen to paper and draws without having any ideas about art or dimensions or how to frame. There's nothing he's been formally trained in. It's a God given talent!
If you're inspired by Vilas Nayak's journey and his philanthropic activities, and wish to do your bit to help someone in need, you can do it right away! Here are a couple of ways in which you can help Pranav on his journey of making a career in art (…and earn your CwC badge. Read more about it here!) –
You can purchase one of Pranav's one-of-a-kind paintings right here, right now, for a humble amount of INR 300.
(And in the spirit of Pranav's divine motivations – why don't you pass on the good will and gift it to someone special?)
You can convert your urge of wanting to help Pranav into action right away by contributing whatever little you can. Be it INR 10, INR 50 or INR 100. It's the act that counts, not the denomination.
Visit SSK or any similar institution around you, look around the campus (with permission of course!), and become aware of what it is to have PDD (Pervasive Developmental Disorder).
Read more about PDD and tell any 3 people about it.


Let us know which one of these ways you decided to go with to earn your CwC badge. You can either comment below or write to us at contact@knowyourstar.com. We can't wait for you to start collecting the CwC badges!