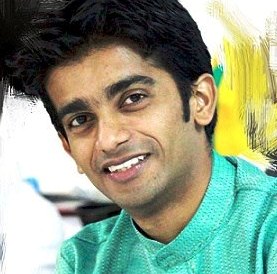 His strokes and smiles at the speed of light makes you stand up to your feet for a heartfelt standing ovation. This finalist of India's Got talent (IGT) is currently one of the most sought after performing artist in Asia. He loves drawing the portraits of famous people to famous music. We present you, tale of a small boy from a village who once used to look at the sky with dreams, today performing in most prestigious stages, epitome of taking risks and going after one's dreams, Asia's leading speed painting artist, one who calls his acrylic paints as Hues N Tunes, Mr. Vilas Nayak!
The storyline and background music gives your paintings a lasting charm…
I love doing diverse topics. I started in IGT with not portraying a hero, instead a villain in Amjad Khan's Gabbar Singh, then moved on to cricket with God in my Canvas-
Sachin Tendulkar, later Bhagat Singh for patriotism and then Mother Teresa as an emblem of humanity. It's been a long journey after that- APJ Abdul Kalam to MJ to Raj Kumar to SRK to CEOs of top notch companies- all in my canvas! I try to give a message in all my paintings. Bringing inspirational idols on canvas to life with complimenting music in the background in less than 5 minutes- will definitely ignite the Spark for Success. I take joy in this!
Can you afford mistakes on-stage?               
I really can't. There is no time to go back. It's a huge risk every time I go on stage. That's precisely why there are very less number of speed painters. I set my own expectations and I feel disappointed when I realize my mistakes after the completion, if any. I know I am not perfect and as they say, practice makes a man perfect.
Back then, I used to practice for an art piece at least 50 times. It helps to reduce the time limit. It also increases accuracy. I don't get much time to practice these days since I have been performing round the clock, but I need to be mentally prepared before any show to showcase my best.
Biggest Award
Love and affection of people. I am grateful to them. We are what we are because people appreciate our art. I think I am not in the peak of my fame. My first award was when I was 5 and since then, I have been bagging them continuously. Today, I am more concerned about only getting better. People have seen my work now and expectations are high.
I took my first flight when I went to IGT in 2010. I quit my job as an HR professional to pursue my passion. It was a calculated risk since I hail from a middle class family and stability is always a concern. I had thoroughly enjoyed my role in the corporate world and the nuances that I learnt there help me even today. I suggest students to follow their heart. India is changing and gradually every job is gaining respect.
Charity begins at home
I think that I have got this helping nature from my dad. He used to reach out even with his minimal resources. I have been helping NGOs and events like India Inclusion Summit because it gives me immense satisfaction.
Kids just love art. Seeing them burst with joy is the biggest prize I can receive. Hence I do a lot of shows with NGOs for underprivileged or differently abled or special kids. I have seen differently abled people being more talented than any of us and they really appreciate music and art.
Here are some Quick Questions for you:
Your Favorite Act
Gabbar Singh!
[Came out even before we finished asking our question!]
One thing you want to do
Travel around the world!
[Can we also join?!]
One praise that resonates in your mind
There are lots… [Laughter].  But one with Abdul Kalam, Shah Rukh and  the kids  in an NGO in Bangalore are very memorable. Applauds after a patriotic act in front of 5000 Indian army soldiers where I am not being praised by any big celebrity is no less.
Biggest fear
[Think… think… think…] FLYING! But I have to fly!!
Whatever you fear, you have to do it more often. This is what I have learnt. I am still scared before every performance. I have this biggest fear in me every time I go on stage. It has to be there. This makes me realize that there is nothing out there to be taken for granted. I have to give my best. This is how you can overcome fear.
KnowYourStar.com (KYS) interviewed Vilas Nayak as  part of India Inclusion Summit (IIS). IIS is an inspirational platform that brings awareness and drives inclusion of specially abled people at Corporates, Schools, Policy makers, NGO's. Yes, KYS is backing IIS whole-heartedly and wishes to see an Inclusive India. Let's join hands!
Inspiration for Vilas's art is Nature. He hails from Ujire of Mangalore district, Karnataka. Do Read Vilas Nayak Biography.